While companies tend to invest a lot into employee onboarding, the offboarding process tends to get overlooked.
In fact, 71% of American companies do not have a formal employee offboarding process in place.
However, they should, because an effective offboarding program can improve your company's brand image, increase the likelihood of returning employees, and boost internal company morale and image.
If you manage to create an effective employee offboarding program, you can actually retain more workers (a phenomenon known as "boomerang workers").
A study of 100+ companies confirmed, that:
40% of employees said that they would consider "boomeranging" back to their previous employees
15% of employees actually returned to their previous job
76% of HR professionals say they are more accepting of hiring boomerang employees today than in the past.
And icing on the cake? Hiring a boomerang worker means that you won't waste resources on recruiting/onboarding/training new employees, since the hire already knows how your organization functions.
To make it easier for your organization to set up its own offboarding process, we compiled this comprehensive, step-by-step employee offboarding checklist!
Read on to learn more, or just download the PDF.
What Is Employee Offboarding?
Employee offboarding is the process that leads to an employee formally leaving a company as a result of resignation, termination, or retirement.
It includes all the steps and actions that take place when an employee leaves the company. This can include:
Documenting the employee's knowledge, duties, and responsibilities
Delegating those responsibilities to another employee
Removing software access rights
Making sure company equipment is turned in
Conducting exit interviews
On paper, offboarding might sound like an easy job. You just have to cut the ties, sign some papers, and shake hands, right?
Well, not really.
Employee offboarding is a very tedious process that requires thorough supervision, feedback, and lengthy paperwork processing. And without the right structure, it can frequently cause hiccups.
Cons of a Bad Employee Offboarding Process
An unstructured employee offboarding process can:
Be slow and confusing
Be stressful for both HR managers and employees
Cause potential legal issues
Be inefficient at getting back company resources (we all know that guy who still uses his old company iPad)
Cause your business to lose valuable internal knowledge
To top it all off, a negative offboarding experience can harm your company's brand: bad word of mouth can travel a long way.
Benefits of a Good Employee Offboarding Process
On the contrary, a structured employee offboarding process has lots of benefits:
It helps you understand precisely why your employees leave
It ensures a smooth transition between old and new employees
It leaves a positive impression on the leaving employee, increasing the chances of forming a working relationship in the future (or them recommending a friend to your company)
It mitigates legal risks
Now, the next question is, how do you create YOUR employee offboarding process?
That's where this employee offboarding checklist comes in:
Just download it, customize it for your business, and put it into practice.
The Ultimate Employee Offboarding Checklist (10 Easy Steps)
Employee offboarding is a complicated process…
You have to:
End the relationship with an existing employee (preferably – on good terms)
Retain company assets
Find and train a replacement worker
Communicate change
And if you want to make sure that it gets executed flawlessly, you'll need a very structured process.
Which is why we created this employee offboarding checklist – all you have to do is copy it, customize it for your business, and you have an efficient, tried-and-tested offboarding process!
⇒ Want to get the actual checklist? Download the PDF Version Here
#1. Communicate the Change
First things first – you need to make sure that all the relevant people in the organization are aware that the employee is leaving. This usually includes:
IT department (so they can start revoking access/terminating accounts)
Team Manager
Members of the same team/department
Accounts payable (to make sure they issue termination check and benefits package)
If an executive position was held – board of directors, shareholders
If a person was working directly with some clients – notify them about the change as well and connect them to a new account or project manager.
Communicate honestly and share the reason for the termination/voluntary exit to make sure everyone is on the same page.
#2. Prepare the Relevant Paperwork
Once you communicate the change, you should put everything in writing.
Depending on the position that was held, as well as the local legislation and personal characteristics of a worker, the list of relevant documents might differ.
These are the most popular documents involved in the employee offboarding process:
Letter of resignation (voluntary leave) or termination (for fired or laid-off employees)
Non-disclosure or non-competition agreement (applicable when an employee was dealing with classified or sensitive company data)
Benefits statement (severance pay, retirement plan contributions, unemployment benefits)
Employment tax forms (W-2, W-4, etc.)
Recommendation letters for future employers (if requested)
Once you're done with this, you can move on to the next step, knowledge transfer.
#3. Transfer Knowledge to Their Successor
During this stage, you have to:
Transfer knowledge from the offboarded employee to their successor.
Document internal knowledge in a written form, in case the offboarded employee does not have a successor yet.
Set the terms for finishing the ongoing projects that an employee might have at the time of termination.
This step should be a piece of cake if you managed to keep a good relationship with the quitting employee and already have a replacement in mind.
You can ask the employee to show their replacement how to do their job, how to execute specific processes, and so on.
In case you haven't found a replacement by the time of the employee's termination date, you can ask them to document their daily and monthly to-dos, exact processes they are involved in, etc…
This can either be done in written form, within the company's knowledge base, or through recorded Loom videos (or a mix of both). And eventually, all this information can be passed on to the new hire, once he or she begins onboarding.
Some of the questions you can ask employees that are leaving are:
What does your average day look like?
Which workflows do you take part in?
Which workflows do you own?
Which business automation tools or other software do you use on a daily basis?
What is the reasonable amount of time/resources you need to finish any specific project?
Which files does your successor need to have access to and where can we find them?
Can project X be finished by another person once you leave, and if so, how do you see it happening?
You get the idea, you need to get all the pieces of information about the ins and outs of the position and make sure the transition between the employees goes smoothly.
After that, you will be able to onboard the new employee successfully and provide upper management with a detailed succession plan.
#4. Recover Company Assets & Terminate Software Accounts
Employee theft is a big cause for concern. In fact, 95% of businesses suffer from some form of workplace theft.
Disgruntled workers who are leaving your business are even more likely to take a couple of parkers or smuggle a working laptop when they depart.
Therefore, it is important to make sure you collect all the relevant data/assets from your employee BEFORE they leave their jobs for good.
Here's a list of physical and non-physical assets you need to collect before letting your employee go:
| Physical Assets | Non-Physical Assets |
| --- | --- |
| Keycards | Revoke company accounts (CRM, workflow software) |
| Keys | Cancel any corporate software subscriptions |
| Company credit cards | Wipe sensitive data from their personal devices |
| Badges (where relevant) | Make sure their cloud storage access to company materials is turned off |
| Company laptop/tablet/phone | Make sure expense accounts in the employee's name are closed |
| Uniform | Take away company discount cards |
| Parking pass | Revoke gym and other company memberships |
It is important to provide your HR managers with this checklist so they can collect all the relevant information/devices from an employee before letting them go.
#5: Update Organization Charts and Workflows
This step involves:
Removing the quitting employee from organizational structure chart (if you have one), as well as any of your team pages or directories
Set up forwarding from the old employee's email to their replacements. If you DON'T have a replacement at the time, set it up to their managers. This step ensures that if someone tries to reach out to the former employee, their email won't get lost.
Assign existing tasks that are on your business process management software to the new employee, or to the previous employee's manager.
These actions help ensure that your other employees do not reach out to the quitting employee for company-related communication.
Once you find a replacement worker for the position, add their information to existing workflows and organizational charts. Until then, it might be a good idea to forward all the communication from the quitting employee to his/her manager instead.
#6. Complete The Final Payment Process
At this stage, double-check with the HR and the employee, and check what exactly you owe to the employee:
Make sure that their final paycheck is paid on time, as usual
If the employee is eligible for extra benefits (e.g. severance pay, unemployment leave), ensure that they receive it
Finally, if the position has an equity clause, you can also ask the employee if they'd like to sell their stock before leaving
Making sure your employees have been compensated as per their contract will eliminate the possibility of a legal action taken against your company in the future.
#7. Perform an Exit Survey/Interview
This is your opportunity to gather feedback and figure out what made your employees quit the company.
Once you do this, it will be much easier for you to figure out how you can make your HR practices more effective.
According to HR Daily Advisor:
79.5% of USA companies conduct an exit interview with their workers to identify potential problems
…but only 5.5% of those surveyed indicated that companies were "very effective" in acting upon information collected.
By viewing exit interviews as a pointless formality, you risk missing out on valuable information. You'll end up neglecting potential flaws that exist within your company, therefore leaving room for similar issues to arise in the future. For example, you could end up hiring the wrong person for the job again.
This is why ACTING upon information obtained from exit surveys is important.
A successful exit interview process has 3 distinct phases:
Providing an employee with honest feedback about their performance
Encouraging them to share their feedback about their managers/company processes
Thanking employee for everything they have done for the company
Here are some leading questions that might help you facilitate this part of the offboarding process:
What was your biggest challenge at the role?
Name some things that could be improved in our company?
What do you think of the management style at our company?
Did the job live up to your expectations?
Were your responsibilities motivating/overwhelming?
Did your responsibilities match the role you were hired for?
Were you satisfied with your duties/degree of autonomy?
Would you recommend our company to a friend that's looking for a job?
Once you are done gathering information from a sufficient number of employees, sit down with the management team, and see if you can take the feedback and practically implement it to make your company a better place to work.
#8. Bid Farewell!
It is important that you end the professional relationship with your employees on good terms, leaving a bittersweet taste. This way, you will increase the chances that they come back to your company, or at least recommend you to their friends or family.
This can be achieved in a number of ways:
Organize a small farewell party for your employee
Make them a nice postcard from the whole office, wishing them a wonderful career journey
Thank them for their services in a company-wide email
#9. Create an Alumni Network & Follow-Up with Your Employees
You might think that when employees leave, it is the end of their road at your company.
It does not necessarily need to be this way.
If the relationship ended on good terms, there's a chance that both of you could restart a professional relationship later on.
Therefore, it is super-important to create a sense of connectedness between the former employees of the company.
This is usually done by creating an employee alumni network.
Such a network can save your company tons of money: Deloitte saved $3.8 million by pursuing leads from their alumni network for some of their job openings (calculated from job training savings).
And creating such a network is super-simple:
You create a FB group or email newsletter
You automatically add all former employees into the group/newsletter (after asking for their permission, of course)
You captivate their interest by sharing some alumni stories and other relevant content with them
You promote your job offerings directly in that network
#10. Clean Up the Desk and Prepare for a Fresh Start
Once the old employees leave, you should do some cosmetic work to make sure that the new hire will feel welcome once they come in and have everything at their disposal.
Some of the things you have to check are:
Company equipment state (printers/laptops/tablets/phones/cars)
Cleanup the work station
Have a new work number SIM-card ready
Make sure they have new office supplies prepared (pens/pencils/paper)
How to Use Employee Offboarding Software
While following an employee offboarding checklist can improve the process, it is not completely error-free. There is always the risk of human error. Employees might mess up the offboarding process and forget to follow some of the steps.
This can significantly slow down your offboarding process, or worse, it could open up your company to potential legal vulnerabilities.
That's why nowadays, most companies use employee offboarding software to ensure that every single employee is offboarded correctly, and that the offboarding process is properly executed from start to finish.
Such software can also help you automate small and repetitive tasks, such as sending emails and streamlining paperwork distribution.
Additionally, it can help you generate progress reports regarding each worker's offboarding progress and notify your managers automatically when their attention is required.
There are 100+ different employee offboarding software out there, so selecting the best one could be a challenge.
Want the easy way out? Here are 2 of our favorite employee offboarding apps!
Kissflow: Best Employee Offboarding Software for Large Enterprises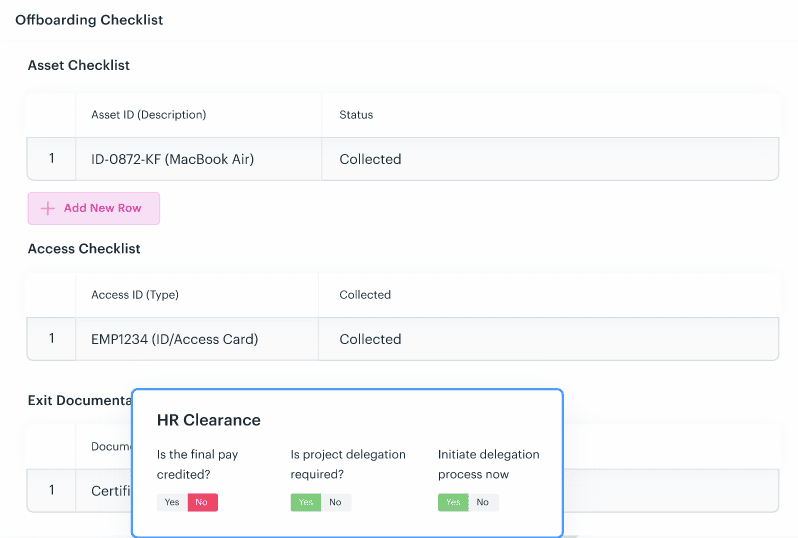 Pricing: $360-$1000 per month (unlimited number of workers)
Key features:
An automated offboarding process template
Built for scale
360-degree feedback integration (+ collaboration features)
Automatically generated turnover reports and performance tracking
Punch-in/punch-out systems
Digital Signatures
All common HR processes built-in
Perfect for: Middle-sized companies, large enterprises.
Kissflow is one of our favorite workflow apps.
You can schedule any action of the employee offboarding process to be performed AUTOMATICALLY upon a specific trigger with no coding skills required.
For instance, once an employee submits a resignation letter, you can forward them to an exit survey automatically.
And you can automate many other things with Kissflow:
Punch-in/punch-out system will let you distribute last checks and severance payment automatically
You can distribute all the forms and gather signatures digitally
You can send all the alumni promotional materials and farewell letters to your employees automatically
To top it off, the software is drag and drop, so you can customize your offboarding template within minutes.
And the software can be pretty cheap, too. If your organization works with 1000+ workers, the cost per user could go as low as $1.
Process.st: The Perfect Employee Offboarding Choice for SMBs
Pricing: $12.50-$30 per person/month (+ a free version)
Key features:
Powerful automation and collaboration features
Performance tracking
Automated report generation
No learning curve
Customizable offboarding checklists
Perfect for: Small businesses, freelancers
Process.st is the simplest workflow management tool in the world. It has a checklist-based structure, which makes it super-easy to follow any process.
You just select a process template from over 1000+ options (including employee offboarding), adjust it to meet the needs of your organization and voila!
What makes process.st a great choice for employee offboarding software is its automation features:
You can create custom rules distribution of files/forms and signatures from within your checklist (again, no coding knowledge required).
For instance, you can wire your worker a paycheck automatically upon the receipt of a relevant signature or send them a goodbye email at the end of the checklist.
This means that if you design an awesome detailed checklist, you won't need to lift a finger to get all the offboarding information.
The software will let managers track employees' progress in any checklist and it can generate progress reports as well.
These features make Process.st one of the best tools for employee offboarding, especially for small business units (considering the limiting checklist-based structure of the software).
Conclusion
And that's a wrap!
Thank you for reading this article! We hope that this checklist will help you create an employee offboarding process that works in your favor. If you are interested in reading more high-quality HR & business content, make sure to follow our blog.
You can also check out some of our top resources:
Have a good one!