Workflows are an essential part of any efficient business.
By documenting and automating workflows, your employees can finally focus on the work that matters, instead of wasting time on carrying out repetitive, manual tasks.
There is, however, a ton of uncertainty on what a workflow is or isn't. In this guide, we are going to teach you:
What, exactly, is a workflow
How to create workflows for your business (with 3 different methods)
Top 7 benefits of using workflows
How to choose the best workflow software to suit the needs of your organization
Automate your processes to improve the efficiency of your company
Motivate your employees and improve accountability within the organization
Without further due, let's dig in!
What is a Workflow (Definition and 5+ Examples)?
A workflow is a visual representation of the sequential steps that you need to take to get work done.
An even simpler definition of a workflow stems from the word itself – it is a flow of work!
A workflow can be something that you do on your own, or it can stretch to many people/departments.
Every business has workflows, whether they are documented (through a checklist, workflow software, or a diagram) or implicit (i.e: your business executes the workflow, but it isn't documented anywhere).
To give you a better idea of what's a workflow, let's cover a simple example…
Hiring manager submits a job posting
Potential hirees apply for the position
HR and future supervisor (team lead) select shortlisted candidates and invite them for an interview
They conduct interviews with potential employees
Team leader reviews the files of interviewed candidates and selects the best employee
Department leader signs the paper and the new employee goes through an onboarding
Or, this can also be turned into a workflow diagram…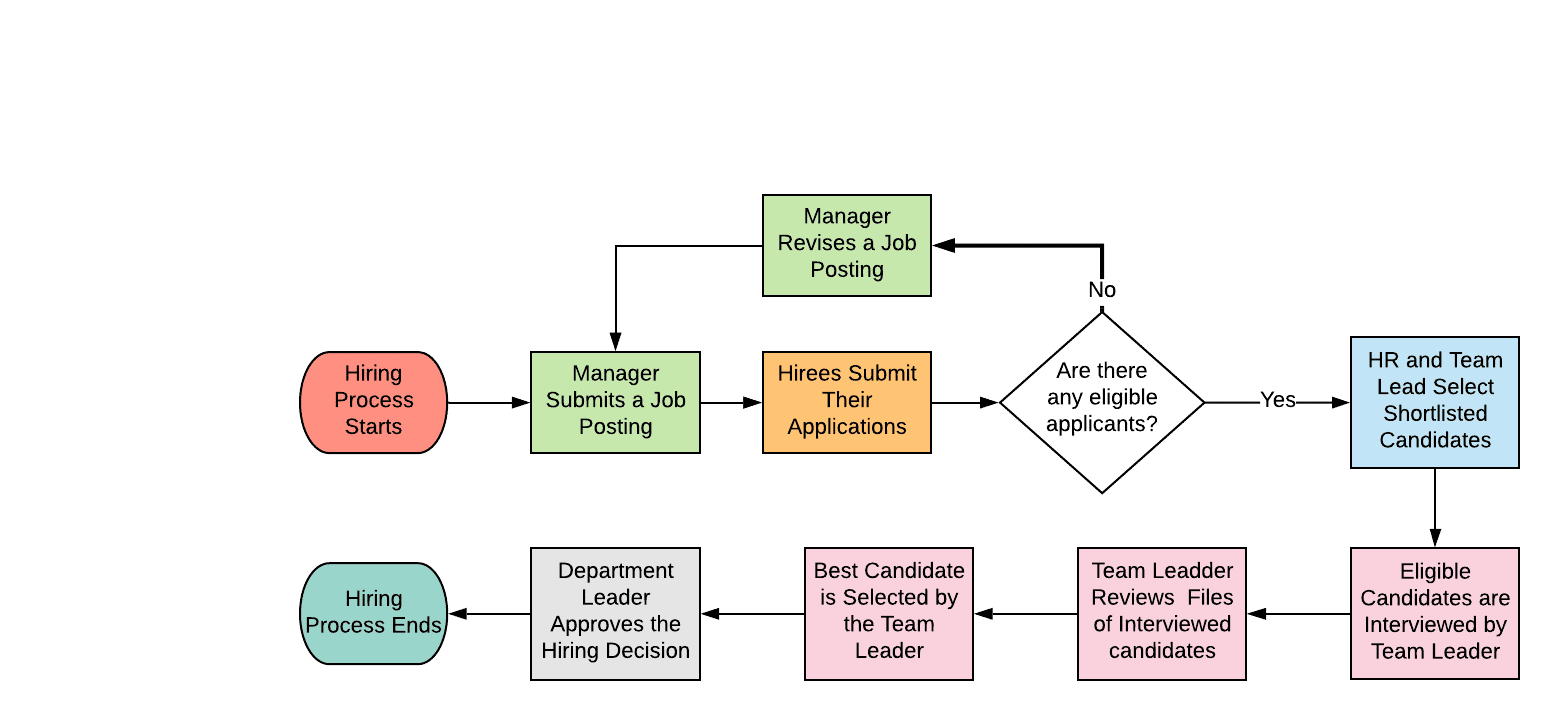 More often than not, when people refer to "workflows," they talk about workflows created using workflow management software.
The difference between the two is that the latter also automates the execution of the workflow.
Meaning…
Person #1 finishes task #1, hits "Done"
Person #2 automatically gets the following task assigned with an appropriate deadline
If you manage a business, you can tell how useful this can be – all you have to do is set up a workflow once, and from then on, you just have to click "start". The software will handle the execution.
And on top of that, workflow software also allows you to automate specific types of tasks.
For example…
Automatically sending out an email based on a template
Generating an automated Itinerary for an order
Sending a new customer a welcome package upon registration
…And a ton of other menial tasks.
For a large organization, automating such small tasks will free up a lot of time.
Now, to give you a better example of how workflow software helps businesses, let's cover a real business case with food delivery company:
A customer places an order on the site, kicking off a workflow
The order is sent to the restaurant automatically
The restaurant has to confirm whether they're accepting the order or not:

If a restaurant does not confirm the order, a customer support rep gets in touch with the customer and lets them know that the order can't be completed
If the restaurant confirms, move to the next step

Once the food is ready, the restaurant hits a button and the delivery guy gets a notification to pick it up
The courier picks up the food and hits a button, which triggers the delivery tracker to send the user a notification that their food is on the way
Once the food is delivered, the delivery driver hits the final "OK" and completes the workflow
Or, here's how this looks on a graph…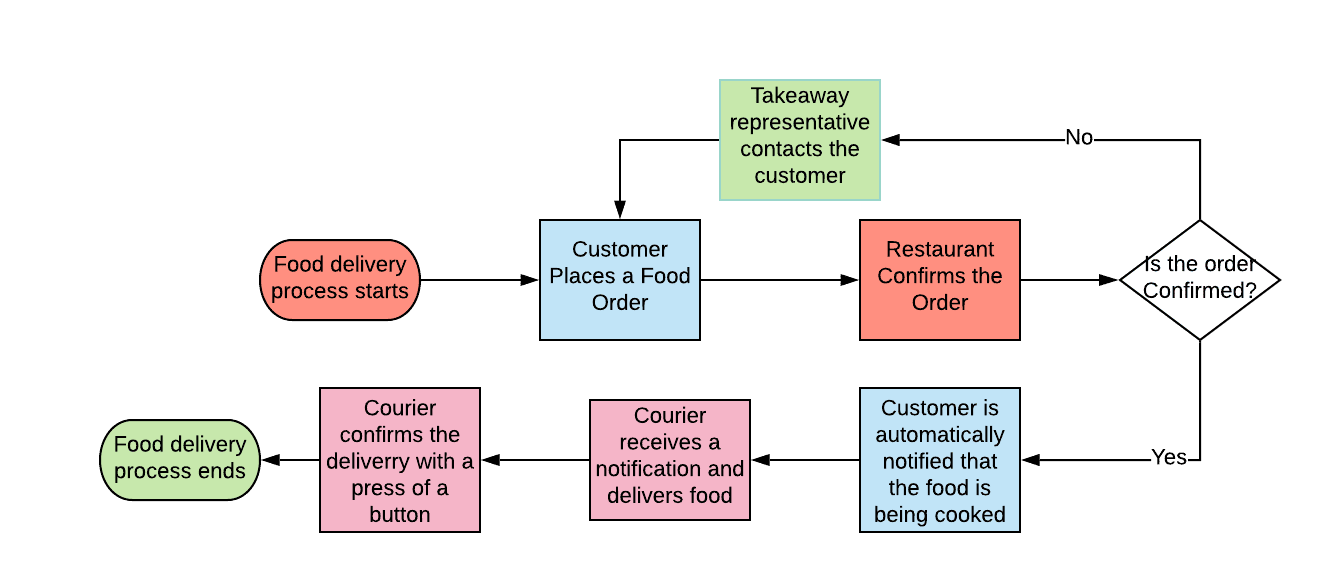 As you've probably figured, scaling food delivery wouldn't be as easy without using workflow software.
Now, if you're wondering how YOU can take advantage of workflows, let's cover 3 of the most common workflow examples…
3 Practical Workflow Examples
Workflow Example #1: Client Onboarding Process
Client onboarding is a good example of a standardized process: You always communicate similar information to clients purchasing similar products/services from your company.
Here's how client onboarding usually works:
A client fills in a contact form on your website, kicking off the workflow
The data from the contact form automatically get submitted to a Google Sheet (or your internal database)
Your sales guy sets up a kickoff meeting
Your team members identify deliverables, project specifications and make a project brief
The project brief is sent to the client for approval.

If the client approved the brief, move on to the next step
If the client asks for changes, move back to step 2
If the client rejects the brief, cancel workflow

You send over a contract to the client
You send a contract to your senior management
You send a welcome message to the client
Depending on your business type, you send other relevant onboarding documents
You assign an account manager for your client to supervise the project & close the workflow
Or, here's what this looks like on a diagram…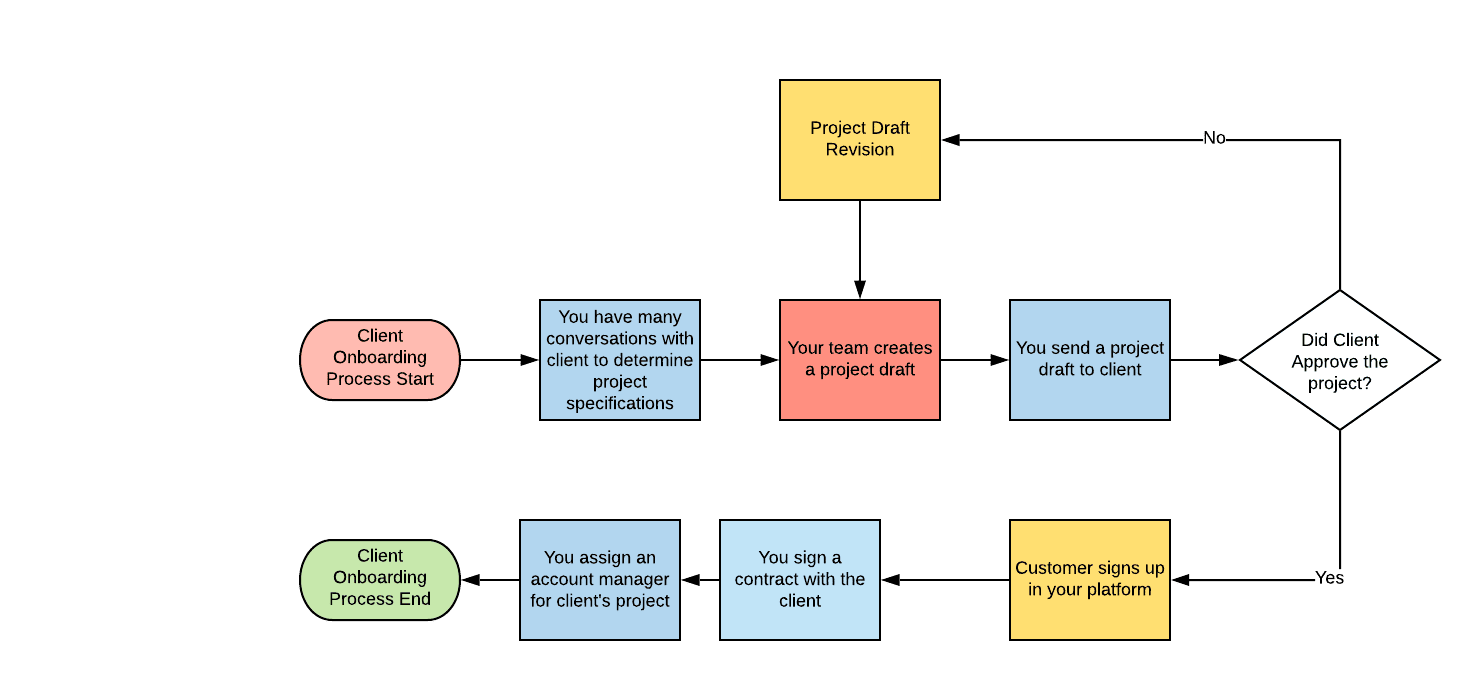 The customer onboarding process is one of the most important things for an organization. It leaves a lasting impression on the client (and plays a major factor in whether they decide to work with you or not).
Documenting your onboarding can ensure that you always execute the workflow without any hiccups.
Workflow Example #2: Vacation Request Form Approval
You can automate Most HR processes using workflow software.
For example, let's consider a vacation request approval.
If done manually, this simple process can take a lot of time: the documents can travel for hours between different departments before the approval is granted.
And that's the best-case scenario.
At worst, one overlooked email can delay the approval by days.
Now, you might be thinking, how is that so bad? For a small company, it's not that much of a big deal.
For a large organization with thousands of employees, the process can make things a lot more complex than they have to be.
By using workflow software to automate this process, you will enable your employees to fill in and submit such forms online. Then, the workflow will automatically pass the document through all the relevant parties, ensuring the process gets completed fast and easy.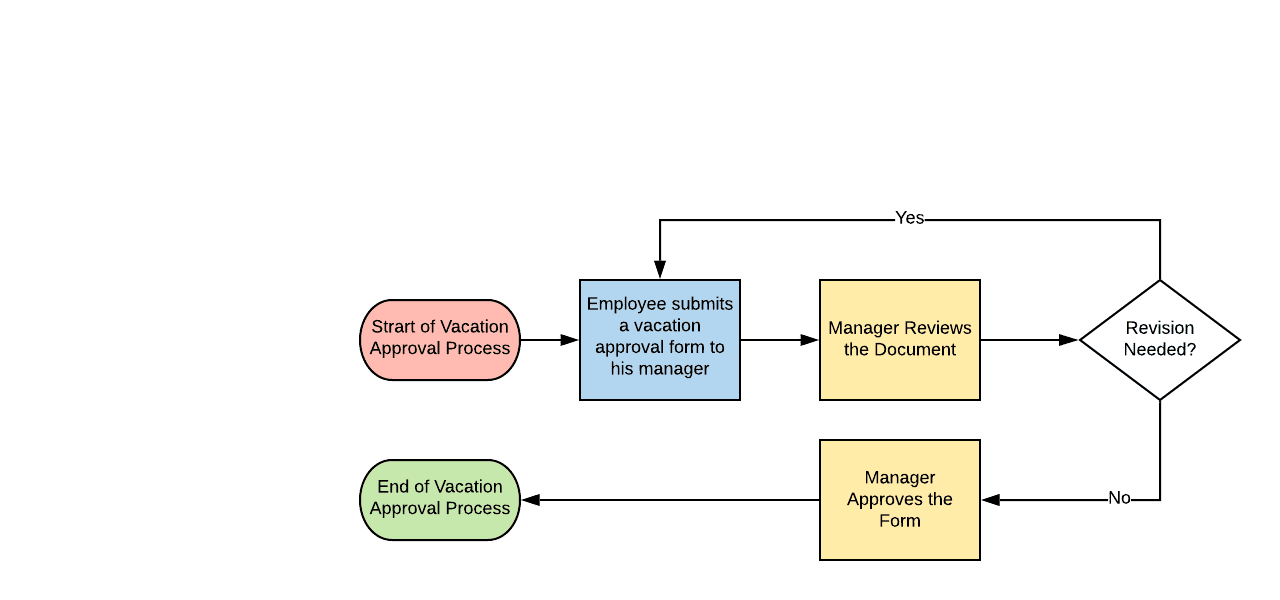 Workflow Example #3: Employee Onboarding
Employee onboarding is an essential process in making sure that your new employees start their journey off the right foot in your company. Hence, it's important to get it right.
Unfortunately, most organizations are not so good at it. A survey by CareerBuilder shows that 36% of American companies do not have a structured process for employee onboarding.
Many of the employers in the survey have admitted that the lack of structured onboarding resulted in lower productivity of the business and high employee turnover.
On the contrary, companies with proper onboarding systems were able to increase the productivity of their employees by 54% and manager satisfaction by 20%.
If you are a big company, onboarding numerous employees at the same time, then it is even more complex and it's easy to make a mistake.
Proper workflow design and workflow software can make it as simple as A-B-C.
Employee Onboarding goes like this:
Hiring Manager Prepares the Paperwork for the employee
An employee fills out the paperwork on the first day at a job
HR office reviews the paperwork and requests changes if needed
Once the documents are approved, HR sets up the workspace and welcomes the employee
Employee supervisor introduces him to the company
A supervisor provides additional tools (wi-fi password, water cooler routines briefing)
IT office adds employee information into a database and creates relevant accounts (they can do it at the beginning of the process)
Employee supervisor briefs him through the systems
Employee supervisor provides training material
Supervisors checks if there are any questions and transfers employee to training workflow
Or in a flowchart form: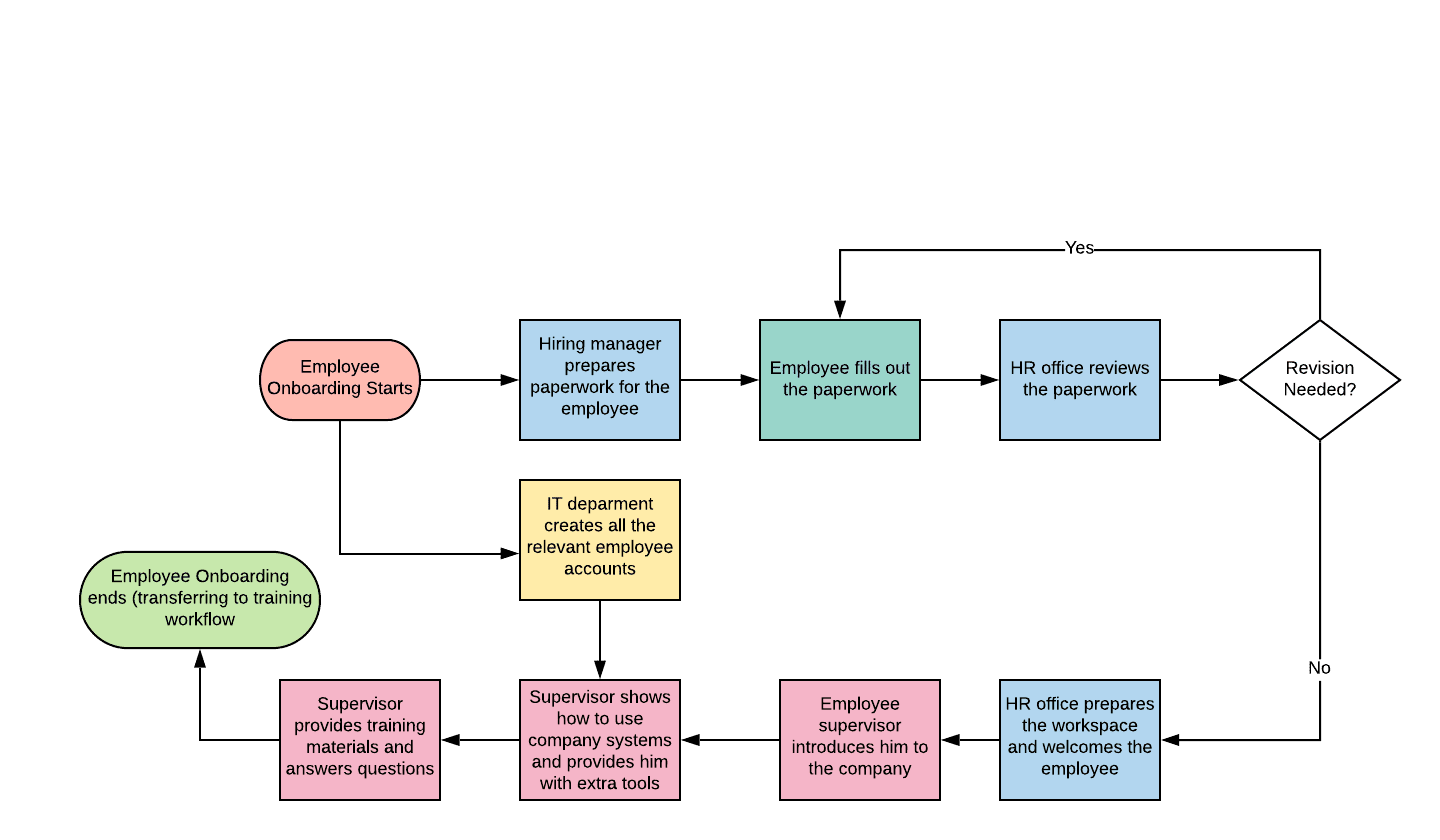 Now that you have a better understanding of all basic workflow concepts, it is time to learn more about the benefits of documenting workflows and how you can start doing it today.
Why Should You Document Workflows (7+ Essential Benefits)
Workflows help you establish the following things about every process:
What has to be done?
Who has to do it?
How much time should we allocate for that?
…And this leads to a lot of benefits for your company:
Clear Communication. Workflows make it easy to understand who's responsible for what at all times. This makes the communication within the organization more fluid – your employees won't have to spend time figuring out whom they need to contact to get something done
Easier Monitoring. By mapping out your workflows with charts or software, your managers can get a top-down view of the organization. This makes it easier for them to check the progress in different departments. Workflow software amplifies this benefit. It will track the performance of each employee automatically and notify the manager if a deadline is missed or someone needs help with a task
Reduced Micromanagement. Micromanagement sucks. A study by APA has proven that managers, who constantly monitor and control their employees reduce their productivity. Moreover, 85% of employees said their morale decreased when they had to report to their managers constantly. Workflows help to increase autonomy within the organization and reduce micromanagement. Since every employee has a specific set of tasks, which can be easily tracked, the need to constantly report and monitor workers disappears.
Higher Efficiency. Properly implemented workflow systems greatly improve the efficiency of your businesses. For instance, once NHS streamlined digital workflows in their clinics, they were able to reduce the time it takes to load the system interface by more than 75%.
Easy to Track Performance. Workflows help establish clear performance indicators for your employees. You know exactly who's been doing their tasks right and on time, and who wasn't.
Some workflow software programs will automatically calculate the performance of each employee according to key indicators and display it straight on the manager's dashboard
Higher Revenue. As a result of all the other benefits we mentioned, workflows allow your business to cut costs and increase revenue. For instance, a study conducted by Nixon (a workflow management software company) has indicated that their customers were able to save $1.47 million dollars through task automation and achieved a 20% reduction in the time needed to supervise their processes.
Faster Service. A study by the CMO council revealed that if the company does not respond to the needs of its customers fast enough, 52% of the customers will abandon your business. Workflows help you to streamline customer service and enable responses in a timely manner. With faster service, you are less likely to lose clients.
How to Document Your Workflows: 3 Simple Ways
Now that we've covered all the benefits of workflows, let's talk about documentation.
How can you document your workflows, and what's the best method for your business?
As we mentioned above, there are 3 main methods to document workflows:
Create workflow diagrams
Create (and use) checklists
Using workflow software to create digital processes
Let's cover each one of them separately…
How to Create and Use Workflow Diagrams
Our brains are better at understanding information when it is communicated visually. In fact, research shows that content with visual elements is 94% more likely to be viewed.
This makes workflow diagrams very useful at communicating complex processes to your employees so the information "sticks".
The best tool for creating workflow diagrams (for a $0 starting cost) is LucidChart…
The Best Tool For Workflow Diagrams: Lucidchart
One thing we can say about Lucidcharts is that we cannot get enough of it.
Intuitive interface, wonderful design tools, tons of integrations, import/export options, and seamless collaborations make the process of creating workflows easy and fun.
Lucidcharts is one of the few tools with almost no learning curve, and the free version of the program gives you a lot of freedom to create a detailed workflow. Moreover, it has hundreds of prebuilt templates that you can use to simply build complex diagrams.
You can use Lucidchart to create more than just diagrams: Gantt charts, timelines, mind maps, vision boards are a few of the many options that the program can offer you. Oh, and also, they have one of the best marketing campaigns we have ever seen.

Intuitive interface, helpful design tools, third-party app integrations, and collaboration features make workflow documentation easy and fun with Lucidchart
Lucidchart currently offers a free trial to check out all the premium features of the program.
With that being said, the free version is more than enough for most organizations.
The main issue with the Free version is that you can only save 5 diagrams on the tool. But as long as you download the diagrams you make and store them somewhere else, you should be fine.
As useful as this software is for creating workflow diagrams, Lucidchart is not capable of automating your tasks. While you can still use it to visualize your processes, the real advantage of task automation comes with workflow software.
Now, let's talk about another way to document your workflows: checklist software.
How to Create and Use Checklists
The process of creating manual checklists is straightforward: you pick a pen, write a set of tasks, and execute them.
While it is brilliantly simple, it's not exactly the most efficient way to manage processes for a large organization.
You can, however, use checklist software like Process.st
Process.st overcomes the downsides of regular checklists and turns them into powerful tools that can help you streamline and automate processes within your company.
If you're looking for a workflow solution that's simple to use & easy to get started with, Process.st is a must-try. Here's why…
The Best Checklist Tool for Small Businesses: Process.st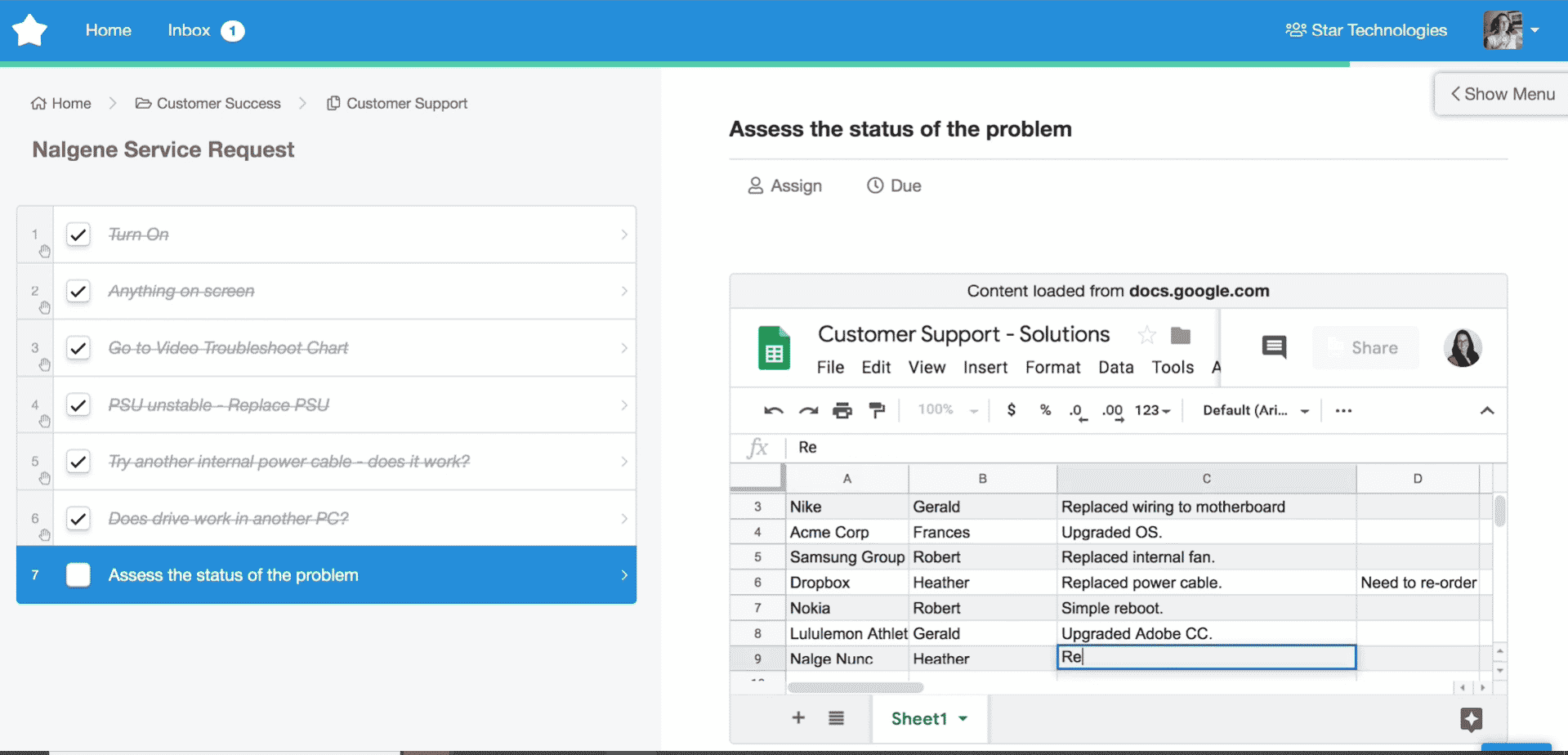 Pricing: $12.50-$30 per person/month (+ a free version)
Key features:
Simple check-list based structure
Easy to integrate many file types
Powerful automation features
Easy to collaborate
Easy to create Reports
Perfect for: Small Businesses, Freelancers
Process Street allows you to create checklists in collaboration with other people in your company.
It is a super-simple tool that lets you attach any files, programs, or forms to your checklists. This enables you to guide your employees through any process within the company and show them EXACTLY what they need to know by looking at a list.
Moreover, checklists allow you to gather the data from your employees, customers and send them automatically to your dashboard. This can be very useful for processes like onboarding and training, marketing research, development, etc.
Furthermore, it has an integration with thousands of third-party services (such as GSuite, Draw.io, Typeform, etc). This means that you can integrate anything into your form, whether it is a simple diagram or a custom-written code.
But the best part about Process.st is that it comes with 1000+ customizable workflow templates, including client onboarding, website development, content promotion, etc. These lists are well-developed and come with integrated automation features (such as sending an automated email, scheduling a call at any point in the process).
Process.st lets you create killer checklists with tons of extra features and workflow automation capabilities. It is a perfect choice for small businesses looking to streamline and automate their processes with minimum investment.
Using Process.st for Checklists/Diagrams
Advantages
Disadvantages

Simple to Use
Awesome File Integration Features
3rd Party App Integration (Google Sheets, Slack, etc.)
Hundreds of workflow templates

Cannot Create Workflow Diagrams
Automation Capabilities are Limited
No Integrated Resource Tracking
Limited Reporting Features

Best Fit: Small Businesses (up to 10 workers), startups, creative teams, freelancers
Process.st currently offers you a free no commitment 14-day trial to check out all the premium features. We recommend you to try this app to see how it can save you time on automation of generic processes (such as training, onboarding or content promotion)
Keep in mind, though, that the app is still a checklist-based solution. If you are a big business with many departments or complicated processes, Process.st might not be the best choice for you.
Moreover, it does not have a top-down integration with resources and views each process separately. Therefore, if you need an all-in-one solution for workflow automation, we recommend you to check out Monday.com or Kissflow instead.
In the next section, we will introduce you to both of these programs and show you how they can help you automate your processes.
Using Workflow Software to Automate Your Processes
Workflow Software is the real big gun. It helps you streamline your processes, represent them visually, and automate some tasks. Moreover, it lets you allocate resources to specific tasks and people.
The best part of using workflow software is that all the data within your company is transferred automatically, so the need to constantly send each other Emails and progress reports disappears.
Let's illustrate it on an example:
Someone fills in your contact form
His information is automatically transferred to Google Sheets and CRM software
The software automatically assigns a salesperson to a potential client
Back in the 80s, business process management software was costly (we are taking 6+ figures). It required the installation of on-site servers, extensive training, and required hiring a developer. The worst part- once your company invested, there was no turning back.
Things changed once workflow software became cloud-based. Now, you can automate your workflows at a much lower cost (starting at $150 per small company), and you don't need to install servers. Also – you can unsubscribe at any moment if the software is not meeting your expectations.
Such tools come with a better interface, does not require coding knowledge for most of the tasks, and comes with hundreds of pre-built templates to save your company productive time.
The downturn of using workflow software is that it is more complicated than just creating a checklist. Therefore it requires training and employee buy-in. Moreover, if you want to modify it to meet the needs of the organization, you might have to tinker with the code.
Note that people use terms business process management software and workflow software interchangeably. However, the former usually refers to the old-school method of on-site installation, while the latter refers to modern cloud-based solutions, which we cover in this guide.
Workflow Software
Advantages
Disadvantages

Customizable
Maximum Automation Capabilities
Integrating Resource, People, and Tasks in one place
Performance Evaluation is Simple

Steep Learning Curve
Could be Expensive
Some Workflow Software Requires Thorough Training

Best Fit: Mid-Size Businesses, Big Companies
We analyzed some of the most popular workflow solutions on the market. Here are 2 of the market leaders by price, features, and simplicity…
Best Overall Workflow Software: Monday.com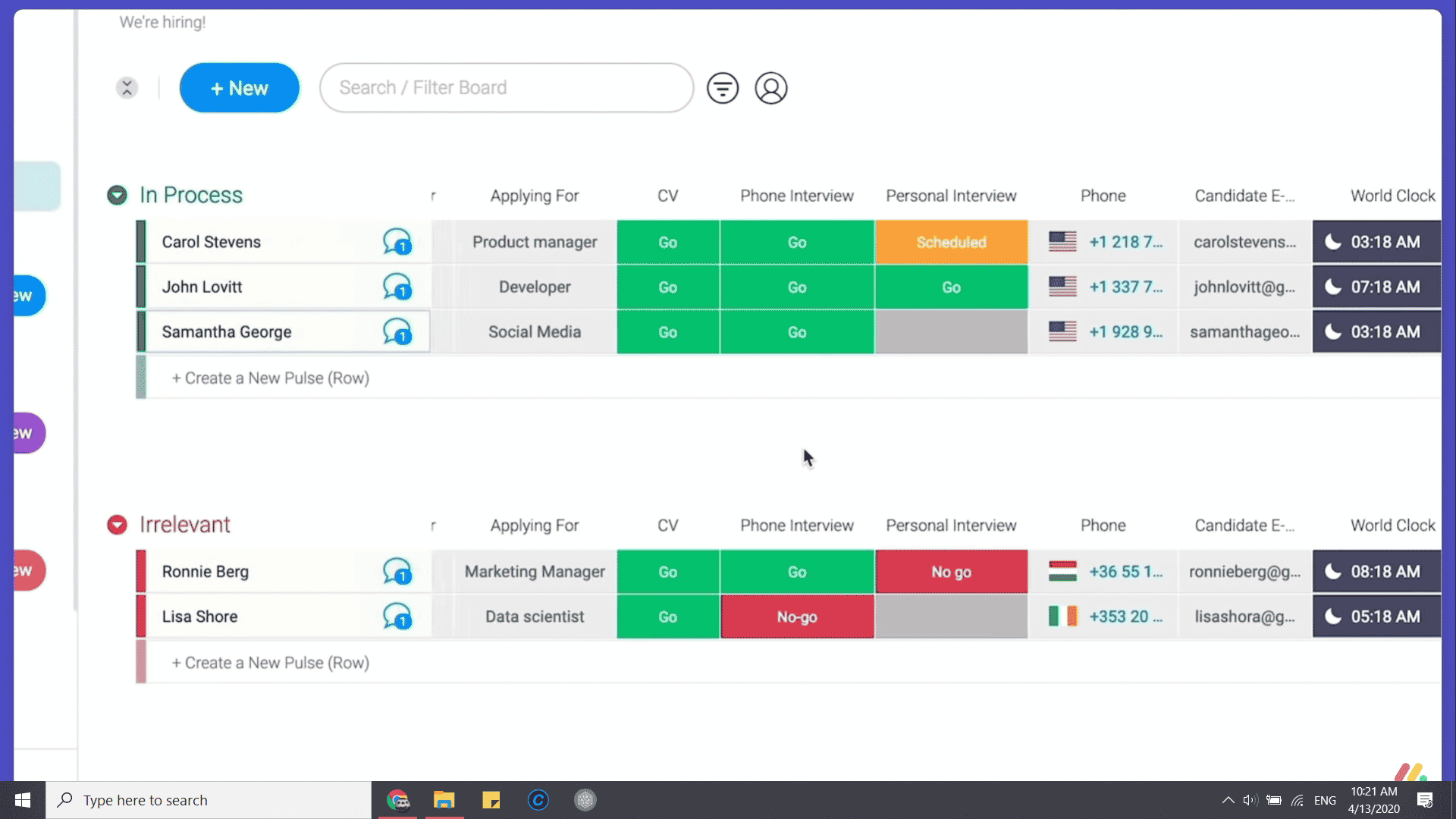 Pricing: $8-$16 per user/month
Key Features:
Task automation features
User-friendly Design
Numerous third-party integrations
Catered to the needs of your company
Awesome data organization tools
Perfect for: Companies of all sizes.
Monday.com is hands down our favorite workflow software. It is simple to use, has tons of integrations with third-party apps, like Gmail, Slack, Google Docs, Dropbox, and 600+ other services.
Monday.com has a very intuitive interface and it is packed with project visualization features. The process of creating a workflow is very simply:
You create a list of tasks within a workflow
You assign a person and resources to each task
The program automatically notifies employees that they have been assigned to new tasks and represents the information visually for everyone.
Moreover, Monday.com comes pre-loaded with templates to cater to the needs of most companies. You can choose from a variety of presets, including content promotion, video creation, project management. Each one of them is entirely customizable.
Moreover, you can view your workflows as a calendar or a process map, similar to Lucid Charts.
Best of all, task automation is straightforward, and it does not require you to know a single line of code – the program uses plain English commands to set up automated processes…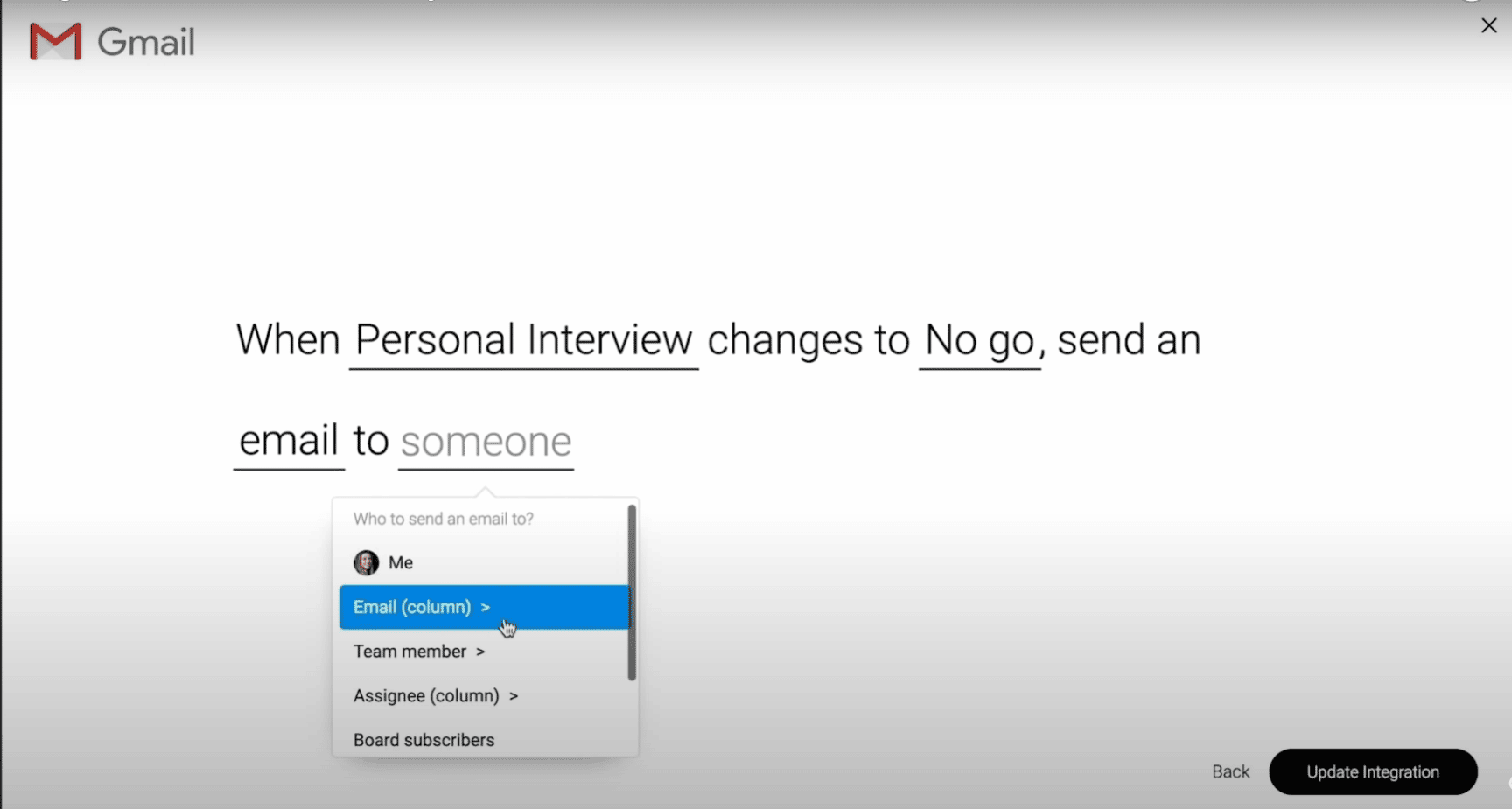 And you can automate a lot of things through this program! Emails, hiring process, event schedule, and even sales.
Monday.com is a great solution for teams of any size if you are looking for the most intuitive interface and simple task automation. However, the pricing plans can get confusing…
The basic subscription starts at a conservative $8/person per month. However, it has some limitations, such as 5gb storage space and inability to access calendar view. Therefore, bigger teams will probably want to get a standard subscription at $10/person per month.
The $16 pro version comes with different audit and reporting integrations and removes the limit on the number of workflows, storage space, and the number of third-party service integrations.
Therefore, we would recommend you to revise the pricing plans page before you subscribe to Monday.com
With that being said, we can conclude that Monday.com is the best overall solution for workflow management and automation. It is convenient, easily customizable, and has killer automation/integration features.
KissFlow: Most Price-Effective Solution for Large Enterprises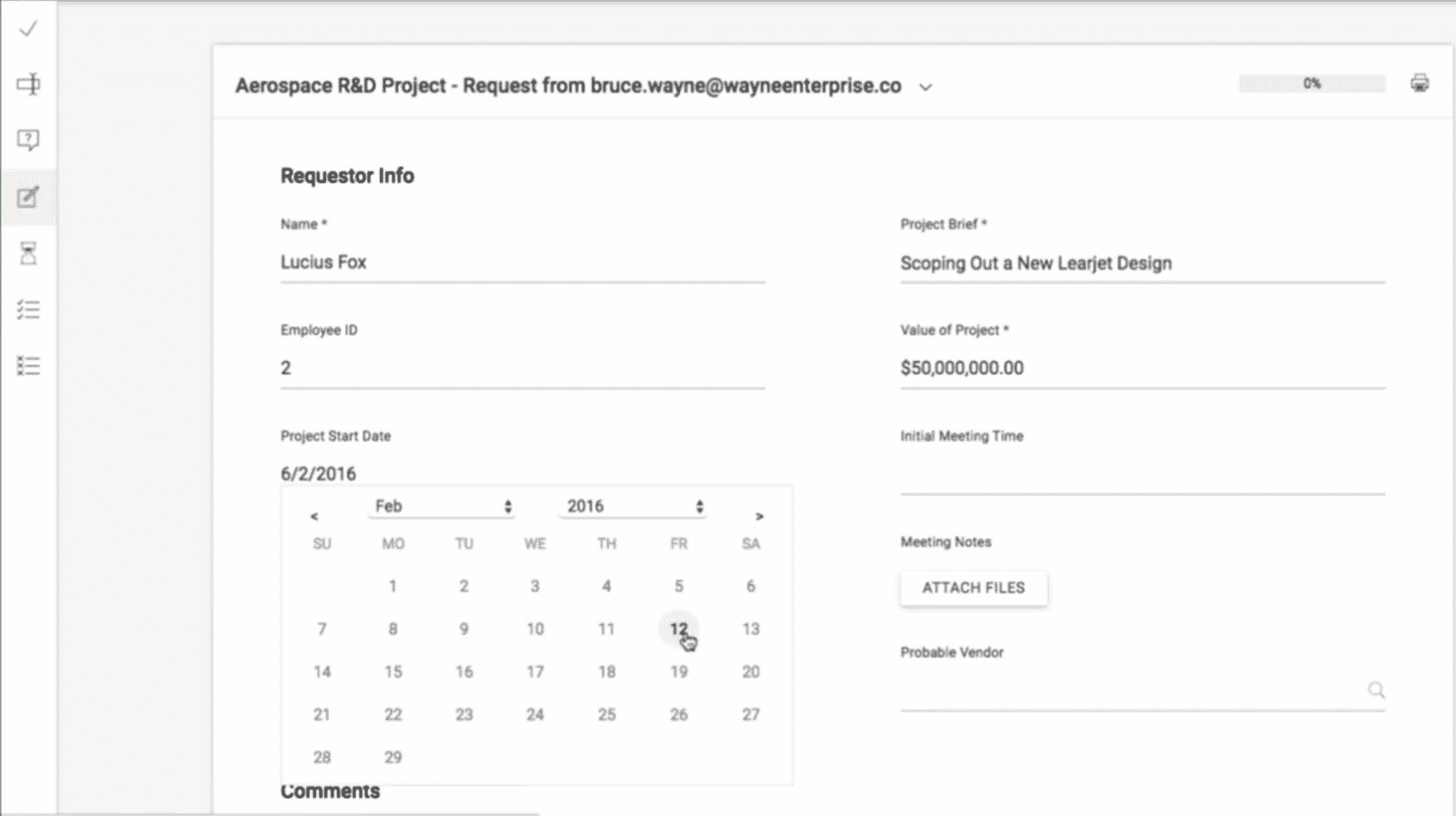 Pricing: $360-$1000 per month (unlimited number of people)
Key features:
Step-by-step Workflow Automation
Built for Scale
Powerful Accounting Tools
Catered to the needs of your company
Easy to Map Business Processes
Perfect for: Middle-Sized companies, Large Enterprises
Kissflow is a swiss army knife of workflow automation software. It has a great process-mapping tool, automation capabilities, friendly design, and resource integration.
It does a great job of walking you through the steps of creating and automating a business process. Moreover, it has built-in metrics analytics as well as a report generator. It is useful for generating advanced accounting reports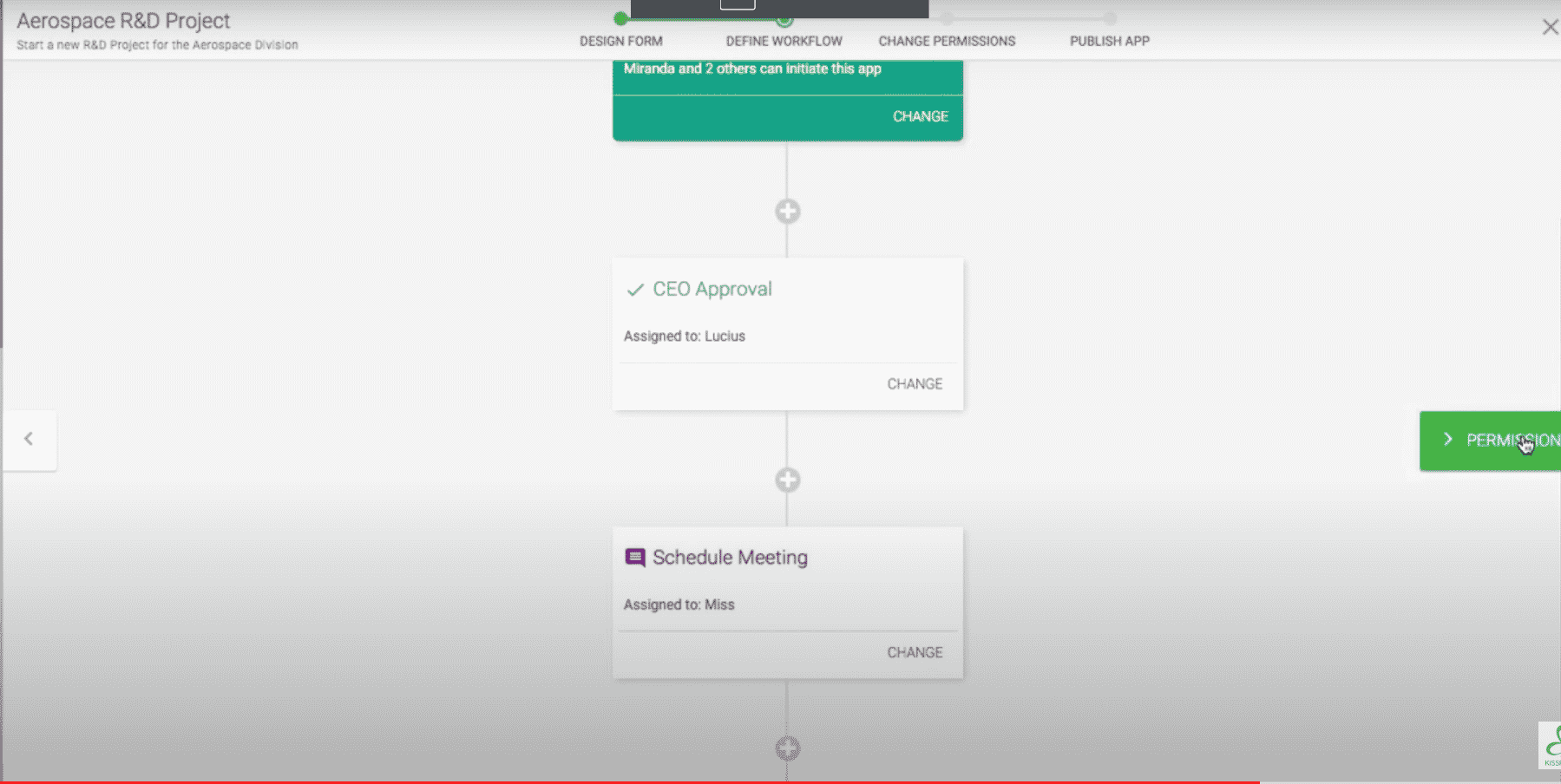 Kissflow allows you to design your workflows and walk you through the process of task automation. It also has awesome accounting features and helps you design complex tasks involving hundreds of people.
While the Kissflow pricing system may drive away many small-sized businesses, it was built for scale. The way that Kissflow organizes information and helps you understand the key metrics of your company is remarkable. It is certainly the best solution for large enterprises.
This makes it a very attractive solution if the size of your company is over 100 employees since you end up paying a fixed fee. Moreover, even the most complicated processes are mapped out in a timeline or a flow chart, which keeps your workflow neat and simple.
Key Takeaways
Phew, that was a lot to digest!
Hopefully, you followed us all the way through and learned a thing or two about workflows and business processes. To recap everything we have learned today:
The workflow shows the flow of work within your organization
There are numerous benefits of documenting workflows, including better communication and monitoring practices
There are 3 ways to represent workflows: through checklists, charts of workflow software
Workflow software can help you automate simple repetitive tasks within the organization
And last, but not least, here are our final suggestions for workflow software:
Go for Kissflow if your company is big (>100 employees)
Go for Process.st if your company is small and task structure is simple
Go for Monday.com if you want to get the best price/quality ratio
If you want to learn more about process automation and how to make your organization more productive, stay tuned for more high-quality content.