Want to get the most out of your processes?
You can use Business Process Automation (BPA) to take care of all the mundane, repetitive tasks in your business, allowing you and your employees to concentrate on the more motivating and meaningful work.
And we are here to show you how EXACTLY this can happen…
In this guide, we'll give you ALL the essentials you need to know about BPA, including:
What is Business Process Automation?
3+ Practical Business Process Automation Examples
How to Automate Your Processes with BPMS
X+ Business Process Automation Tools
Let's get started with…
What is Business Process Automation?
Business process automation is the act of using technology to automate simple, repetitive tasks that were previously completed by people.
It's important to note that when we speak of BPA, we don't refer to replacing human employees with robots – that's called Industrial Automation, or robotic process automation, and it's something else entirely.
What BPA does is help you with (1) process flow automation and (2) individual task automation. This happens with the help of a business process management software or BPMS.
Here's what each of those means in practice:
Process flow automation – For example, once an employee completes a task, the next person in the chain is notified to start his task and so on. This eliminates any delays, miscommunication, and bottlenecks.
Individual task automation – simple repetitive tasks like sending emails and filling out data entries can be entirely automated so your employees can focus on more meaningful tasks.
Both types of automation result in better performing, more cost-efficient, and standardized processes that are much easier to carry out.
None of this makes sense? Wait for it – it's all going to be SUPER simple once we cover a real-life automation example. Say, for example, you want to automate employee onboarding.
The process usually goes something like:
HR prepares and gives the new hire all necessary paperwork to fill out
The employee gives the filled out documents back to the HR department
The documents are sent for approval to the HR manager
Preparation of training materials
Setting up the new hire's working station
And so on…
Now, here's how you can automate a big chunk of it.
Automate Process Execution
First of all, if you have this process digitally, you can automate the process execution, meaning that when task #1 is done, the software will notify the person responsible for task #2 and give them a green light to work on it.
Then when they complete it, all they do is hit "Done" and the software automatically informs the next person in the process pipeline that they can proceed.
And this repeats until they finish the entire process and so on until they finish with the whole process.
The software also, in a way, "babysits" the process. For example, if there's a good chance that the process will be completed too late (and missing a deadline), it sends a notification to both the employee and their manager.
Automate Individual Tasks
In addition, you can also use BPA to automate specific tasks in the process. Let's take the same employee onboarding process example: the first 2 steps in the process can be automated completely.
Instead of having HR complete the paperwork, you can have a standardized form which the employee has to fill in on the web (created using business process management software).
Then, literally the same moment the new employee hits "submit," HR gets a notification with the submission (with no need to get the documents manually).
This, if done at scale, can eliminate a lot of redundant tasks, allowing for the process to perform both smoother and faster.
So, as you can guess, this comes with a ton of benefits for your business.
Business Process Automation Benefits
Better Productivity. Without automation, your employees will spend around 60% of their time on the job doing some sort of dull, repetitive work like sending emails, entering data in the system, and assigning tasks to each other. With BPA many of these tasks can be easily automated, allowing your employees to focus on the more challenging responsibilities that require human input.
Cost Reductions. If your employees spend about 15% of their day on tasks like manually entering information from one program to another, and let's say you pay them $15/h, that's about $360 per month spent on tasks that could be easily automated. With automation, you can save anywhere between 40% to 75% in costs depending on the nature of your business.
Standardized Operations. Automation will help you reduce the chance of human error and also give you consistent and predictable results.
13+ Business Process Automation Examples
Business processes that can benefit from automation usually:
Involve a lot of people from different departments
Have repetitive nature
Have well-defined inputs and outputs
Need to be consistent, error-free and compliant with a set of regulations
Some of the most common processes you can automate include…
HR Processes
HR is one of the departments that can benefit a lot from BPA implementation.
They can use it to automate processes like:
Employee onboarding. Every company has to constantly onboard new hires which requires a well-defined and standardized onboarding process. This will help you save money and time. Also, the organizations that have a standardized employee onboarding process company-wide retain up to 50% more of their new employees.
Employee Offboarding. This process includes everything from deactivating the employee's access to conducting the exit interview. And you need to make sure that it goes right every time so there is no space for misunderstandings. Or, you might be putting yourself at risk for potential liabilities.
So, creating a standardized process and automating all the bureaucratic documentation will significantly reduce the chances of making a mistake in your offboarding process.
Leave requests & other approval processes. Most companies don't really have structured approval processes and this makes the process itself very long and hectic for both the management and the employee.
Most companies do approvals like this:
Let's say you want to get your time off. That means that you have to email the HR department. They check if the time you requested is okay with your supervisor.
If not, you have to go through the same steps with different dates in mind. And emails go back and forth until you come to some acceptable arrangement for both sides.
And if you factor in the chance of someone not reading your email or some other miscommunication, then everything turns into a big mess.
With business process management software, you can create automated approvals, which makes the whole process significantly easier.
All you have to do is log in to the software, fill in a form, and the BPMS will make sure that all the relevant people see (and approve) your leave request at the right time.
Finance Processes
There are a TON of financial processes that can benefit from automation. As with HR approvals, they're very bureaucratic, formulaic, and depend on a LOT of emails and forms.
Without automation, there's a ton of back-and-forth between the employee, their manager, and the finance department.
Finance processes you can automate include:
Invoicing
Accounts Payable
Purchase Requests
Vendor Approvals
Travel Expense Requests
Investments
And as with the HR processes, all of this can be significantly improved JUST by adopting BPM software.
For example, let's say you want to purchase something for your department. You go on the BPMS, fill in a form, and the software ensures that someone from Finance will approve/disapprove the order ASAP.
Customer Support Processes
One of the best ways to keep your customers happy is by giving them timely and accurate assistance whenever they need it.
However, if you have a big customer base and way too many requests for help, it is really hard to respond manually to all of them on time.
In this case, process automation can make a big difference.
Some ways it can help with your customer support processes include:
Self-service help desk. If your customers experience an issue, they usually want it resolved right here, right now. But you have a limited customer support team. You can use knowledge base software to automate customer support queries by auto-generating FAQs based on the user's inquiry. This will reduce the number of direct customer inquiries and will help increase customer satisfaction.
Live chat and chatbots. Live chats can help you provide speedy service and are a very convenient way for the customer to reach out to a representative. However, it's costly to have one or more chat operators being live 24/7. That's why you can use chatbots to automate chat support during your offline hours.
Canned replies are a set of pre-written answers (usually email) tailored to the frequently asked questions and sent out to the customers who reached out for help. This reduces the wait time and frustration that the customer will otherwise have to deal with while waiting for someone to get to their inquiry and help them.
Business Process Automation Software
As we've already mentioned, process automation always happens with the help of software, and that's called Business Process Management Software (BPMS).
BPMS helps you manage your company processes:
You create a digital version of your process
The software automates the execution of each process (as we described before)
And when possible, you can also use the software to automate specific one-off tasks
Now, let's get to the practical part: how you can use BPMS to automate your processes.
We'll be using one of our favorite BPM solutions, Kissflow, to show you step-by-step how to use it for business process automation.
Let's say that we want to automate our budget approval process.
First, you have to install the approval app from the apps tab.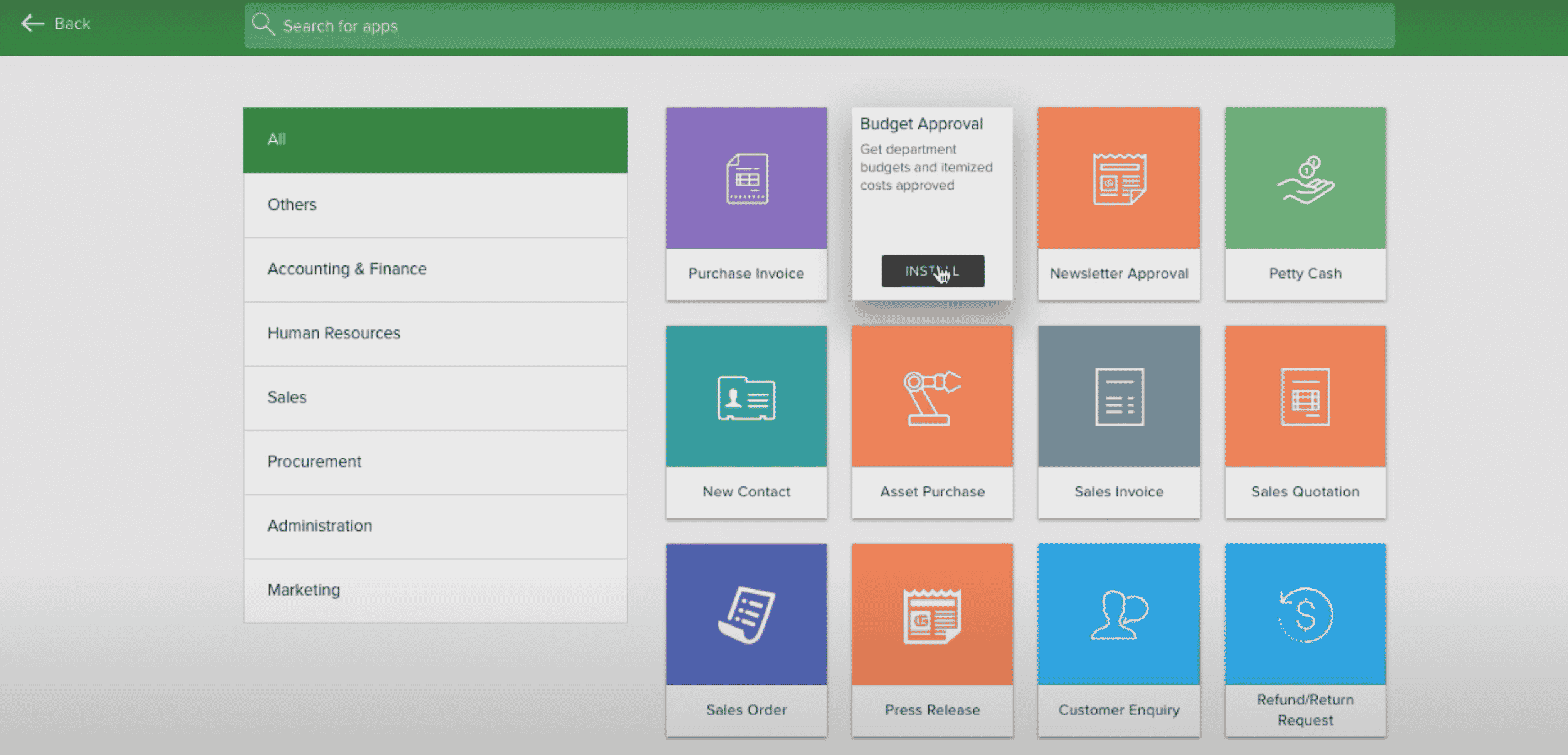 Then, you fill out all the necessary information about the process itself in the design form.
And once you're done with that, you can go on to define your flow and add all necessary approval request forms which will be sent automatically to the respective managers.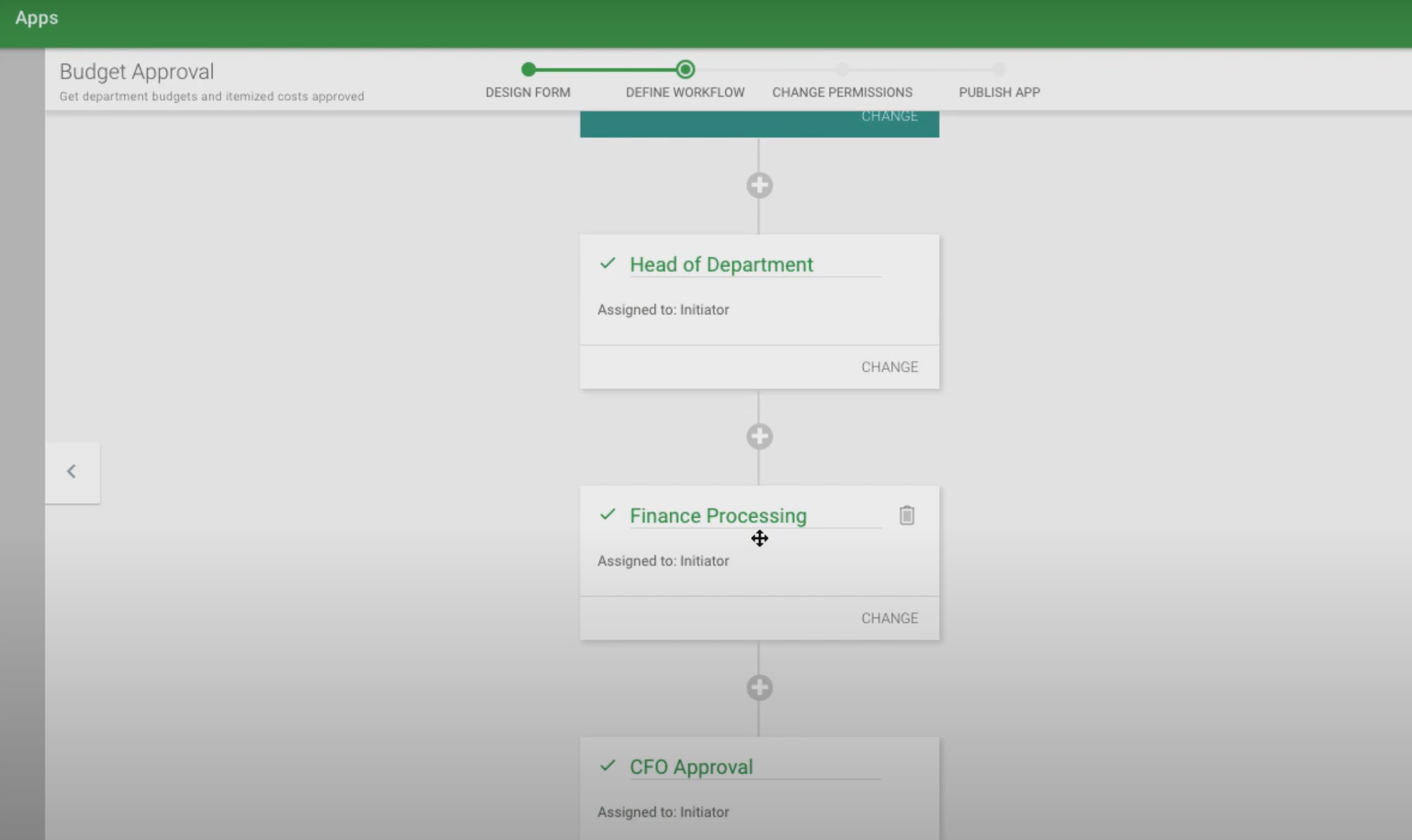 Also, you can set up each approval in a way that is convenient for you. What you do is, you automate who gets the notification for approval and the deadline in which they should fill the form out. And you can set a condition for the approval request to be sent, for example, only if the budget is above a certain amount.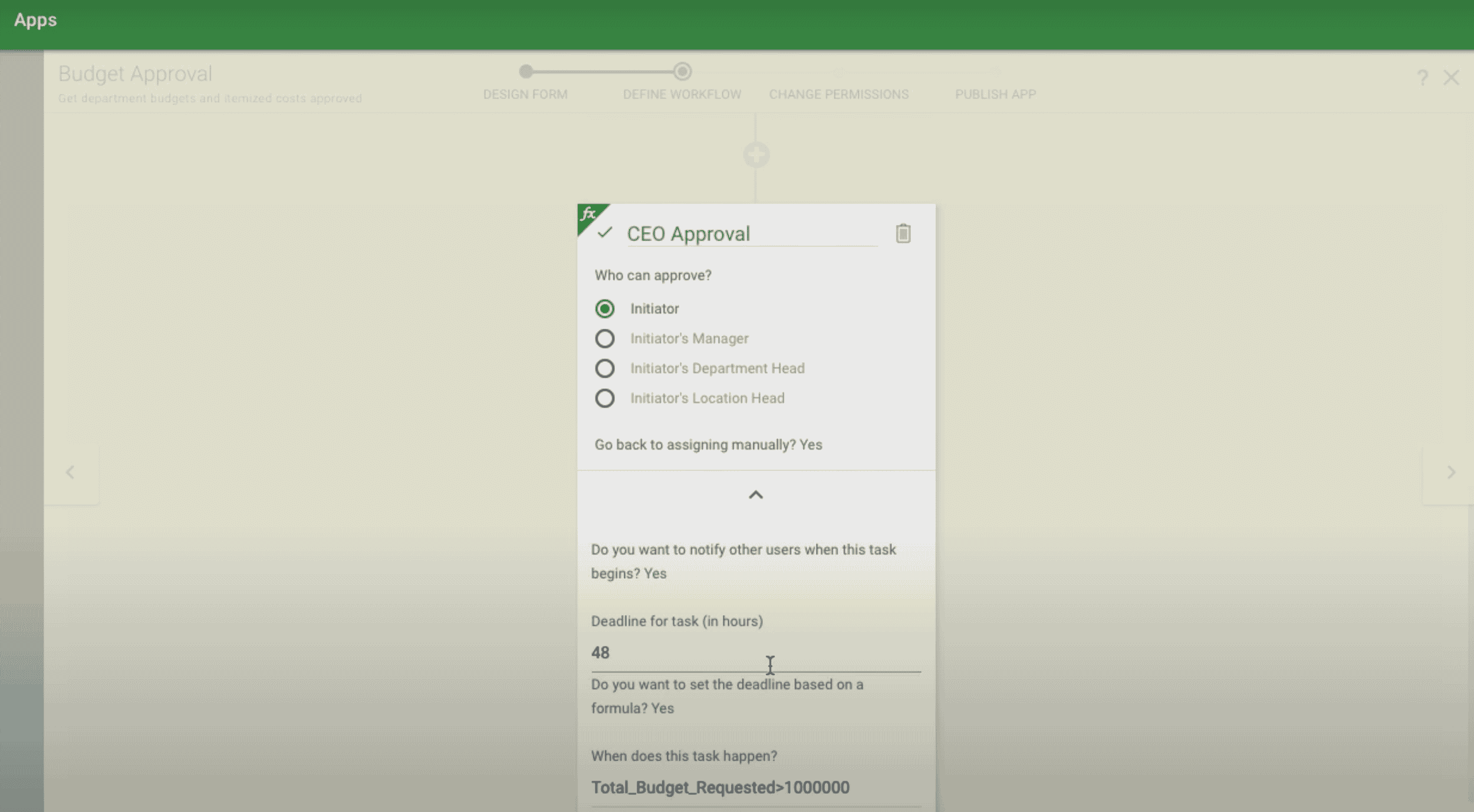 You can also set approvals to happen at the same time.
And finally, you are ready to publish your fully automated approval process.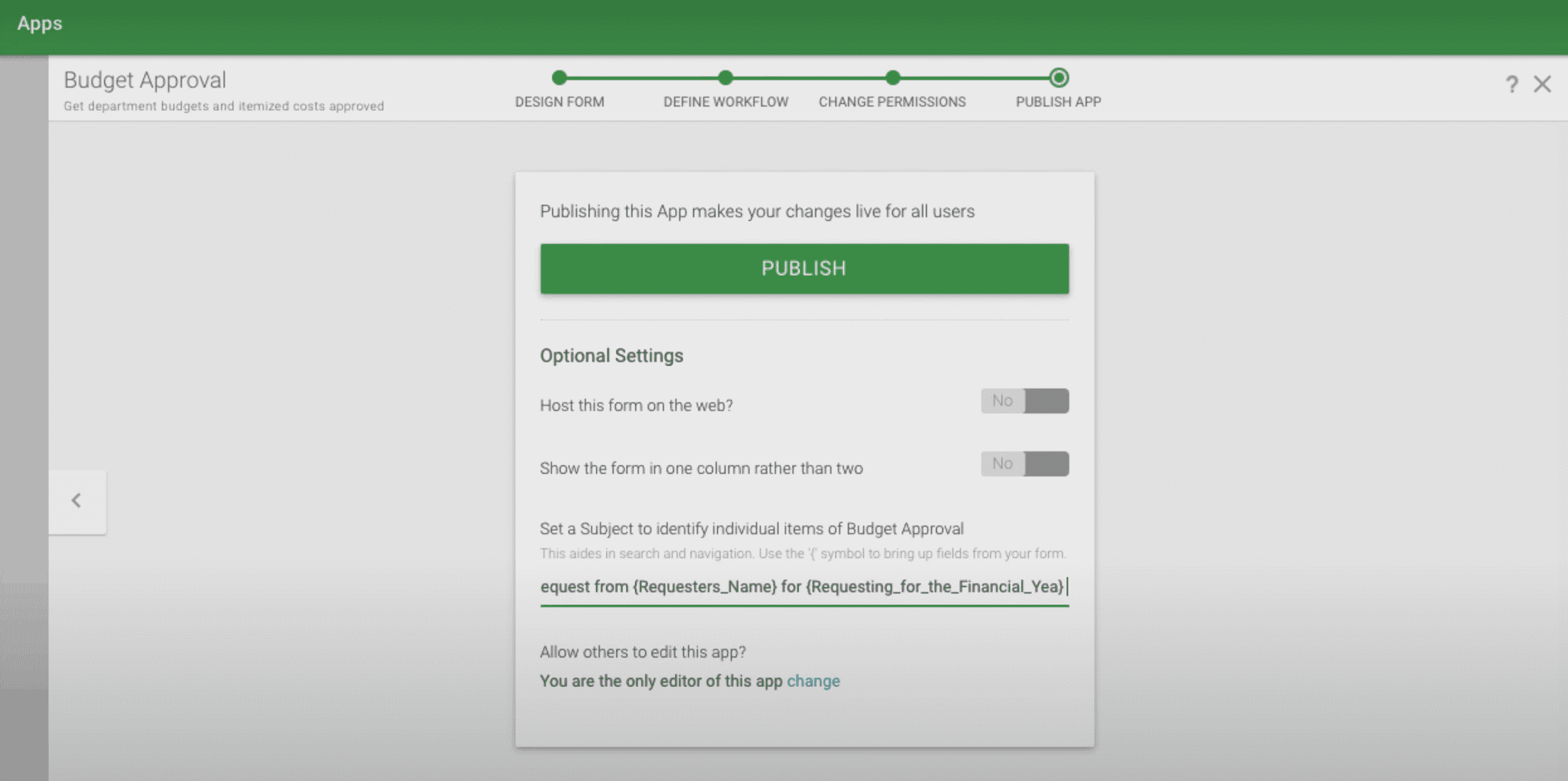 Now that your automated workflow is ready, all your employees have to do is launch the workflow (called App in Kissflow), and the software will automatically guide the process to completion.
3 Business Process Automation Tools
Other than KissFlow, there are a bunch of other awesome process automation tools you can try.
Here are some of our favorites:
Monday.com
The software is a combination of both business process management and project management tools, which makes it very useful and of great value for its considerably low prices, starting at $7.8 per user/month.
The amazing bang-for-your-buck makes Monday.com an essential tool for companies of all sizes.
Other advantages are:
You can integrate other useful tools like G-suite, Microsoft Office, Slack, and many others
100+ customizable process templates
Easy to use interface, no coding skills needed
Pega
If you're looking for a more heavy-weight software, Pega should be your go-to.
The software is low-code. Meaning, you don't need a lot of tech skills to create and customize your processes.
Since it's more of an enterprise tool, though, you might need some expert help with setting up the software.
The prices start off at $90 per user/month but that comes with added advantages like:
Workforce intelligence. The software uses machine learning to analyze your processes and identifies when automation can be used so you reach optimal results on the given process.
Robotic process automation. You can use bots to automate the dull repetitive tasks and enable your employees to focus on more meaningful work.
Robotic desktop automation. Pega makes navigation between different apps and programs on the desktop easier than ever before. This helps your employees be more efficient and work faster.
Pipefy
Pipefy is cloud-based, easy to use no-code BPM software. It can serve companies of all sizes and it starts at a fairly cheap price of $9 per user/month.
Other benefits include:
An intuitive Kanban interface.
Integration with other software.
Intuitive knowledge base.
Pre-made onboarding process templates.
Pipefy has one of the biggest libraries for process templates. So, all you have to do is choose the process you want to automate, and then the software will guide you on setting it up.
Great price, simple interface, and a variety of templates. If you don't need a more functional and complex enterprise software, Pipefy might be just what you need.
Conclusion
Pretty simple, right? BPA might seem like an extremely complicated topic and a buzzword, but once you get into the nits and grits of it all, it's pretty straightforward.
Now, let's recap what we've learned so far:
Business process automation is the act of automating your processes and tasks.
There are many benefits to BPA including increased productivity, cost reductions, and standardized processes.
You can automate processes in most of your departments, but the ones that benefit the most from automation are HR processes, finance processes, and customer support.
If you want to implement BPA in your business, you need to pick a BPMS, digitize your processes, and set up their automation. Once that's done, all you need to do is keep an eye on them and make sure everything goes according to the plan.
Now that you know all the basics of business process automation, you can go ahead and level up your business processes!
If you enjoyed reading this article, follow our blog for more industry-leading advice on process management!