A vast majority of business operations can be streamlined and automated using the right business automation tools.
Whether you're looking for software to automate your email marketing or a tool to make your social media marketing completely hands-free, there's something out there for you!
Read on to find the 17 best business automation tools out there…
Business Automation Tools
There's a ton of ways to automate your business. For instance, if you are in marketing, you can automate post scheduling and create automated emails. In sales, you could generate automatic reports and track performance automatically.
According to the 2020 In(Sight) report, a company of 500 employees can save $4 million by optimizing tasks with different tools. Moreover, 78% of business leaders indicated that their companies saved at least 3 hours/worker daily by implementing such solutions.
So, unless you're using automation in your business, you're missing out.
…and we're here to help!
In this guide, we're going to cover automation tools for just about every other use-case. Feel free to skip ahead below:
Social media automation tools – Tools for automating all things social media, from post scheduling to content curation.
Project management automation tools – Project management tools can help you create and manage multiple projects from a single dashboard. You can streamline communication, automate task delivery, and keep employees on the same page using this software.
Workflow automation tools – You can use workflow software to automate your business processes. Think, employee onboarding, approvals, and so on.
Email marketing automation tools – A big chunk of your email marketing can be automated. E.g. you can send specific emails after specific triggers, send automated onboarding emails, and so on.
Customer service automation tools – Customer service automation tools come with built-in ticketing systems, which help you answer your customer queries more efficiently and track the team's performance. Some programs also come with numerous integrations and chatbots that can answer customer queries automatically.
Task automation tools – These help you automate tedious and repetitive tasks. For instance, you can send automatic emails, schedule appointments, generate fill-in forms, distribute training materials, and automate 1000+ other tasks using the software.
Social Media Automation Tools
Almost every business nowadays uses Social Media in their marketing mix. There are currently 3.8 billion social media users worldwide, making SMM a very appealing medium for customer engagement.
Managing your social media channels, though, can be time-consuming:
You need to create social media posts
Pick the right hashtags
Post it at very specific times
And as a busy business owner, that's probably not how you'd like to spend your time.
With the tools we're going to cover now, though, you can automate a big chunk of the work!
#1. Buffer: Best All-Around Social Media Marketing Tool
Use-case: Post automation, analytics, and content improvement
Pricing: $15+ /user/month; $35+ /user/month for advanced analytics
Best for: Social media marketers
Supported platforms: Twitter, Facebook, LinkedIn, Google+, Pinterest.
You can use Buffer to automate a big chunk of your social media marketing.
Their bread and butter is post scheduling: instead of having to write posts on an ongoing basis, you can just create a content calendar for 2-3 months in advance and have your social media marketing running on autopilot.
Buffer also comes with other awesome features, including:
Generating automated social media performance reports
Determining optimal posting time and content type suggestions
Tracking hashtags performance and selecting the best ones for your posts
Buffer is also loaded with analytics tools, which help you better understand how your posts perform.

#2. Publer: Best Fit for Small Teams
Use-case: Post automation
Best for: Social Media Marketers
Pricing: Free (for basic version) , $10+ /user/month
Supported platforms: Facebook, Instagram, Twitter, LinkedIn, Pinterest & Google My Business
Publer is very similar to Buffer, but it is 1.5 times cheaper. It lets you:
Schedule your posts
Respond to all mentions on different networks from 1 dashboard
Analyze the performance of your campaigns across different platforms
While Publer does not have advanced features, such as hashtags suggestion, it does things like report generation and cross-platform analytics.
This makes it the best bang for the buck when it comes to social media management & automation.
Publer is the best fit for small teams since it offers a very powerful free version with a generous limitation of up to 50 scheduled posts. This usually meets the needs of most SMBs out there.
#3. Hootsuite: Great Choice for Post Automation & Content Brainstorming
Use-case: Post automation, content ideation & creation
Best for: SM marketers & content creators
Pricing: Free (for basic version), $19+ /user/month
Supported platforms: Twitter, Facebook, LinkedIn, Foursquare, WordPress, Tumblr, YouTube, Google+.
Just like Buffer or Publer, Hootsuite is a cross-platform SMM automation tool, which lets you schedule your posts from a single dashboard. You can view all of the upcoming posts in a convenient calendar view, which makes scheduling simple and quick.
What sets this tool apart from the other 2, though, is its powerful hashtag performance tracking.
Once you input relevant hashtags into the software, it will show you trending posts for that category and analyze their performance over time. This way, you can select the hottest hashtags for your posts and build a follower base faster.
You can also respond to all the mentions/comments on ALL of your social media pages from one dashboard.
Hootsuite lets you design your posts using a neat media editor with royalty-free images.
If you are a small business owner, who just needs to automate a posting schedule, then these features may be overkill. However, if you are a professional social media marketer or content creator then Hootsuite is the perfect choice for you.
#4. Quuu: Perfect Tool for Content Curation and Promotion
Use-case: Content suggestion
Best for: Generating SMM content
Supported platforms: Twitter, Facebook, LinkedIn
Pricing: Free (for 1 SM profile) , $8+ /user/month
You can use Quuu to automate your SMM 100%. Once you sync your social media accounts, the program automatically picks the best content for your audience from 500+ expert-selected categories.
You won't even have to lift a finger to manage your social profiles!
The way this works is, once you sync with Quuu and pick relevant topics for your page, you will get access to thousands of relevant articles relevant to your audience.
If you want to put in the effort, you can go through them and pick which ones to post.
If not, Quuu can do it for you automatically!
Other than social media automation, Quuu also has another tool called Quuu pods.
You can build a community of people who share each other's content automatically by joining the same pod.
Project Management Tools
Project management tools let you manage multiple projects from a single dashboard. You get your company's entire to-dos and projects all centralized in a single business automation tool.
So, instead of chasing specific team leads or employees, all you'll need to do is open up your favorite project management app!
#5. Monday.com: Project Management Made Simple
Use-case: Project management and analytics
Best for: Project managers
Supported third-party apps: 600+ integrations
Pricing: $8+ /user/month
Monday.com is hands down, our favorite project management software.
As a PM tool, you can use it to assign specific tasks to your employees, as well as to track everyone's progress.
Tracking project performance with monday.com is extremely simple: all the pending tasks are displayed on the manager's dashboard in 3 distinct colors (red means the task is incomplete, yellow is pending, and green is completed).
Moreover, you can visualize your projects in several ways (calendar view, Gantt chart, etc.) and generate a variety of project reports upon request.
This makes monday.com a very useful tool for project analytics.
One of our favorite features of monday.com is that it comes with 100+ customizable project templates. What this means is, when creating a task dashboard, you can pick a template based on your goal, and tweak it to fit your requirements.
At last, it has the best built-in task automation features. Automating tasks using 700+ integrations is as simple as writing a sentence.
This combination of task automation and powerful project management features make monday.com the best project management tool for pretty much anyone.
#6. Asana: The Most Powerful Project Management Program
Use-case: Streamlining project delivery
Best for: Project managers
Supported third-party apps: 1000+
Pricing: Free (up to 15 users); $12+ /user/month
Asana is another one of our favorite project management tools.
You can:
Create multiple teams
Assign different projects to them
Track delivery conveniently from a calendar view.
Asana automatically notifies anyone if their attention is required.
And you can do all of those things from a single dashboard.
Asana has great communication features such as company newsfeed which can help you automate the distribution of important information throughout your organization.
You can also visualize your projects in many ways. Whether you like calendars, lists, Gantt charts, or Kanban boards, Asana has got it all.
Moreover, Asana does a great job at task automation: They have over 1000+ integrations!
To top it all off, it has built-in Kanban board integration and PRINCE 2 framework support.
Workflow Automation Tools
Done manually, simple processes can take countless hours and days to complete. Using workflow automation tools, you can streamline such processes and automate their execution.
Software from this category can automate a lot of things:
Getting approvals
Generating invoices
Sending emails
Distributing documents
Filling out forms
And hundreds of other possibilities.
For instance, instead of having to fill out your vacation forms manually, waiting for days to get them approved, workflow automation software lets you complete this process FROM WITHIN the software in minutes.
#7. Process.st: The Ultimate Checklist Creator
Use-case: Single process automation
Best for: Small companies
Pricing: $12.5+ /user/month
Supported third-party apps: 1000+ integrations
Process.st is a checklist software that lets you create and automate workflows.
And it does it so simply:
You create a chronological set of tasks in a to-do list forms
Attach any relevant files/forms/other types of content
Create rules for automation, such as send an email X to person Y at time Z
Assign people to specific tasks in the list
Turning a complicated process into a checklist makes it super-easy to follow and with powerful third-party integrations, you can add/automate pretty much anything.
Moreover, you can collect the data automatically and generate reports.
And on top of all this, Process.st is one of the easiest software tools we've ever used. Even if your employees aren't too tech-savvy, they'll get the hang of Process.st fast.
#8. Kissflow: #1 Workflow Management Software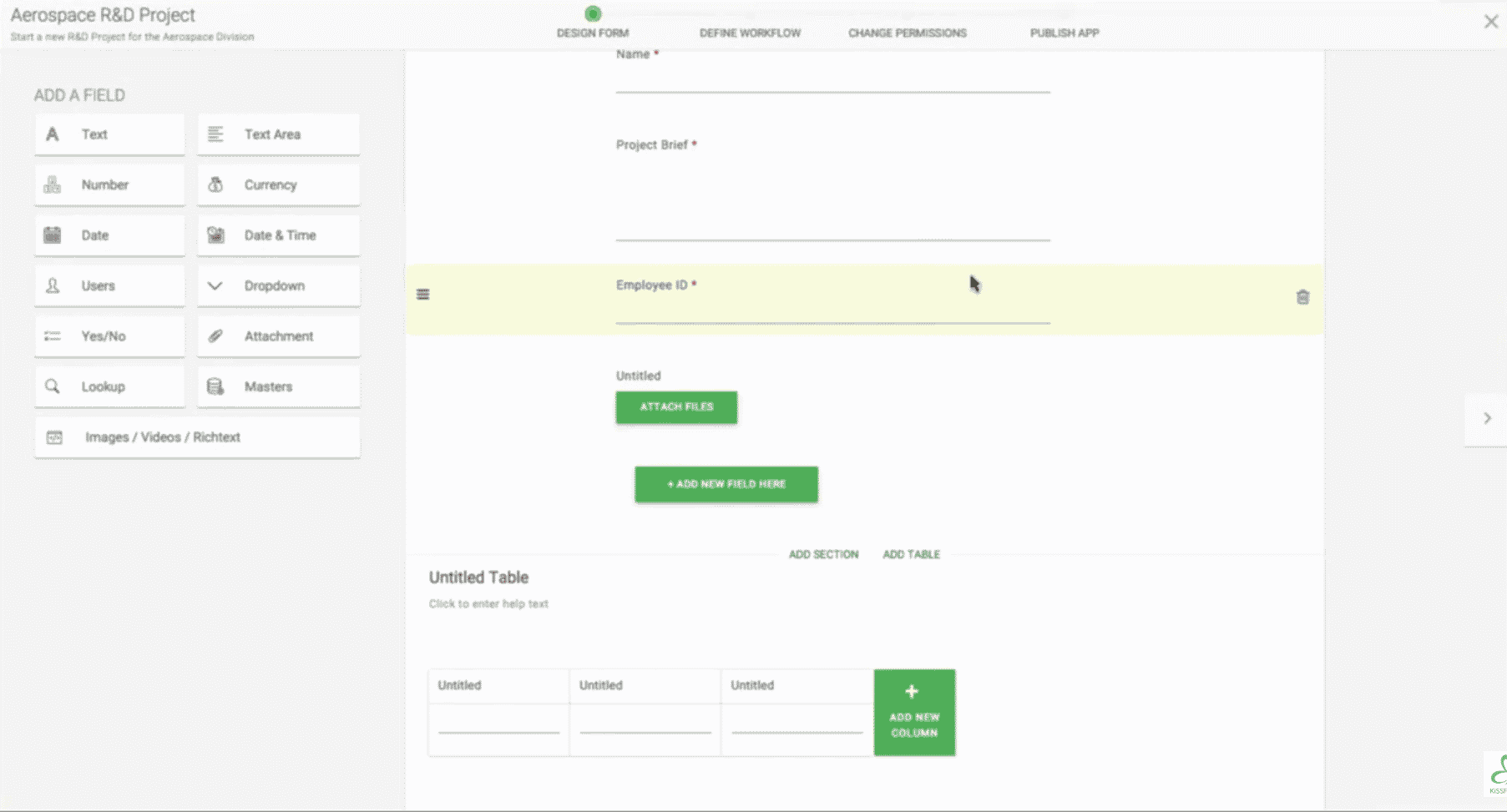 Use-case: Complete workflow management
Best for: Mid-size or large companies
Pricing: $360/month (independent of the number of users)
Supported third-party apps: 600+ (through Zapier)
Looking for a more heavy-weight workflow automation software?
We can't recommend Kissflow enough! While it's a bit more complex than Process.st, it's relatively simple compared to most BPM tools on the market.
The way it works is, you create your account, pick from one of their process templates, and customize it to your needs.
Some of the templates they offer include:
HR approvals
Finance approvals
Employee on/offboarding
Client onboarding
And a ton more.
You can customize the templates through a no-code, drag and drop interface, which makes the whole thing as simple as 1-2-3.
Unlike many other project management tools that will bill your company on a per-user basis, Kissflow offers a fixed subscription rate independent of the number of employees, which makes it a great solution for large enterprises.
Email Marketing Automation Tools
You can use these tools to automate a big chunk of your email marketing, including:
Sending automated emails
Generating reports showing the performance of your campaigns and giving strategy suggestions
Generating new leads using sign-up forms/landing pages
Now, let's review the best options for email marketing out there.
#9. Mailchimp: Best for Email Campaign Creation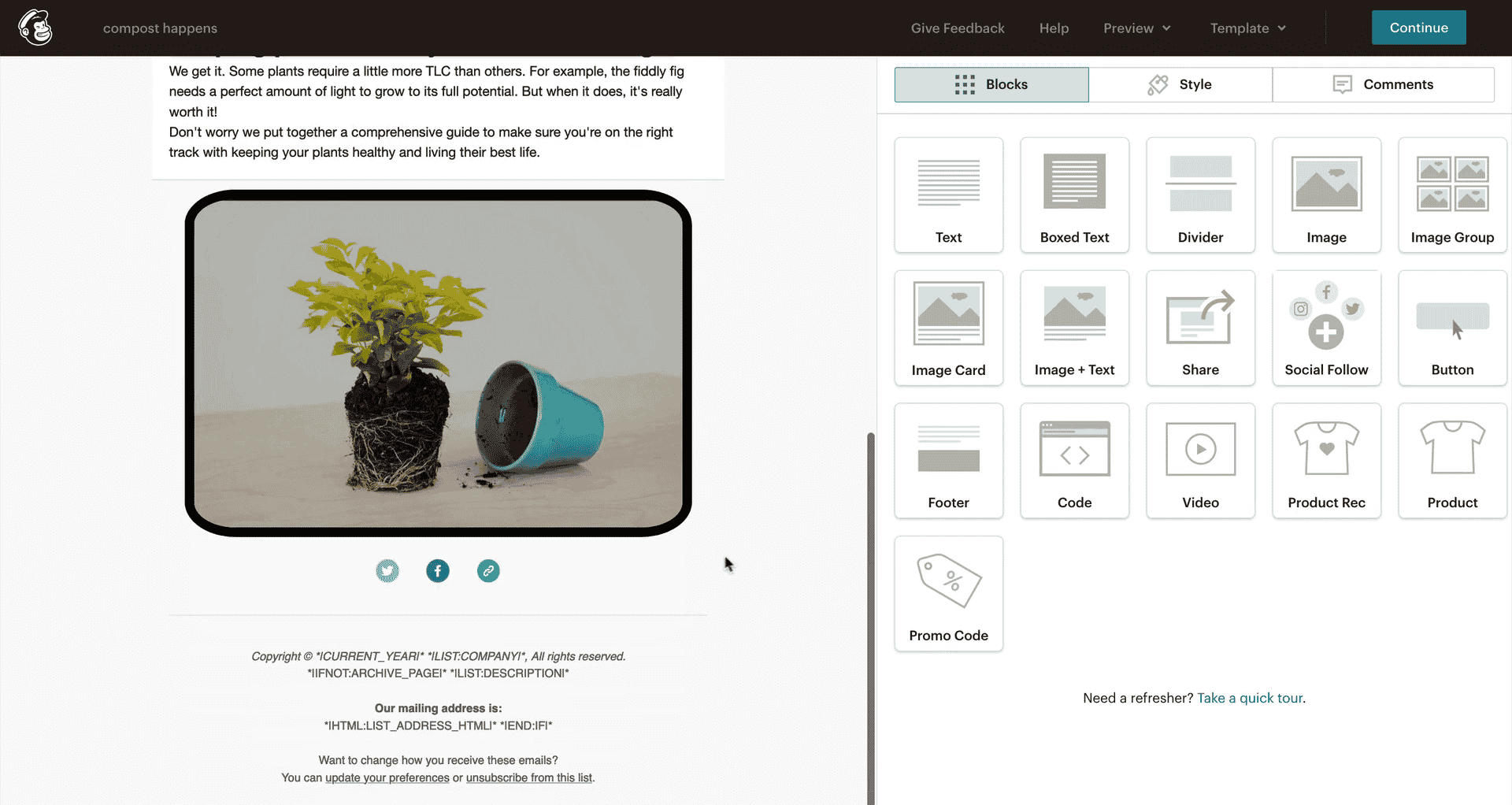 Use-Case: Creating email campaigns and signup forms
Best for: Email marketers
Pricing: Free (up to 2000 contacts); $15+ /user/month
Mailchimp is the simplest email marketing automation software on the web.
You can schedule and send emails automatically in a couple of clicks. It has a drag and drop editor, which lets you create sign-up forms and build custom emails easily.
Moreover, it generates automatic reports and helps you understand your customers better.
As for how it's relevant to business automation, here's what you can do with MailChimp:
Send welcome emails to your customers
Remind people about forgotten cart goods
Send upsell offers to existing customer base
…and more!
#10. LeadSquared: Best Tool for Lead Management
Use-case: Creating a landing page, lead generation, cross-platform analytics
Best for: Email marketers
Pricing: $25+ /user/month
Leadsquared is a cross-platform automation solution that allows you to manage all of your marketing channels in one place.
You can automate a lot of things using LeadSquared:
Creating a landing page to showcase your products/services
Creating automated email campaigns with custom triggers
Generating automated reports to assess the performance of each marketing channel
Lead management
The best part about Leadsquared is its lead management features:
LeadSquared helps you capture new leads using built-in landing page and signup form builder
It captures and sorts all your leads from different sources simultaneously
It tracks your lead activity (actions that users take on your website, such as viewing your products/pages)
LeadSquared qualifies those leads automatically (ranks prospects by quality)
In the end, it automatically assigns the leads to the right salesperson (assuming you have salespeople working in different geographic areas, or on different products)
At any point in the process, you can send automated targeted emails from your templates library to leads that perform a specific action on your website.
This process is very simple – you can create all the triggers in a visual workflow builder (check the screenshot above).
To top it all off, Leadsquared comes preloaded with 100+ landing page templates, which can be customized.
#11. Infusionsoft: Awesome Email Marketing Tool with Built-in CRM
Use-Case: Ecommerce, CRM
Best For: Online Stores, funnel builders
Pricing: $199+ /user/month
If you are looking for an all-in-one email marketing solution, with built-in CRM and e-commerce support, then Infusionsoft is the perfect tool for you.
Infusionsoft can help you with different stages of the sales funnel. Starting from creating landing pages for capturing leads, to automating customer relationship management with custom emails, and selling your products with automated payment integration.
You can do all of these things from a single convenient dashboard.
What we love about Infusionsoft is its design. This software is user-friendly and comes preloaded with 100+ landing page/signup form templates. Everything about Infusionsoft looks like it was created by a professional designer.
Moreover, the program lets you create custom rules for automation. For instance, if your customer makes a purchase, the program can generate an automatic discount code for their next purchase and send it to them.
Additionally, it tracks user activity and generates automated reports, which helps you understand how your campaigns/landing pages are performing.
These analytics tools allow you to see "hot leads" and create custom campaigns for them.
We recommend it to anyone with a budget. It is the most powerful email marketing solution out there, and it can help you sell your products and automate lead management from a centralized dashboard.
Customer Service Automation Tools
Customer service tools help you automate ticket submission, assign customer representatives automatically, and track customer satisfaction and agents' performance.
Most of them also have chatbot integrations, which help you answer frequently asked questions automatically.
#12. Intercom: Awesome Tool for Business Messaging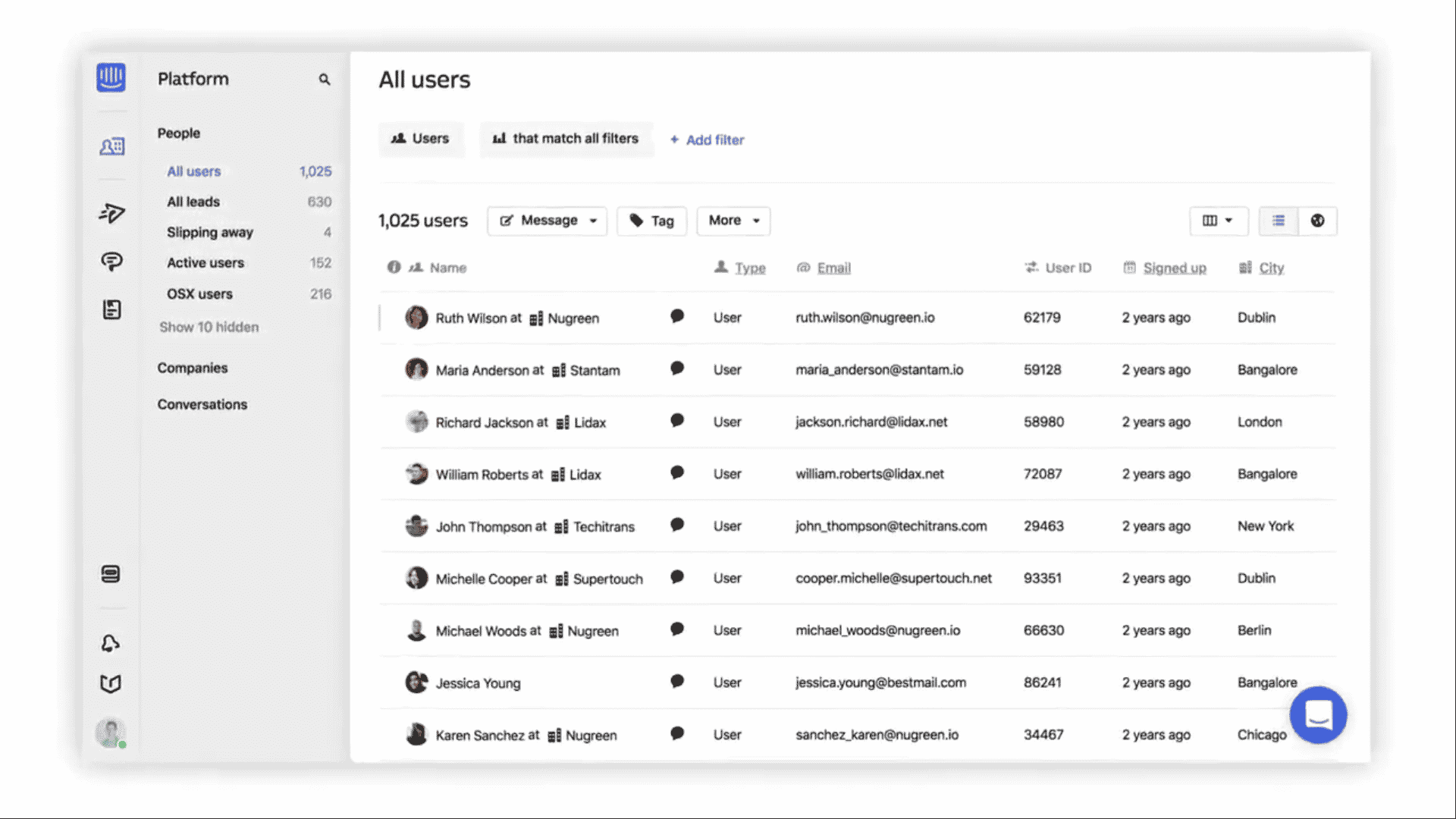 Use-case: Customer service automation
Best for: Creating chatbots, automated business messaging
Pricing: $38+ /user/month
Intercomis a cross-platform customer support app. Once you set it up on your website, any customers can reach out to you through the chat window…
But that's just the start.
Intercom comes loaded with automation features built into the chat.
For instance, you can set it up so that if a potential customer wants to schedule a meeting with one of the representatives, a Google Calendar pops up, letting them select the most appropriate time.
It has the most powerful chatbot feature, which walks you through the process of creating your bot, so you can address various customer queries automatically.
It is like building a Q&A section for your website, except that chatbots make it feel more personal and automatically direct people to the best answer to their query.
Intercom's chatbots have 100+ integrations, which allow for even more automation capabilities.
Moreover, the program generates automatic reports that help you understand key customer service metrics. It also has a built-in Google Analytics support feature.
#13. Drift: Simplest Customer Service Tool with Powerful Learning AI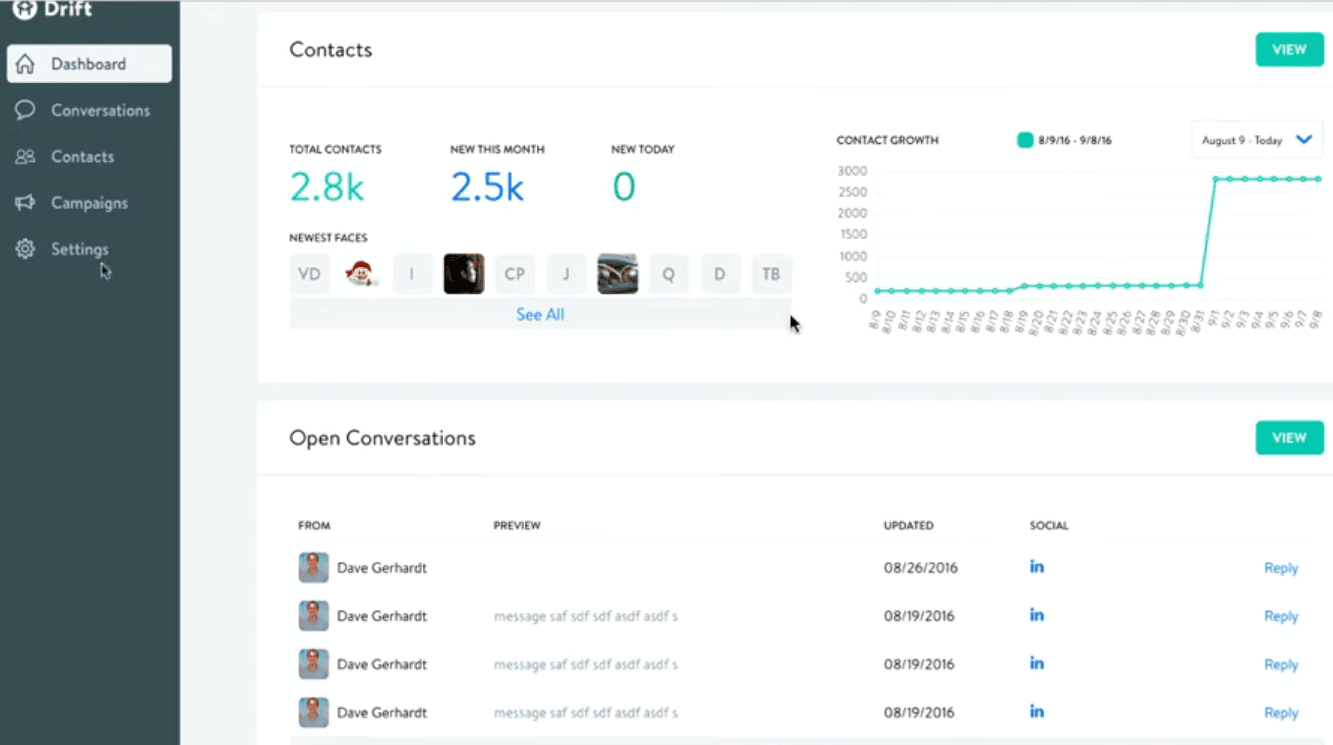 Use-case: Customer support automation + email marketing
Best for: Creating chatbots, marketing campaigns, and popups
Pricing: Free (Just Live Customer Chat), $400 /month (no limit on the number of workers)
Just like Intercom, Drift is a customer support app.
It shares some of its' best features. With Drift, you can:
Create automated email marketing campaigns
Automatically respond to all your customers from a single dashboard
Generate automated reports on closed tickets
Send automated messages to your customers at critical moments (such as a forgotten product in the cart)
Automate customer interactions using chatbots
Create signup forms to generate new leads
However, it also has some game-changing features that make it stand out compared to Intercom:
It tracks each customer service agents' performance automatically (Awesome, right?)
Drift chatbots are powered by unique learning AI. This means that the more it interacts with people, the better it will address their queries.
It has vide/audio calling features
This makes drift the best all-in-one solution for automated customer support and email marketing automation.
#14 Zendesk: Best Virtual Help Desk
Use-Case: Streamlining customer support tickets
Best For: Support team management and service automation
Pricing: Free (Just Live Customer Chat), $5+ /user/month (no limit on the number of workers)
Zendesk is a customer support tool, which lets you streamline your customer support process by allowing you to answer all of your customers' queries from a single dashboard.
Once the customer submits a question, Zendesk analyzes the ticket, looking for specific keywords
Then, it sorts the ticket automatically and redirects it to the correct department
Afterward, it connects the customer to the correct service agent
For instance, once the customer fills-in a support ticket that has the word "refund" in it, it automatically gets submitted to the billing office, notifying the relevant agent about the conversation.
It also has pre-built message templates (such as welcoming your customer to the chat), which automates part of the conversation with the customer.
Zendesk automatically tracks user activity and lets you see all of his account details, as well as interactions with other representatives, making it easy to get the right information related to the query.
This makes it a perfect tool for automating responses to customer support tickets, which is extremely useful for companies with large customer bases.
#15. LiveAgent: Best Software for Customer Service Internal Analysis
Use-case: Call center automation + agent's performance tracking
Best for: Traditional call centers and large customer support teams
Pricing: Free (basic version for 1 user), $15 /agent/month (no limit on the number of workers)
LiveAgent, unlike other customer support services, is focused on call-center automation and agent performance tracking.
Once your agents start the shift, they have to punch-in. Then the program tracks their performance (calls, # of tickets sold or messages written), making sure people don't slack.
Moreover, it has call-forwarding features and automated voice responses for your calls.
LiveAgent has a customizable customer service dashboard, which sorts the tickets automatically and lets you separate your sales team into various departments.
It analyzes each ticket and assigns specific labels to them making it easy to sort them. It has powerful performance tracking features, automated report generation, and email generation.
One key feature of LiveAgent is that it stores all customer correspondence on the cloud, making it easy to further evaluate the agents' performance and customer satisfaction.
Task Automation Tools
Task automation tools allow you to automate repetitive and simple tasks across different platforms.
You can automate things like:
Sending an email after a user interacts with something on your website
Transferring data from one software to another based on some trigger
Sending a specific file to your employee once they complete a certain task
Share posts across multiple mediums automatically
…and there are thousands of other possibilities.
The reason why there are so many possible combinations is that once a new third-party program (integration) is added into a task automation platform, it could interact with 1000+ other apps.
Having such a tool is an absolute must for businesses willing to automate their processes in 2020.
#16. Zapier: the #1 choice for task automation
Use-case: Task automation
Best for: Just about anyone
Pricing: Free (100 automations/month), $20+ /month
Supported apps: 2000+
Zapier is a task automation tool that lets you create custom applications (Zaps), which facilitate automated interactions between various apps. It supports 2000+ applications, which let you create millions of possible automation combinations.
You can even automate entire workflows using Zapier. For instance, once you generate a new lead on Facebook, a program can send an automated email via Gmail, urging the potential customer to sign up for your newsletter using Mailchimp.
Zapier has built-in analytics tools, which help you analyze the performance of your Zaps and track usage automatically.
#17. IFTTT: Task Automation Made Simple
Use-Case: Simple workflow automation
Best For: Smart device management and voice-powered task automation
Pricing: Free (up to 100 automations/month), $16+ /month
Supported Apps: 1000+
IFTTT means IF-This-Then-That. It is the simplest task automation program, which lets you create automated interactions between any 2 apps ( even smart home appliances).
IFTTT provides cross-platform voice-assistant support (Alexa, Google, Cortana) and it supports many smart devices. This makes it a perfect smart home assistant and lets you program task automation using your voice.
It has a very neat and simple design, which makes task automation fast and easy: you just need to select, what should happen in app #2 once a specific action happens in app #1.
For instance, if you create a new thread on Evernote, marking it with a specific label, you can program IFTTT to add it automatically to a specific Slack thread.
Of course, IFTTT is nowhere near as powerful as Zapier, as its main use-case is commercial. It is, however, cheaper, and lets you accomplish most of the basic automations.
Conclusion
Phew, that was long!
We hope this article helped you find the business automation tool(s) you were looking for.
If you would like to learn more about business process automation, feel free to follow our blog!