Workflow apps will help you accomplish more things in less time.
Whether you want to automate your emails, project management, or streamline communication, there is a software solution for just about any use-case.
Put simply, workflow apps will help you automate tedious and repetitive tasks, increasing the company's productivity.
There are, however, a ton of workflow apps on the market. So, which ones are the best for YOU?
To make this easier, we did our research, and picked 11 best workflow apps in 2023, separated by use-case.
So, read on to learn more!
11+ Best Workflow Apps
Depending on which parts of your business you want to streamline, you'd use a different type of workflow app. Here's a complete list of the most common use-cases:
Task Management Software
Project Management Software
Workflow Management Software
Task Automation Software
Task Management Software
Communication Software
Social Media Automation Software
Looking for specific software? Feel free to use the filter below.
#1. Monday.com
Use-Cases:
Task management software
Project management software
Workflow management software
Task automation software
Task management software
Communication software
Key Features:
Simplest task automation
User-friendly design
2000+ third-party integrations
Awesome data organization tools
Automatic report generation
Pricing:
Basic – $7.8 user/month (automations/integrations unavailable, 5GB space)
Standard – $9.8 user/month (250 integrations & automations per month, 20GB)
Pro – $15.8 user/month (25K automations & integrations per month, 100GB)
Enterprise – quote-based (250K automations & integrations per month, 1TB space)
Monday.com is the best all-around business management software.
On one hand, it's a great project management software with all the must-have features at an affordable price.
On the other hand, it ALSO comes with a ton of process management features.
Using monday.com, you can create and manage multiple projects, track the performance of your employees from a single dashboard, and generate automatic project reports. At the same time, you can streamline and automate specific workflows.
What we like most about monday.com is its workflow automation capabilities: creating automated tasks is as simple as writing a sentence. Monday.com will recognize the verbal query and help you automate your workflows.
Additionally, the software lets you map your processes in a number of ways (calendar view, flowchart, and 7+ more), making them simple to follow.
To top it all off, monday.com comes preloaded with 100+ customizable process templates, which makes setting up the software for your business EXTREMELY straightforward.
#2. Process.st
Use-Cases:
Task management software
Workflow management software
Task automation software
Task management software
Key Features:
Checklist-based workflow management
1000+ customizable process templates
Powerful task automation features
Automatic report generation
Performance tracking
Pricing:
Basic – $12.50/person/month (Unlimited checklists, reporting, process documentation)
Standard – $25/person/month (same + dynamic due dates, conditional logic, priority support)
Enterprise – quote-based (same + API access, personalized onboarding, success manager assignment)
With process.st, you can turn any workflow into an easy-to-follow checklist.
Hired a new employee, and want to teach them how to complete a given process?
Just give them the relevant checklist, and they'll figure it out from there!
Process.st comes with around 1,000+ process templates, so all you have to do is pick one and tweak it to your needs.
Process.st is not just a simple checklist app, though. It comes with several awesome features, including:
You can attach any file or gather any type of input at each step.
You can embed any app/form/file using 2000+ third-party integrations directly into your checklist.
You can create automated tasks, such as sending Emails to new customers along any step in the workflow
Generate automated reports to evaluate the performance of a specific workflow
#3. Zapier
Use-Cases:
Key Features:
Create custom automated interactions between 2000+ apps
Automate entire business processes
1000+ customizable automation templates (Zaps)
Built-in analytics tools
Multiple-level task automation
Pricing:
Free – (Up to 100 tasks/month, single-step zaps)
Starter – $19.99/month (750 tasks/month, multi-step zaps, 3 premium apps/month)
Professional – $49/month (unlimited zaps, advanced workflow settings, 20k tasks per month, unlimited premium apps)
Team – $299/month (same + unlimited users, premier support, shared workspace, 50K tasks per month)
Company – $599/month (same + advanced admin permissions, data retention, account consolidation)
Zapier is the kind of automation in the digital world. In simple words, it works like glue. It allows you to connect over 2000+ third-party apps to create powerful process automation feats.
It works simply: If A happens, do B.
For instance, once you recruit a new employee, you can program Zapier to send them all the training materials via Gdrive, send him a welcome email through Gmail, and follow-up with him in a week, sending him a short survey via Surveymonkey.
And the automation possibilities are virtually endless. Zapier comes loaded with 1000+ zap templates, which will let you automate the most popular scenarios with a couple of clicks.
UX-wise, it's also a lot more straightforward than you'd think. Zapier will walk you through the process of creating custom interactions between apps within minutes.
#4. Pipefy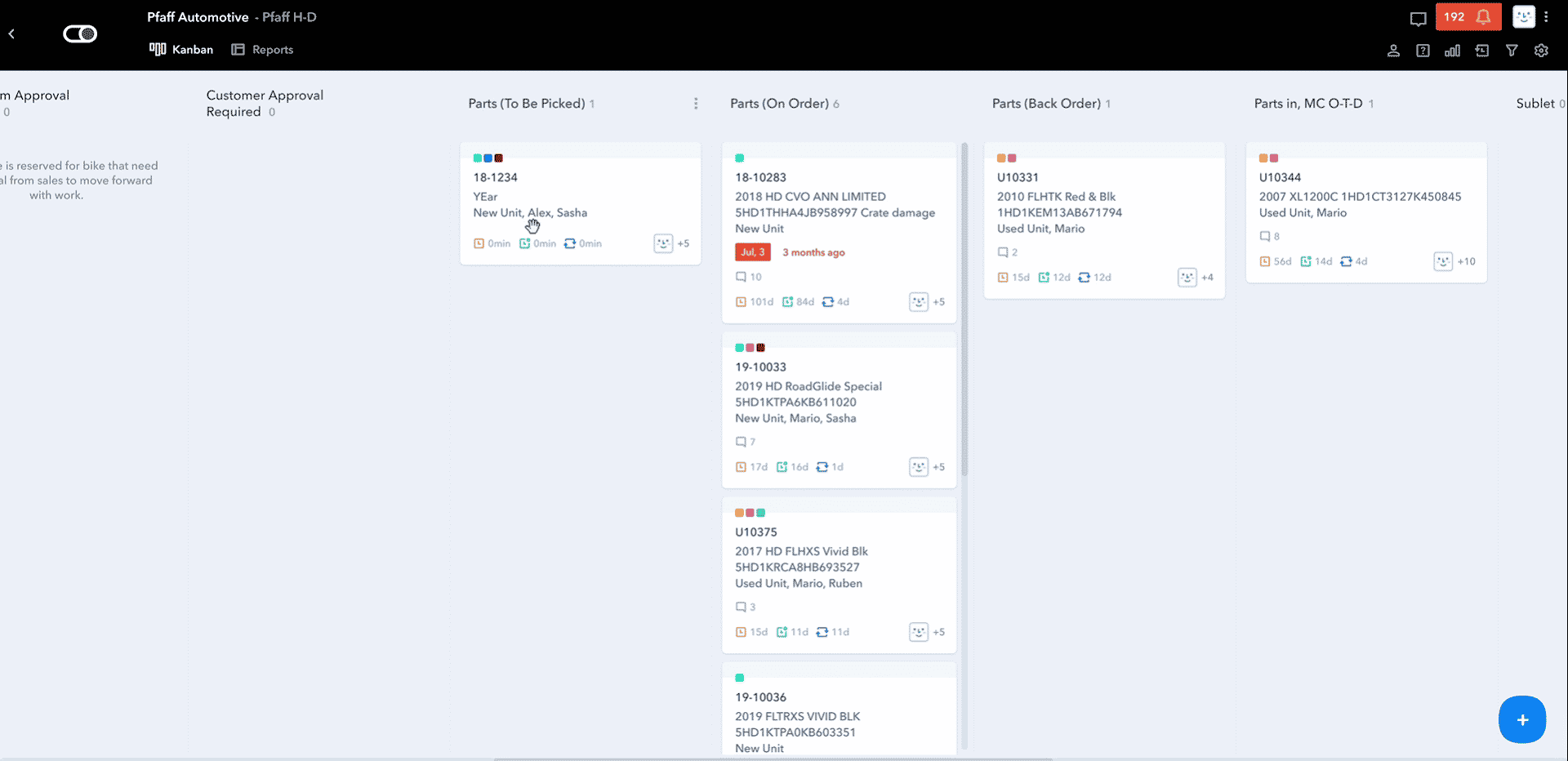 Use-Cases:
Workflow management software
Task automation software
Key Features:
Create and automate your workflows (pipes)
Kanban and calendar view
Create forms and integrate them into pipes automatically
Automated email integration
Report generation
Pricing:
Free (5 pipes, 10 users, 1 automation rule, pipe templates, email templates)
Professional – $9/user/month (5 automation rules, unlimited pipes, support, reports creation)
Business – $18/user/month (15 automation rules, user roles & admin control, data recovery, API access)
Enterprise – quote-based (same+ unlimited automation rules, custom email domain, scaled data storage)
Pipefy is a modern workflow management software that helps you stay on top of your business processes (or, "pipes").
The best thing about Pipefy is that it has a customizable dashboard, which can be personalized to meet the needs of any company.
Getting started is super easy – the software comes with 100+ process templates, so you don't have to spend too much time setting it up. You select the best fit workflow, customize it and you are good to go.
Pipefy also comes with 500+ integrations, which will make it easy to transfer files/data from most other tools your company is using.
#5. Notion
Use-Cases:
Task management software
Workflow management software
Task automation software
Project management software
Key Features:
Create advanced checklist
Design workflows
Track execution of projects
Powerful collaboration features
Amazing design
Pricing:
Free – (up to 5 guests)
Personal Pro – $4/user/month (unlimited file uploads, unlimited guests, API access)
Team – $8/user/month (same + unlimited team members, collaborative workspace, advanced permissions )
Enterprise – quote-based (same + advanced security, dedicated manager, custom contract)
Notion is our favorite all-in-one project management tool.
See, as a glance, it seems like a very basic note-taking app, but don't let appearances fool you.
You can customize your Notion account to literally whatever you want it to be:
Kanban board to track tasks
Checklist
Content calendar
Event calendar
Week planning
And so much more.
If you're looking for a minimalistic project management software that you can customize to your needs, Notion is the #1 choice.
#6. Buffer
Use-Cases:
Social media automation software
Key Features:
Automated post scheduling
Hashtag performance tracking
Report generation
Suggestions for best posting time
Powerful analytics features
Pricing:
Pro – $15/month (8 SM accounts, 100 scheduled posts, 1 user)
Team – $65/month (8 SM accounts, 2000 posts, 2 users)
Business – $99/month (25 SM accounts, 2000 posts, 6 users)
Advanced analytics – $35/month (add-on to above, in-depth analytics, strategy suggestions, unlimited reports)
With Buffer, you can put your social media marketing on autopilot.
You can use it to schedule your postings for a month in advance, allowing you to go hands-free with your SMM.
Moreover, you can track the performance of relevant hashtags over time and select the hottest ones to increase the potential reach of your posts. And on top of that, the software analyzes your audience activity and suggests the best time of the day to publish your posts.
Buffer generates automated reports, which help you understand the performance of your posts. This in turn, helps you better understand the type of content your audience loves and engages with..
For an additional $35/month, Buffer will give you customized SMM strategy suggestions and advanced analytics (such as stories and posts performance), which can help you optimize your content to maximize engagement.
Buffer is a swiss-knife for any SMM marketer and we strongly suggest it to whoever wants to improve their social media game.
#7. Hootsuite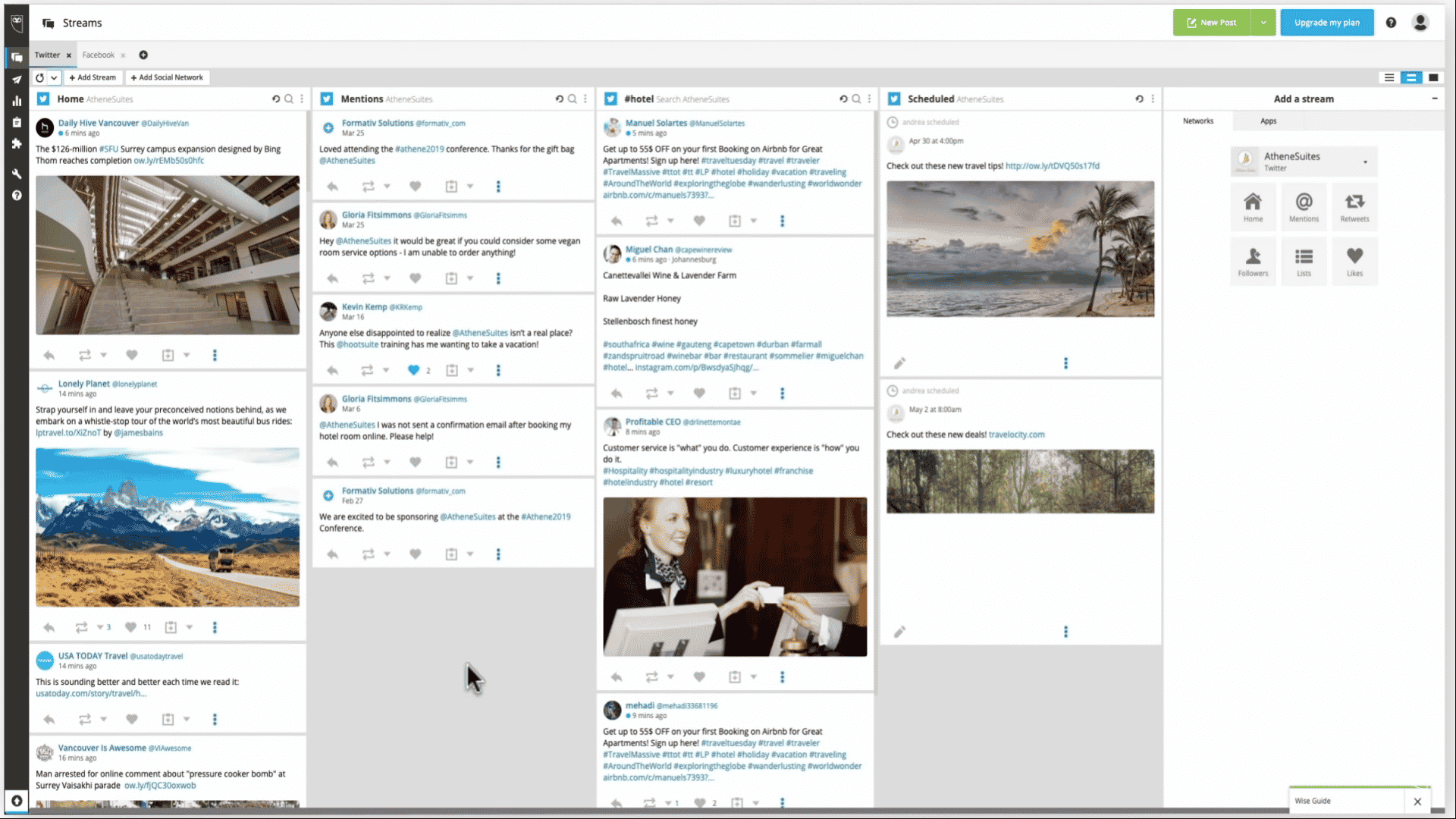 Use-Cases:
Social media automation software
Key Features:
Advanced hashtag performance tracking
Cross-platform dashboard
Respond to all mentions from one place
Automated post scheduling
Pricing:
Free – (3 SM profiles, 30 scheduled posts, 1 user)
Professional – $19/month (10 SM profiles, unlimited scheduling, 1 user)
Team – $33/user-month (20 SM profiles, unlimited scheduling, 3 users)
Business – $599/month (35 SM profiles, unlimited scheduling, unlimited users)
Enterprise – per quote (custom terms based on a contract)
Just like Buffer, Hootsuite is a social media management tool.
However, it has a lot of extra features, which make it stand out:
You can respond to ALL mentions across multiple networks from a single dashboard
You can track the performance of a single post across multiple networks all at once
It will suggest the best type of content for each hashtag, showing content/profiles of the leading influencers in your industry
It has a neat built-in media editor

While these features may be an overkill for people looking for simple post automation features, it is the perfect app for professional content creators and social media managers.
#8. Slack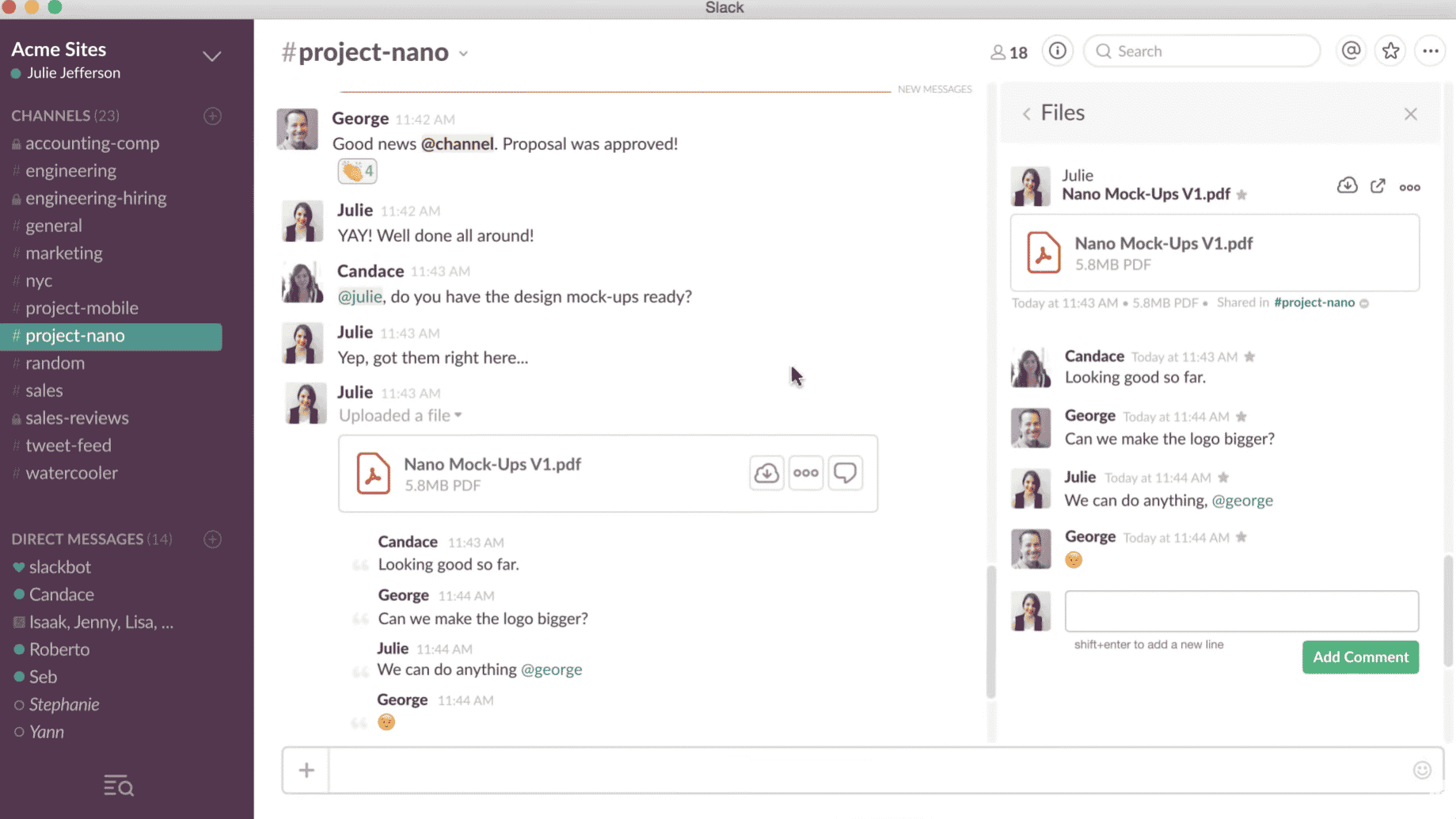 Use-Cases:

Key Features:
Separating communication across different channels
Smart search function
Integration with 1000+ third-party apps
Automates communication using chatbots
5GB+ file storage per member
Pricing:
Free – (10K messages history, 10 integrations a month, video & voice calls, 5GB storage total)
Standard – $6.67/user/month (unlimited integrations + unlimited message history, 10GB storage/member, external collaboration)
Plus – $12.50 /user/month (same + advanced security, better support, 20GB/member)
Enterprise – quote-based (same + up to 500k members, tailored support, enterprise-grade security)
Slack is a team chat app that will help you manage all of your company communication. It has a search tool, which lets you find any relevant messages/files/people within the organization, making sure stuff does not get lost.
The software is channel-based, so you can create a specific channel for any use-case (e.g. "random") or department (e.g. "marketing").
Moreover, Slack has 1000+ different app integrations. This means that it will let you view content from different apps (GDrive, Lucidchart, etc.) DIRECTLY from Slack. This eliminates the need to have 10+ tabs open on your computer.
Slack is simple, light, and it will help you find/communicate everything you need. You can even use it to make audio/video calls.
#9. Chanty
Use-Cases:
Key Features:
Audio & video calls
Search AI that learns from your queries
Cheaper than slack
100+ third-party app integrations
Create and manage tasks directly from the chat
Unlimited chat history
Pricing:
Free (up to 10 members, unlimited chat history, 20GB file storage per team, 10 integrations, no support)
Business – $3 /person/month (unlimited members, 20GB/member, audio/video calls, unlimited integrations, support)
Chanty is a business messaging app that is very similar to Slack. It might not have as many third-party integrations, but it is more than 2xcheaper.
It also has some extra features that even Slack is missing:
Chanty will let you create and manage tasks.
It has a learning algorithm, which gives you better suggestions based on your search history within the app
Chanty has unlimited messaging history and stores all your files automatically in a separate repository.
On the downside, Chanty has fewer app integrations (which means that it has fewer automation features), slower customer support, and fewer people are familiar with it.
Therefore, we recommend it to anyone looking to streamline their company communication on a tight budget.
#10. Trello
Use-Cases:
Task management software
Key Features:
Best kanban board features
Task creation and progress tracking
Split projects/teams across separate boards
Search through messages/files
Cloud storage
Voting on possible changes
Pricing:
Free – (unlimited boards/teams/lists, 10MB file limit)
Standard – $9.99/user-month (250MB file limit, advanced checklist, priority support, team board templates, 100+ integrations)
Enterprise – $20.83/user-month (same + extra administration settings, public board management, custom permissions)
Trello is the best Kanban software in the world.
It has a very intuitive interface, making it a perfect fit for small teams and Kanban lovers.
Trello has some of the best features in the game:
It lets you attach any type of file from third-party programs to your tasks.
It has powerful collaboration features, such as voting on possible changes, assigning tasks to a specific person.
It lets you comment on any file/task and gather feedback from your team members.
It can generate project reports
It will send reminders when tasks are due, making project tracking simple
These features make it the simplest project management tool.
#11. Todoist
Use-Cases:
Task management software

Key Features:
Create and prioritize tasks
Assign them to specific people
Generate progress reports
Assign specific labels to tasks
Comment on tasks & share correspondence
Gamification: gain karma points for completing tasks
Pricing:
Free – (up to 5 people, 80 projects, integrations supported)
Premium – $3/user/month (25 people, 300 projects, reminders, comments & file uploads)
Business (for teams) – $5/user/month (500 projects, 50 people, shared team inbox, admin settings)
Todoist is the most popular task management tool out there. It helps you stay on top of things and it ensures you never forget what you have to do.
Todoist lets you group tasks by priority, add collaborators to tasks at hand and attach any type of files to the upcoming tasks.
The program automatically sends you reminders about the upcoming tasks and rewards you with "Karma" points and productivity badges when you complete tasks on time.
Moreover, you can automatically generate productivity reports to see if your work performance has been on the rise lately.
These features make Todoist a perfect tool for creating to-do lists or managing small teams.Conclusion
Aaaaand that's a wrap! We hope that this guide will help you improve your workflows!
Remember: it is not one app that magically transforms your processes, but a combination of apps that make your processes run smoothly and your company more productive.
If you would like to find out more about best business practices, workflows, or have other business methodologies explained simply, follow our blog.
Until the next time!