Some HR managers tend to ignore the need for structured employee onboarding programs.
They feel like their biggest battle is won once they recruit the top talent.
This, however, could not be further from the truth.
Organizations that lack a structured employee onboarding process are 2 times more likely to lose new workers within the first 3 years.
This, as you can imagine, can be extremely expensive: it can cost you up to $4000 and 24 days to replace that new employee.
Hence, it is important to create an effective employee onboarding program. Your job as a leader in this process is to:
Familiarize new employees with the company's processes
Provide them with the skills and tools needed to succeed
Help to integrate new workers socially into the company.
With the help of this guide, you will be able to do that and more…
Here's what we'll cover:
What is employee onboarding and why is it so important
9+ benefits of having a structured employee onboarding process
Customizable employee onboarding checklist that you can steal! Here just for the checklist?
How to increase the efficiency of employee onboarding by 10x using workflow automation software
3+ essential tools for employee onboarding
So, let's get started!
What's Employee Onboarding?
Employee onboarding is the process of integrating a new worker into your company and its culture. This is done through extensive training, introduction to new tools, and to the team members, so the new hire can become productive and motivated to stay.
This process can make your employees feel welcome, boost their confidence, and increase their potential productivity. Yet, a staggering 58% percent of US firms believe that the main focus of onboarding should be the paperwork.
These firms are missing the bigger picture: according to CIO research from 2018, roughly half of new employees who did not have a positive onboarding experience started looking for a new job shortly.
So no, onboarding is NOT just paperwork.
Paperwork is just a small part of the employee onboarding journey. Curious to know the exact steps? Read on!
5 Phases of the Employee Onboarding Process
Every employee onboarding has two main goals. First, it tries to ensure that the employee has the skills and training needed to excel at his duties. Second, it pursues a complete social integration into the company.
Each one of these goals is carried out through 5 distinct phases of employee onboarding:
Preboarding
Preboarding starts once the employee accepts the offer from your HR manager. This happens BEFORE he sets foot in your company for the first time. The purpose of preboarding is to prepare your employee for their first day at the job.
First day at work
First impressions are important. Therefore, you need to make sure that everything is in place for your employee's first day at work so you can give them a warm welcome. At this stage, you should:
Distribute all relevant training materials
Create employee accounts
Introduce the tools you are using at the company
First week at work
Once you familiarize the new hire with the company, you should clarify expectations and start assigning small tasks.
It is important to be inclusive with the new employees and help them fit into the company at this stage. To make this easier, you could implement a buddy program as part of your employee onboarding process.
First month at work
During this stage, employees learn a lot of new things quickly. Therefore, you should provide them with a manageable flow of tasks. Do not overwhelm new hires with too much work and check on them frequently.
Looking beyond the horizon
Once new employees settle in at your company, you should provide them with opportunities for career growth. Layout clear long-term goals and performance expectations, telling them EXACTLY how they can contribute to the company's growth.
5+ Structured Employee Onboarding Benefits
There are 5 main ways, in which structured onboarding can help you improve your business:
Leaving a positive first impression
A negative first impression can be costly: up to 22% of the employees leave their companies within the first 45 days on the job.
On the contrary, an effective employee onboarding process will leave a positive impression of your company.
Higher clarity
A well-structured onboarding program will address the most frequent questions employees might have. This will make them more familiar with your business processes.
Pro tip: Provide each new employee with a comprehensive map of relevant processes within your company.
Increased productivity
Organizations with a strong onboarding process increase productivity by over 70%. Better presentation of training materials, social integration, and better knowledge exchange systems are a few of the reasons why this is the case.
.
Improved retention rate
Organizations with a strong onboarding process improve new hire retention by 82%. This means that employees are more likely to stick with the company given an effective onboarding program.
Hitting performance goals quicker
A vast majority of informal onboarding programs do not set any goals for their employees.
On the contrary, well-structured employee onboarding establishes clear goals and performance indicators for new workers. As a result, 77% of new hires hit their performance goals quicker in organizations with structured onboarding.
Employee Onboarding Checklist
The easiest way to structure an employee onboarding is by creating a checklist, that employees and managers can follow.
You can create checklists using pen & paper or you can do it digitally. The latter option is usually the best way.
Digital checklists are awesome because they:
Streamline the distribution of all the relevant training materials
Enable you to get the needed input from the employees
Automate the process of getting approvals
Let you track the employee's progress
To save your company some precious time, we decided to create a customizable employee onboarding checklist:
Pre-boarding (before the first day at work):
Prepare the paperwork. It's a good practice to have the relevant forms ready before the employee comes in.
Record basic employee information in the system. Create all the relevant company accounts for the new hire
Assign a supervisor and communicate duties. Having a supervisor assigned to an employee at the early stages creates a sense of inclusion.
Prepare the workstation. If you want your employee to feel welcome, you have to prepare all office supplies, clean the space, and install relevant software BEFORE he/she arrives to work.
Design training materials specifically for the position. It is a good idea to send links to training materials and a detailed job description to your employee before his/her first day at work. This will allow them to prepare any questions they might have.
Benefits Package Prepare the benefits package and make sure you discuss the remuneration with your employees.
2. First day at work (the big date) :
Warm Welcome. It is important to make your employees feel appreciated and included. You must make your team aware of the new hire and make him/her the highlight of the day.
Meet the supervisor and give a tour of the office. Take it as an opportunity to help your new worker make friends and get him/her familiar with the company.
Review the training materials with the employee. Answer any questions the employee might have. You should also clarify all performance expectations.
Introduce the company's culture. It is important to provide some insights about the way things work within your company:

Communicate the mission, vision, and values.
Get the new employee involved in informal watercooler talk
Sit with him/her at lunch.

Familiarize employees with future mentors. Mentors can help employees navigate through the company and answer any questions they might have.
3. First Week:
Encourage other employees to help. If you want your employees to feel included, you need to make sure that peer support lasts beyond the first day at work.
Assign a first small project. The key here is to provide a challenging small task to test workers' abilities. Do not assign any big tasks for the first week, so your new employee doesn't feel overwhelmed.
Set performance expectations for the first month. Set SMART performance goals. This will keep employees motivated and channel their focus towards a specific target.
Review the paperwork. Make sure that all the paperwork gets approved by the HR office.
Test software proficiency. Sit down with your employee and make sure they understand the tools you are using.
Pro tip: Create a software quiz to check their knowledge.
4. First month:
Organize weekly 1-1 meetings. Check up on the employee's progress regularly, address concerns, and answer questions. It doesn't need to be a formal meeting- you can simply take them out for lunch.
Set long-term goals. Once a new employee gets a hang of things in the organization, you should lay out long-term performance expectations and set clear goals.
Provide materials to diversify their skill set. A motivated employee, looking to advance further in your organization will be eager to develop new skills. It is your job to provide them with such opportunities.
Organize the first informal get-along. You should encourage acceptance and inclusion when it comes to new employees. And there is no better way to do it than by throwing a party.
5. Looking beyond the horizon
Review the onboarding process. If you want your onboarding to become more effective in the future, you should always gather feedback from each new onboarded employee.
Establish key performance indicators and track them consistently. Once you measure the performance of your new employees, you will better understand if your onboarding program is effective.
Shift to continuous development: Once your employees complete the onboarding process, you should provide them with opportunities for further skill development.
>Want the actual checklist you can re-use for your business? Click here!
Following these best practices, you will be able to harness the benefits of structured employee onboarding.
3+ Essential Tools for Employee Onboarding
If you want to automate certain tedious and repetitive tasks, such as sending welcome emails and distributing training material to new hires, we recommend you to use workflow automation software.
All tools on this list have strong HR management features, which will help you streamline the onboarding process, making it 10x more efficient.
Onboarding software will also track your workers' progress automatically, generate reports, and organize the information for your managers. No more piles of paperwork or flooded email inboxes!
The best part of using workflow software is that all the data within your company is transferred automatically, so you don't need to constantly send emails or wait for signatures from advisors.
Once the previous step of onboarding is completed, the program will progress to the next one.
However, there are a TON of different employee onboarding software out there – so, which one do you pick?
For your convenience, here are some of our favorites:
Kissflow: Best Employee Onboarding Software for Large Enterprises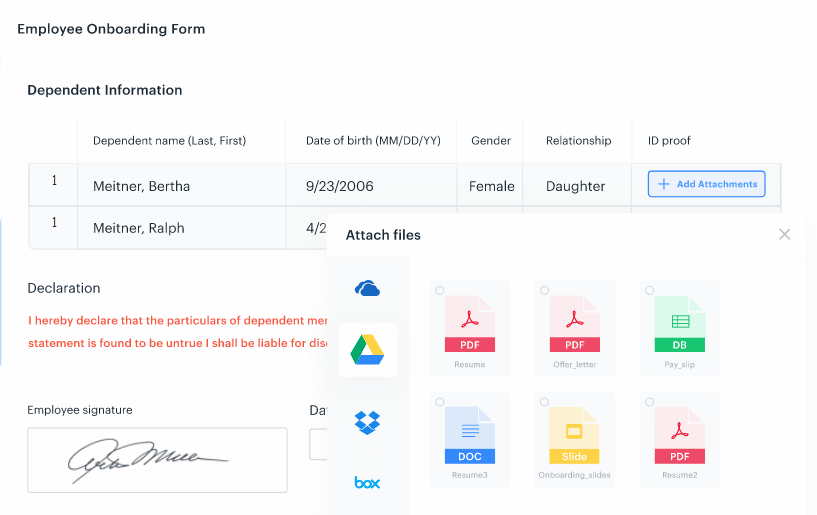 With Kissflow's paperless employee onboarding feature, you will never have to wait for a signature again.
Pricing: $360-$1000 per month (unlimited number of workers)
Key features:
Automated onboarding checklist
Built for scale
360-degree feedback integration (+ collaboration features)
Automatically generated turnover reports and performance tracking
Punch-in/punch-out systems
Perfect for: Middle-sized companies, large enterprises.
Kissflow offers one of the best employee onboarding programs with countless automation features and powerful performance tracking tools.
For example, you can schedule an action to be automatically performed when a task is complete. And it requires no coding skills.
With Kissflow, you can automate payroll, distribute training materials, send welcome emails, and generate turnover reports with one click of a button.
Kissflow has customizable checklists, which can be catered to suit specific onboarding needs of your company.
Unlike many other cloud-based solutions, which require you to pay X dollars per user, Kissflow has a monthly subscription model, INDEPENDENT of the number of employees using the software.
This can bring the costs of onboarding a new employee to less than $1 for large organizations.
A simple drag and drop system will let you customize your employee onboarding experience to suit the needs of your company.
A specifically designed employee onboarding program, countless automation, performance-tracking, and collaboration features, as well as a scale-efficient pricing model, make Kissflow the best solution for bigger enterprises.
While Kissflow's HR system is the most well-developed, their software has a steep learning curve. If you are looking for a simpler solution, we recommend you to check out Monday.com or Process.st instead.
Monday.com: Best All-Around Workflow Software with Seamless Automation Features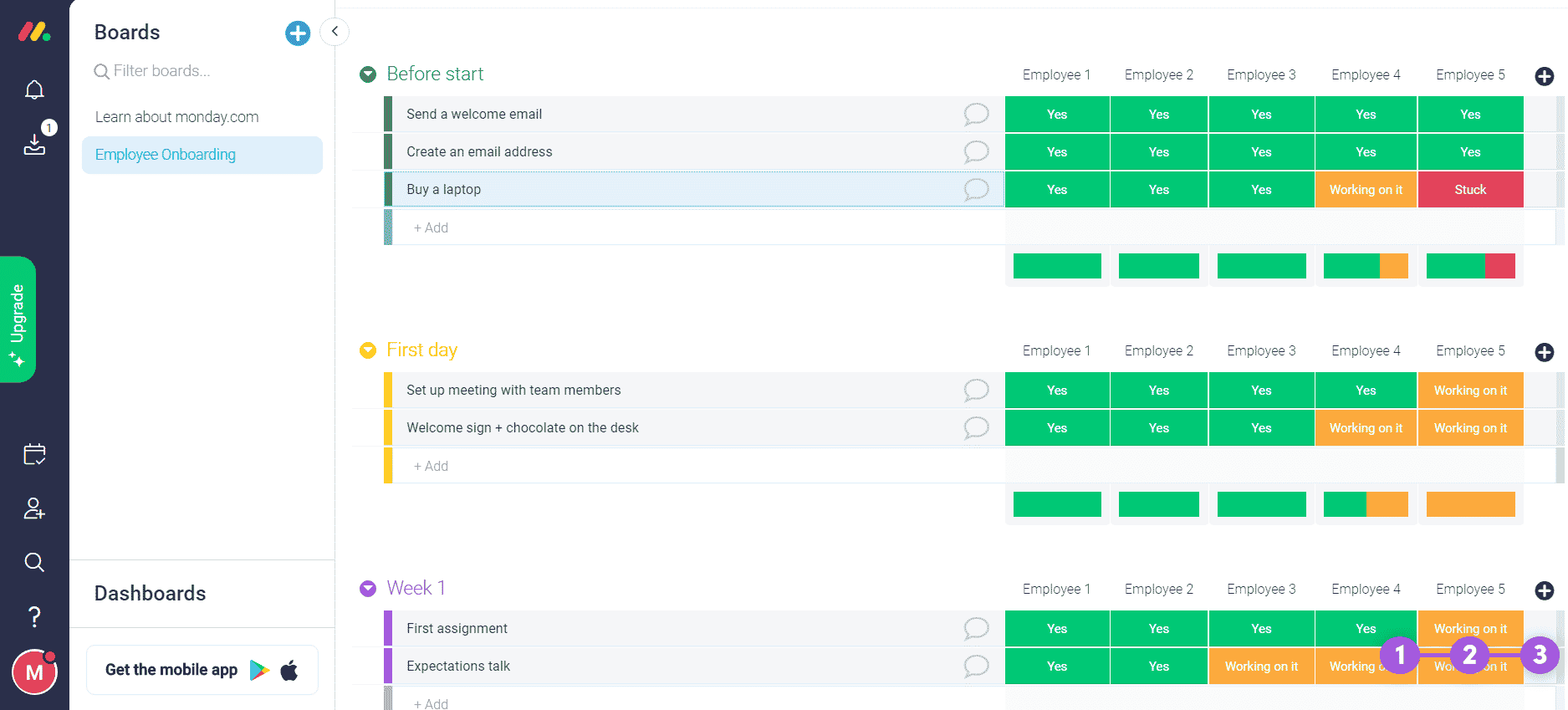 Monday.com comes with a customizable employee onboarding checklist and an intuitive interface.
Pricing: $8-$16 per user/month
Key Features:
Powerful employee onboarding checklist
Smart task automation
User-friendly Design
The biggest number of third-party integrations
Awesome data organization tools
Perfect for: Companies of all sizes looking for a simple onboarding management tool
Automating tasks, such as sending an e-mail, attaching a file or getting a signature is as simple as writing a sentence with Monday.com
Monday.com also offers awesome data organization tools. You can assign specific resources, attach relevant files, and assign employees to different onboarding processes.
Monday.com comes preloaded with 1000+ customizable templates, including employee onboarding, which will save your managers a lot of time in planning. Moreover, it has the most powerful third-party integration capabilities.
GSuite, Slack, Dropbox, Lucidcharts are just a few of 700+ integrations that you can add to your employee onboarding process.
With Monday.com, you can visualize your onboarding in several ways, such as process maps, calendar views, Gantt charts, etc.
This makes Monday.com the simplest and most convenient all-in-one solution to manage employee onboarding.
While the standard subscription starts at $8 per employee per month, it lacks some important premium features such as calendar-view, multiple automation/integrations, and it's limited to 5GB of storage.
The $16 pro version comes with different audit and reporting features and adds the above-mentioned workflow automation features.
Process.st: The Most Powerful Checklist Tool in the World
Automating employee onboarding is as simple as creating a checklist with Process.st.
Pricing: $12.50-$30 per person/month (+ a free version)
Key features:
Simplicity at its' finest
Powerful automation features
Collaboration features
Automated report generation
No learning curve
10+ onboarding templates specific to the position
Perfect for: Small businesses, freelancers
A lot of people associate the formal onboarding system with the creation of a detailed 100+ step checklist. When done manually, this process can take a lot of time and brings little value.
Using Process.st, you can create customizable onboarding checklists using 10+ templates specific to the position.
The software will allow your managers to get all the data from the employees easily, track their progress automatically, and keep the data organized in their dashboard
The idea behind process.st is simple and brilliant:
You create a checklist, outlining all the steps of the employee onboarding process.
You add all the relevant files, forms, and apps DIRECTLY into the checklist.
You invite your new employees to the checklist and track progress.
The program will generate performance reports and notify if your attention is needed for something AUTOMATICALLY.
And Process.st ensures your employees follow the onboarding process to the T.
The best part about Process.st is their pool of countless automation features. For instance, you can send a welcome email to every new employee automatically, or gather signatures automatically upon completion of a specific task.
Process.st also has 700+ integrations with third-party apps. This means that there's a high chance that most of your company's software will work seamlessly with it.
These features make Process.st one of the best tools to streamline your employee onboarding process.
One last thing about Process.st is that it comes with a free version that will meet the needs of most small businesses. We recommend you to give it a shot if you are looking for the simplest tool to streamline your onboarding process.
Recap
Thank you for reading this article! To make it easier for you to digest all this information, here's a quick recap:
Employee onboarding is the process of familiarizing new employees with your company through extensive training, social integration, and exchange of knowledge.
It starts right after you submit an offer to the prospective employee and could last up to several months depending on the nature of the profession.
The goal of the employee onboarding process is to increase retention rates and provide your employees with the tools/knowledge needed to maximize their productivity.
Having a structured onboarding makes the process more efficient and effective.
Structuring can be done with the help of digital checklists or even automated using workflow automation software.
We hope that this guide helped you better understand how to kick off your prospective workers' careers off the right foot.
If you would like to learn more about workflow automation and get more actionable business tips, subscribe to our newsletter. Until the next time!