There are tons of BPM tools out there on the market – everything from enterprise software suites, to cloud-based workflow solutions.
So, finding the right Business Process Management Software (BPMS) for YOUR business isn't exactly the easiest thing to do.
…Which brings us to this guide!
We're going to cover 10 of the best BPM tools on the market, and help you pick the one that works for you.
Quick Comparison
Want a quick, basic rundown?
Here are our favorite BPM tools:
ClickUp – best workflow and project management software. Hands-down the best in the market.
monday.com – our runner-up as the #2 best BPM software. Doubles as a project management tool, and comes with the best bang for your buck.
Kissflow – cheaper alternative. Kissflow is extremely easy to use, and even simpler to set it up for your organization.
Pega – the best enterprise BPMS on the market.
Process.st – if you're looking for a more straightforward process management software, Process.st is the way to go. It's less of a BPM and more of a checklist app, but for a lot of businesses, it can get the job done (at a low budget).
BPM FAQ
Q #1: How do I pick the right BPM software for my business?
A: There are a lot of solutions on the market, and most of them are pretty competitive in terms of features and pricing. So at the end of the day, what really pushes the needle is what YOUR business needs from it's BPM solution.
Q #2: What is Business Process Management?
A: Business Process Management, or BPM in short, is a methodology of constantly evaluating, analyzing and improving your business processes. You use BPM tools to help you execute BPM.
Q #3: What's the difference between BPM and BPMS?
A: BPM and BPMS are often used interchangeably mainly because anyone that subscribes to the BPM methodology, uses BPMS to help execute it. Without BPMS, it can be extremely hard to analyse your business processes and stay on top of them.
Q #4: What's the comparison criteria for the BPM tools?
A: A LOT of things, including:
Usability. Is it easy to learn & get started with?
UX/UI. Is the interface clean and attractive?
Features & Functionalities. Does it come with all the essential features?
Integrations. Does it allow for integrations with 3rd party software?
Bang for Your Buck. Do you get the right value for the price tag?
If you want a quick top-down review of all the BPM solutions we discussed in this article, click here to skip ahead.
If you want a COMPLETE run-down on all the tools, though, read on for reviews on each of the best BPM tools!
10 Top BPM Tools in 2023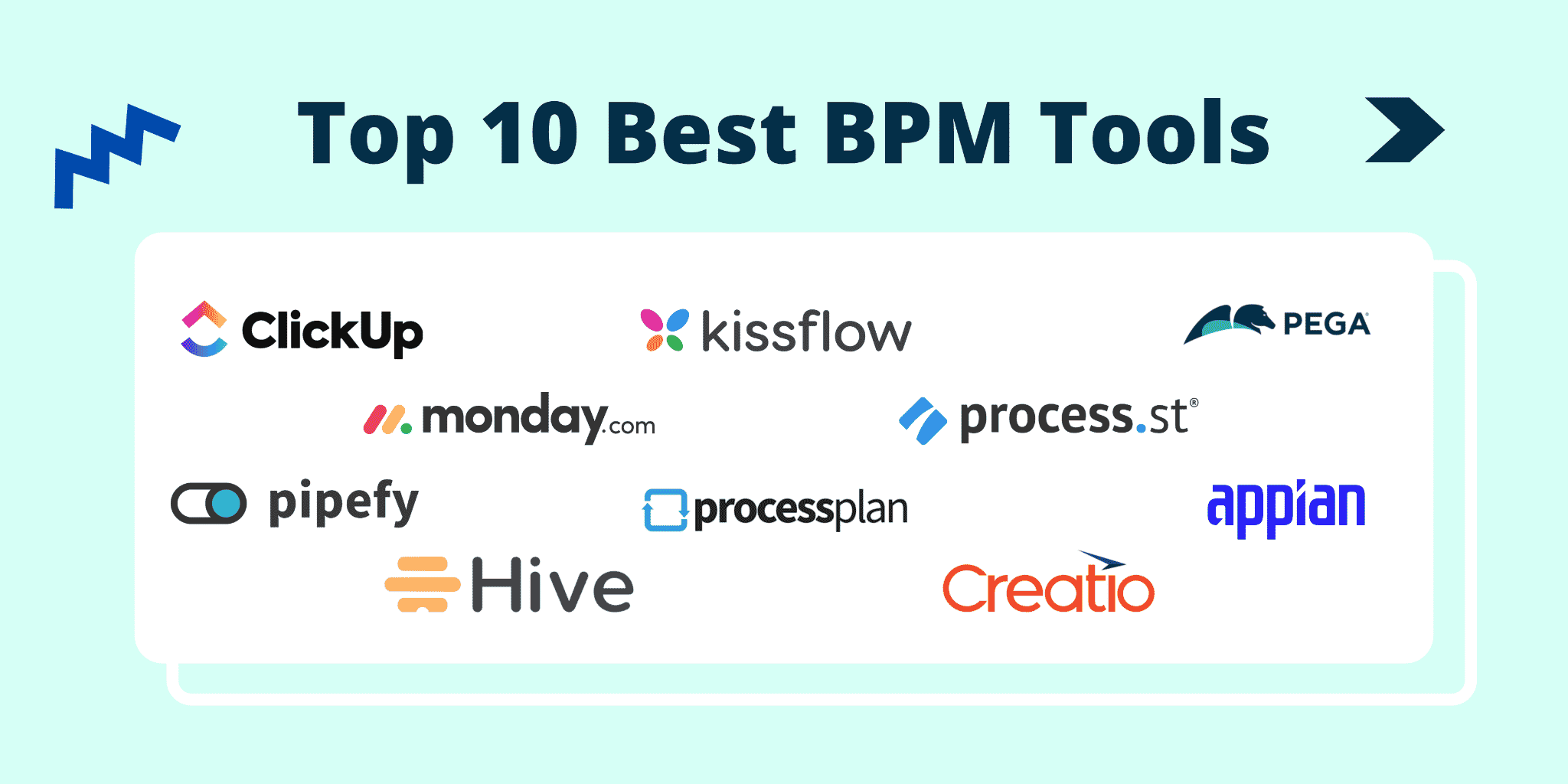 #1. ClickUp – Our #1 pick for BPM tools on the market.
Perfect For: Small-to-mid sized businesses, digital agencies, enterprises
Pricing:
Free – For personal use
Unlimited – $5 /User/Month – perfect for small teams
Business – $9 /User/Month – perfect for mid-sized teams
Business Plus – $19 /User/Month – perfect for multiple teams
Enterprise – Quote based
Pros:
Best UX and UI out of most BPM tools on the market
Huge process templates library + ability to create templates and duplicate in 1 click
Email, Google Drive, Calendar, and 100+ other software integrations
Much cheaper than a legacy BPM tool
Advanced reporting and business process automation features
Cons:
Mobile app is a bit slow sometimes
No advanced BPM customization features
#2. Monday.com – Our runner-up BPM tool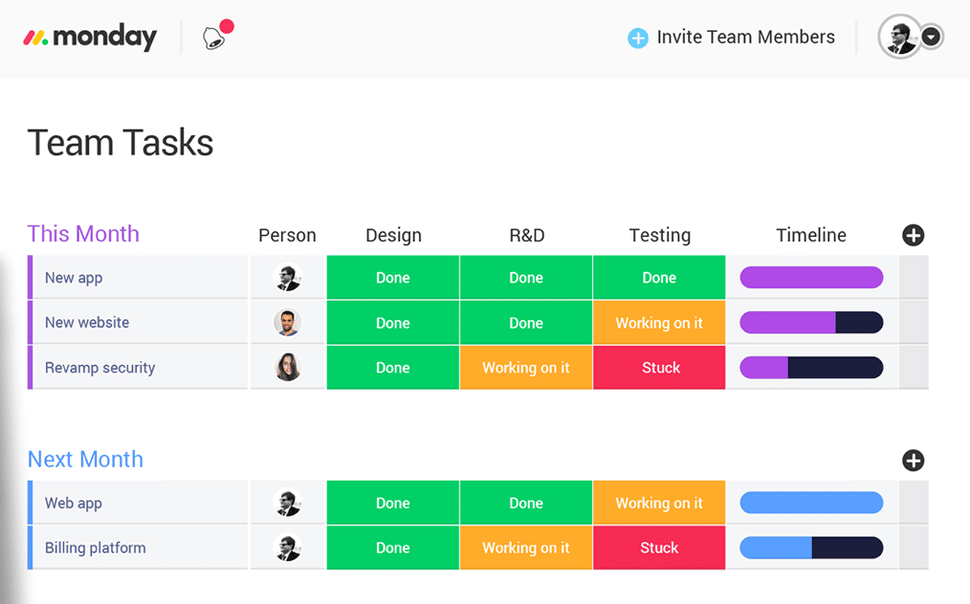 Perfect For: pretty much anyone, from SMB to enterprise.
Pricing:
Basic – $7.8 /User/Month
Standard – $9.8 /User/Month
Pro – $15.8 /User/Month
Enterprise – Per Quote
Free Trial: 14 Days
Pros:
Incredible UX & UI
Useful for organizations of all sizes
Process templates to help get you started
Doubles as a PM and BPM software
Significantly cheaper than typical business process management software
Cons:
Not as much customization options as a dedicated BPM software
Monday.com is the second best BPM software on the market today.
The software doubles as a project management tool, so you get access to the best of both worlds (and a very good bang for your buck, too!).
Monday.com comes with whatever you'd expect from a top-of-the-line BPM tool:
Common process templates you can customize.
Integrations with whatever other software you're using – everything from G-Suite to Slack.
Completely no-code environment
And at the same time, Monday also has a bunch of other features that most BPM tools on the market don't:
Single dashboard to manage all your projects
Ability to create and assign one-off tasks, manage teams, etc.
55+ templates for just about every single management use-case: meeting notes, content calendar, expenses tracking, and whatever else you might need.
With Monday.com, you get the best of both worlds from project management and BPM software, allowing you to use a SINGLE software solution for both use-cases and save a TON of money.
So, we just can't recommend Monday.com hard enough!
#2. Kissflow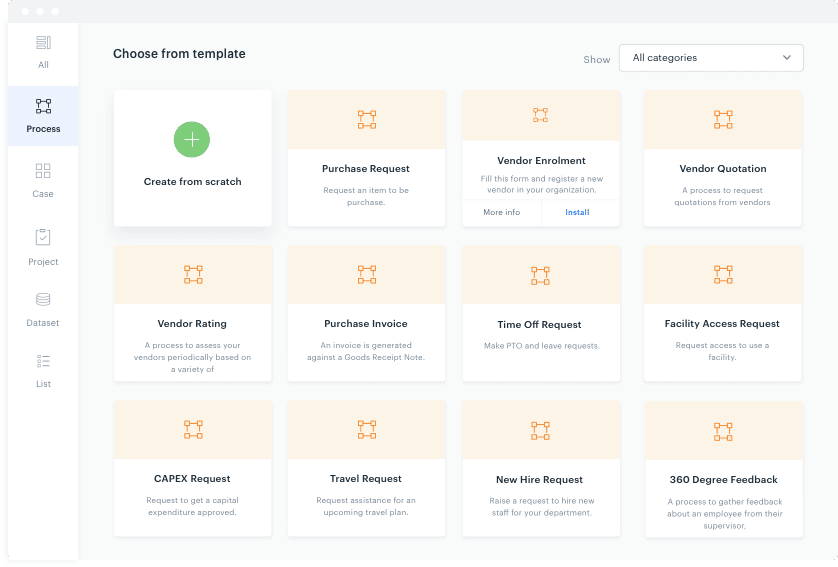 Perfect For: For organizations of all sizes, from SMBs to enterprise
Pricing:
Starter: $450 / Month – Up to 30 Users
Growing: $590 / Month – Up to 50 Users
Enterprise: $1,000 / Month – Up to 100 Users
Free Trial: 14 days
Pros:
Insanely easy to get started. KissFlow comes with templates for every single most common business process
No-code. It's extremely simple to take an existing process template and customize it for your business
Integrations with most cloud-based software on the web
Cheaper than the average BPM software
Cons:
None that we can think of
Our number 3 choice for the best BPM tool on the market. The only reason it falls behind ClickUp and monday.com is that it doesn't pack the same project management features.
KissFlow comes with over a dozen process templates for the most common business processes, including:
HR processes – on/offboarding, vacation approvals, etc.
Finance processes – procurement, vendor management, etc.
Any type of approvals
…And pretty much anything else. KissFlow's workflow builder is 100% no-code, drag & drop, so it's very easy to digitize your processes without any hassle.
#3. Process.st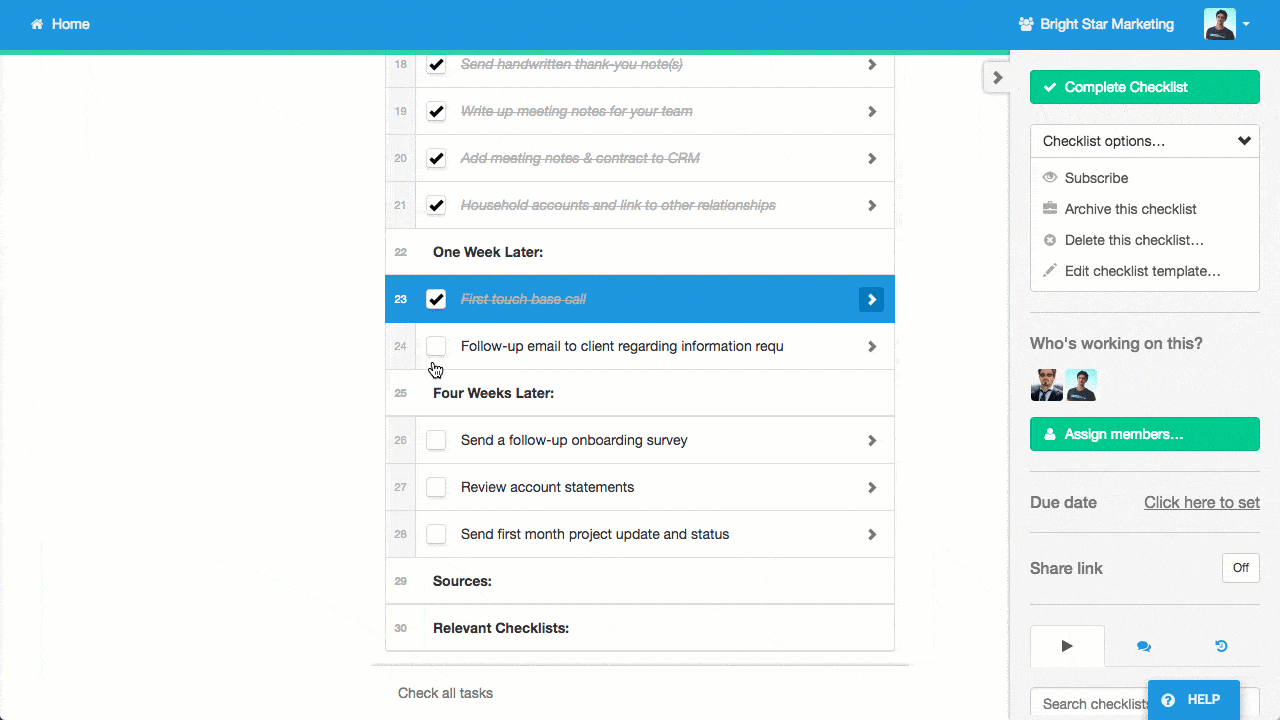 Perfect For: SMBs looking for an extremely simple alternative to BPM software.
Pricing:
Basic – $12.5 /User/Month
Standard – $25 /User/Month
Enterprise – Quote-based
Free Trial: 14 days
Pros:
The easiest to learn BPM tool in this list by far
100+ reusable & customizable checklist templates
Easy to use checklist software
Templated SOPs
Cons:
Not your conventional BPM software – built with checklists instead of flowcharts
Might not be the best tool for enterprise companies
Not the best for complex workflows
Process.st is our go-to BPM tool for SMBs.
Unlike the rest of the software in this article, Process.st is based on checklists instead of flowcharts.
Which, in layman terms, means that it's SIGNIFICANTLY easier to use.
With most enterprise BPM, it would take you forever to set it up, customize it for your organization, and get your organization to adopt the software.
With Process.st? You can do all that in a week, a month tops if you're a larger organization.
As with most BPM tools, Process.st comes with 100+ checklist templates you can customize to your liking.
Finally, their checklists also allow for process documentation – they're not just checklists, but interactive manuals on how to successfully complete the process.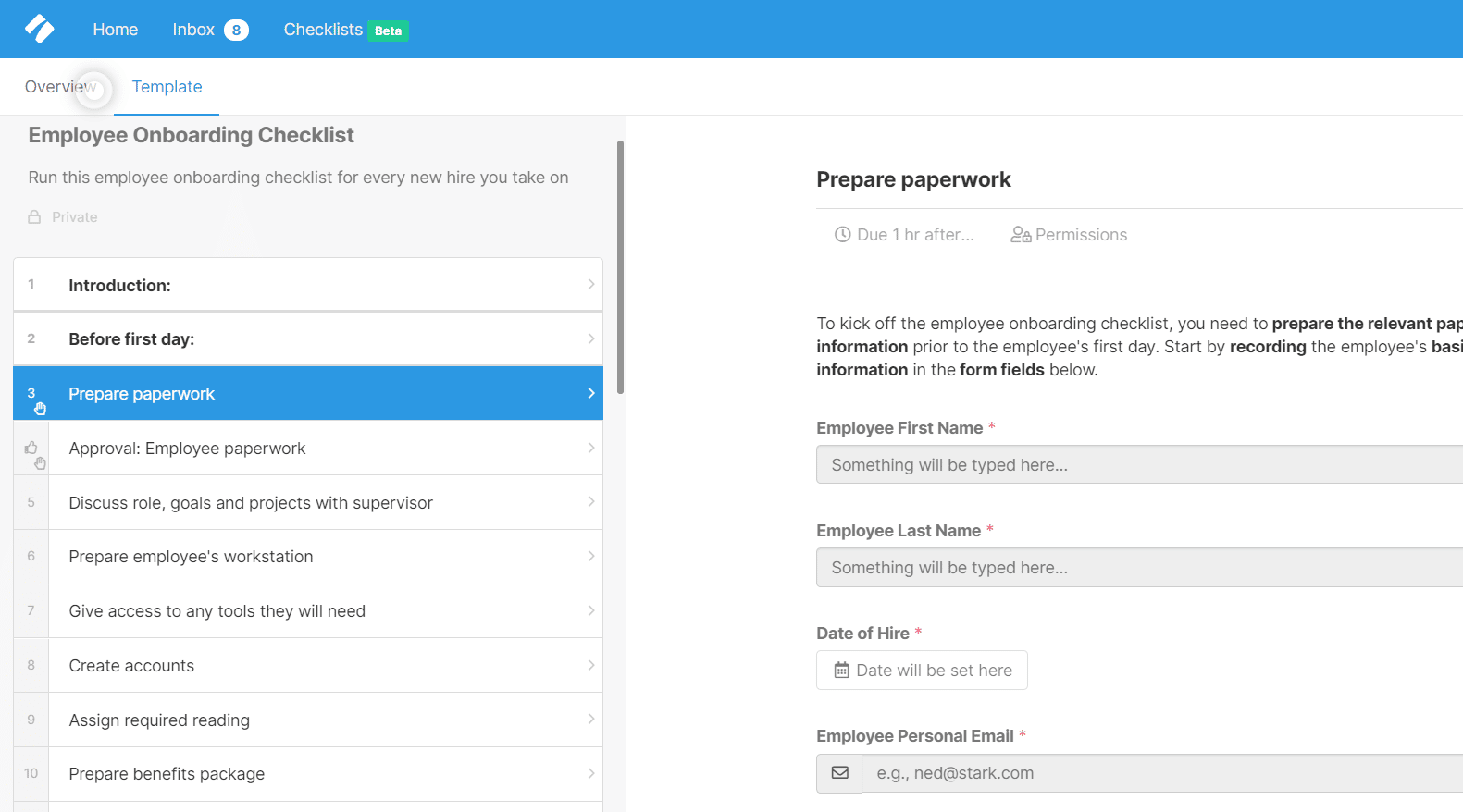 The downside here, though, is that Process.st is not the stereotypical BPM software. It has significantly less customizations options than the heavy-weight contenders (E.g. Pega, Appian).
So, the conclusion here is, if you're looking for something extremely simple to work with (but limited capabilities), definitely go for Process.st.
If you're looking for something more complex, though, read on…
#4. Pega
Perfect For: #1 BPM for enterprises and large organizations
Pricing:
Enterprise Starter – $90 /User/Month
Enterprise Custom – Quote-Based
Free Trial: 30 Days
Pros:
Extremely robust in terms of features & use-cases
Low-code environment
Mobile app
Cons:
Requires technical knowledge to create process apps
Lack of process templates
More expensive than the other BPM tools we've mentioned so far
Pega is our go-to for enterprise BPM software. The software, while a bit more on the pricier end, offers a lot of robust features that make up for its cost.
Unlike the BPM tools we've mentioned so far, Pega is low-code (instead of no-code). Meaning, you'll need some technical help in order to create your digital processes.
Pega also does not come with process templates, which can make it a bit harder to get started with the platform.
However, where Pega DOES shine is it's wide array of features and use-cases, which includes:
Open Architecture. You can easily integrate Pega with the rest of your software base.
Robotic Automation. Pega allows you to automate any manual tasks, allowing your employees to focus on work that matters.
Workforce Intelligence. Pega gives you a top-down view of your business, letting know of potential inefficiencies and errors in your processes
#5. Pipefy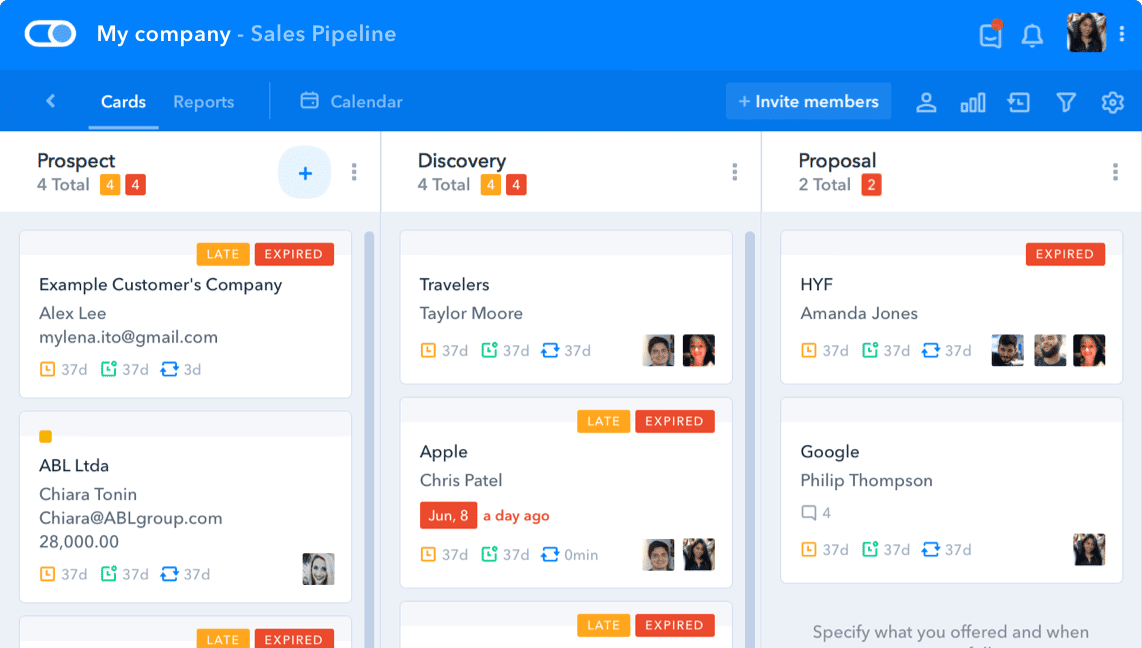 Perfect For: Pretty much anyone – SMBs to enterprises
Pricing:
Professional – $9 /User/Month
Business – $18 /User/Month
Enterprise – Quote-Based
Free Trial: Freemium model with basic features
Pros:
Relatively simple to use/learn with its kanban interface
Extensive knowledge base to help you learn the ropes
The biggest process template library we've seen so far
Fast & simple employee onboarding
Cons:
Not as much functionality as enterprise BPM software
Occasional app speed issues
If you're not a fan of Kanban, you won't enjoy using the tool so much
Pipefy is a cloud-based, no-code BPM platform.
The first thing you'll notice with Pipefy is it's super-simple onboarding process:
You pick your department function, and you get a list of process templates that might be relevant for you (split by department).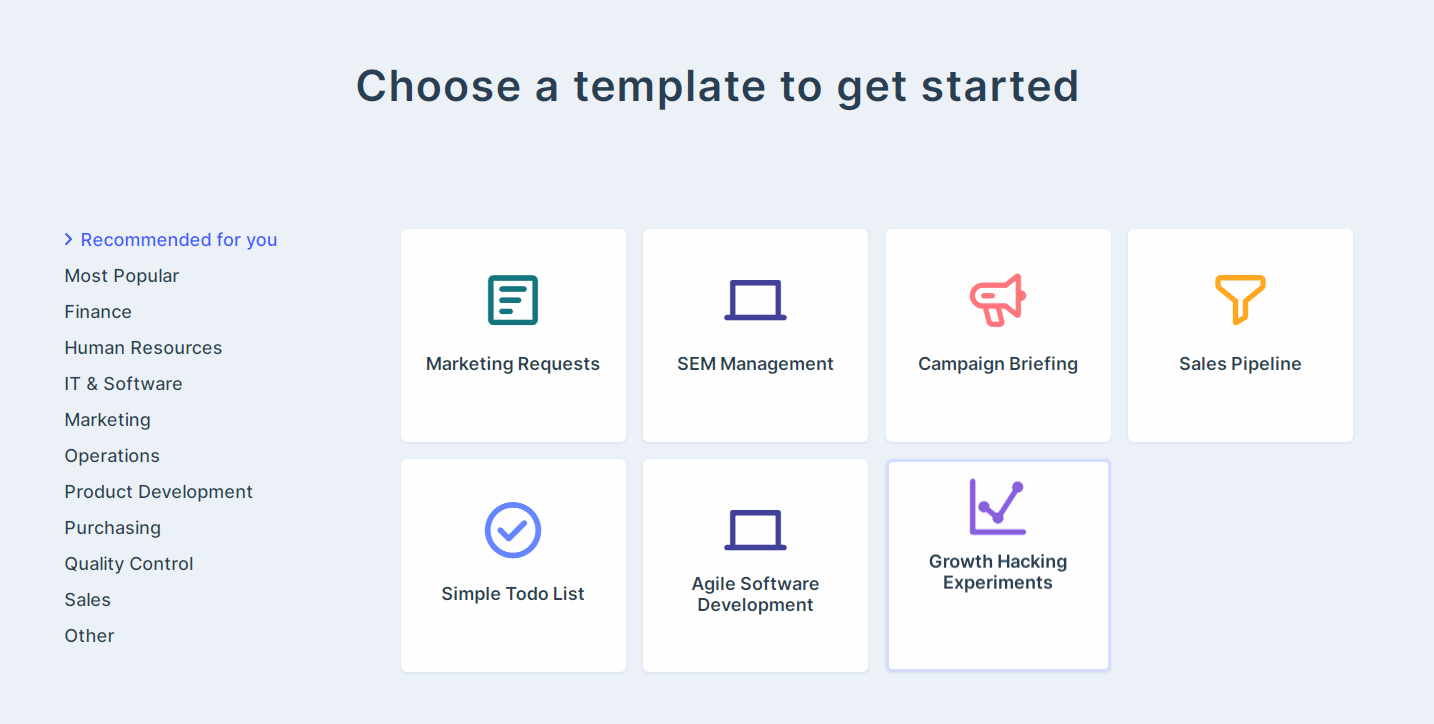 Then, Pipefy loads up the template for you, and gives you access to their knowledge base which guides you on how to use the software on the side-bar.
Pipefy comes with all the essential features you'd expect in a BPM tool, including:
Integrations with most SaaS tools
Automation capabilities
Conditional logic
And more.
What really makes Pipefy stand out from the rest of the tools is:
The biggest library of process templates we've seen so far (split by function)
Very good bang for your buck
Relatively easy to learn, as it's built with a Kanban interface, something that pretty much everyone has used.
#6. Hive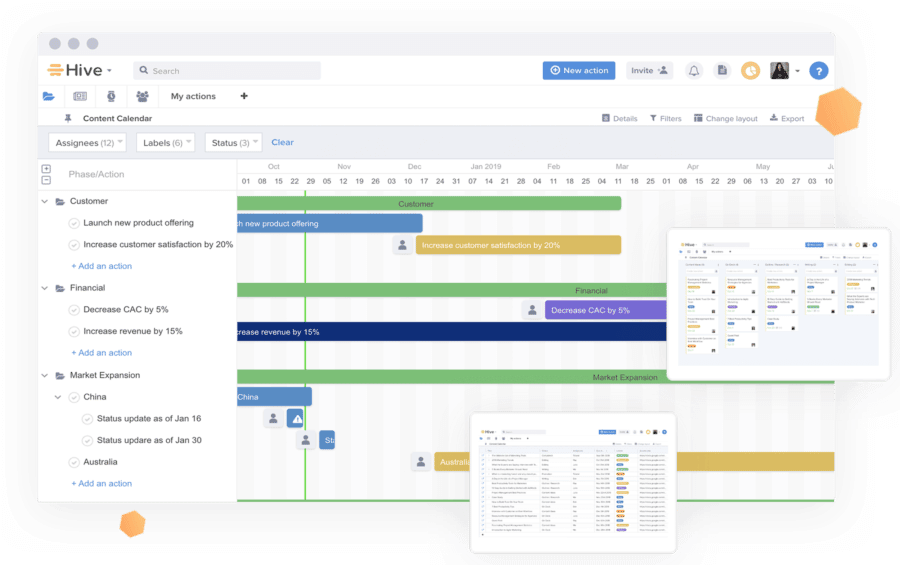 Perfect For: Companies of all sizes looking for a one-size-fits-all productivity software
Pricing:
$12 /User/Month
Addons From $3-6 /User/Month
Free Trial: 14 Days
Pros:
Extremely flexible on how you can use the software
A wide array of features
A lot of value in it if you're looking for a complete productivity software
Cons:
Lack of process templates
Lackluster mobile app
Addon features can drive the price up
Hive is the most flexible Business Process Management software we've seen so far.
As is the case with Monday.com, Hive doubles as a project management software.
As a BPM tool, Hive comes with all the essential features:
Integrations with 1,000 other SaaS tools
Workflow mapping and automation capabilities
Top-down analytics dashboard
Etc…
It also comes with a number of process templates, but it's significantly less exhaustive than all the other BPM tools we've mentioned so far (e.g. for HR, there are only 2 existing templates).
What really makes Hive shine, though, is the ability to customize your work dashboard. You can turn your to-dos into a Gantt Chart, Kanban Board, Calendar, or a table.

#7. Process Plan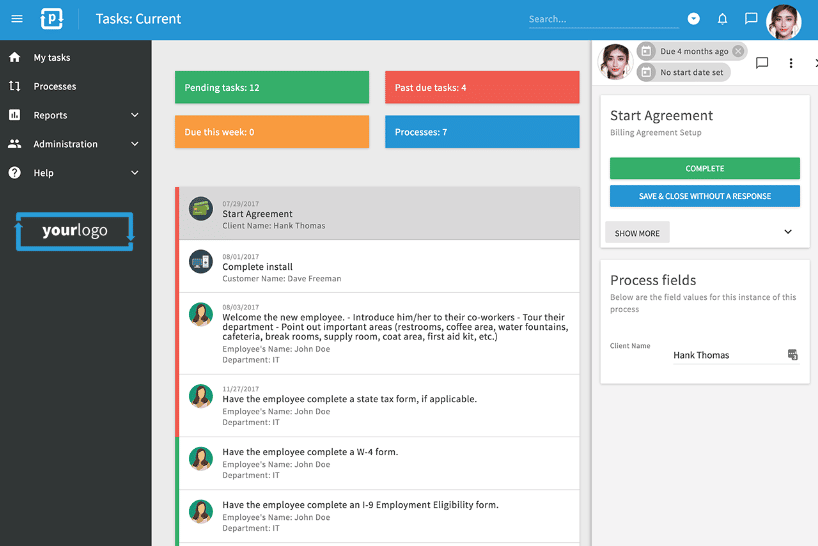 Perfect For: Enterprises looking for a good deal
Pricing:
Free Trial: 14 Days
Pros:
Simple flow-chart based process template creation
Unlimited training calls to easen onboarding
Fast and responsive mobile app
Cons:
Complex UX/UI (compared to other apps)
Difficult onboarding
Limited process templates
Process Plan is a more traditional BPM tool – it runs on process flowcharts (as opposed to tools like Pipefy or Hive, which run on a Kanban model).
The software, in comparison to the other tools we've mentioned so far, is a bit difficult to get started with. The UX/UI is a bit confusing, and the number of process templates available is limited.
What really makes Process Plan shine, though, is it's cheap pricing plan, as well as the unlimited training calls with their process experts.
#8. Creatio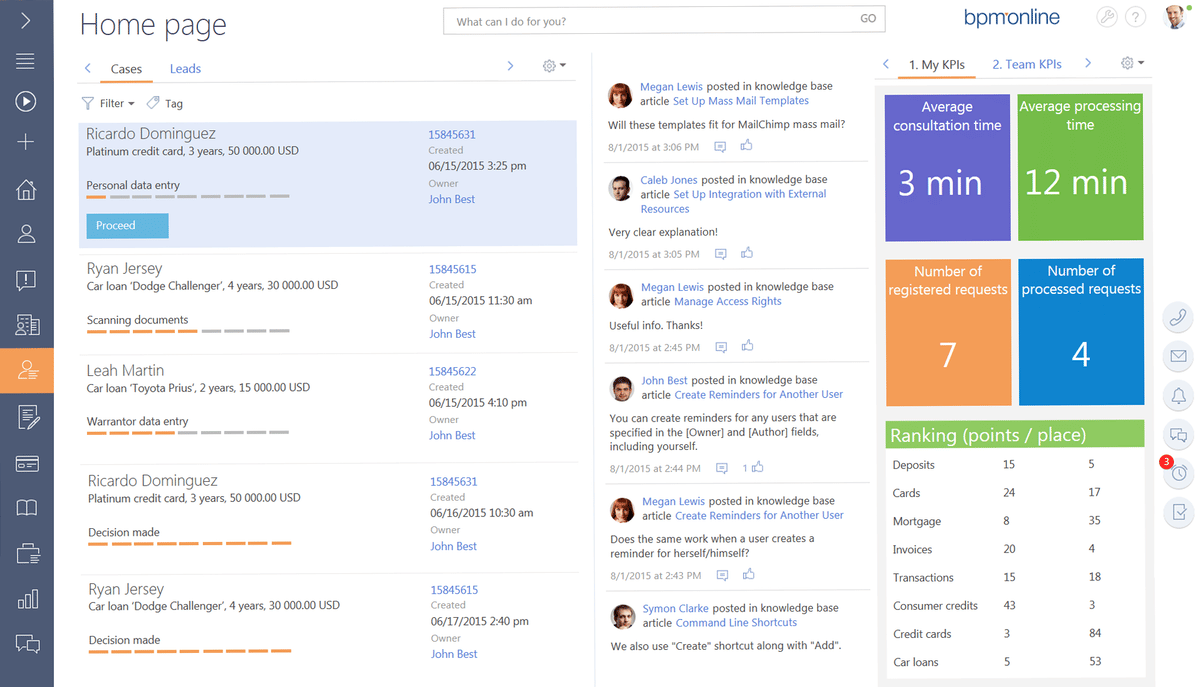 Perfect For: Both SMBs and Enterprises
Pricing:
Free Trial: Freemium Model
Pros:
100% free freemium version for unlimited # of users
80+ process templates available
Add-ons and applications on Creatio marketplace
Top-tier BPM features at a significantly lower cost than enterprise BPM tools
Mobile app
Cons:
Steep learning curve, despite being no-code
Focused specifically on the CRM aspect of a BPM
Creatio (formerly BPM online) is a no-code BPM software.
It's completely drag & drop, so it's relatively easy to create your processes.
It is, however, not as easy to use/set up as some of the other BPM tools we've mentioned (e.g. Monday, Pipefy), so the learning curve can be quite stiff.
What makes Creatio stand out, though, is the following:
Plug-and-play applications available on the Creatio marketplace. Want to use Creatio to solve a custom problem? You can probably find an app on the marketplace (so you won't have to code it yourself).
The simplest/easiest to use enterprise BPM we've seen so far
Freemium version that is 100% truly free, for an unlimited number of users
#9. Appian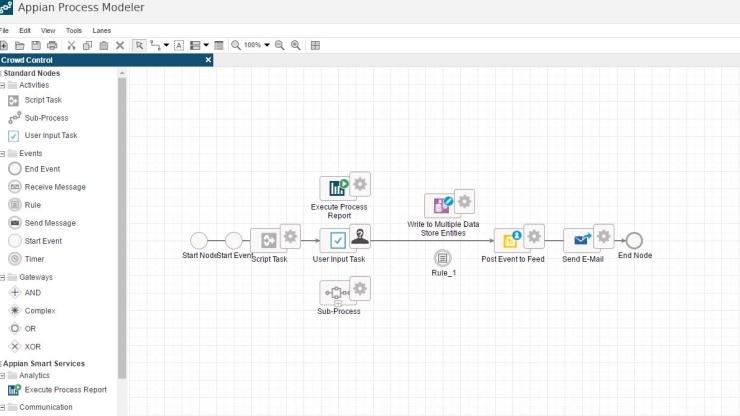 Perfect For: Enterprise companies looking for a heavy-weight BPM software
Pricing:
Standard – $54 /User/Month
Custom – Quote-Based
Free Trial: 14 Days
Pros:
A lot of flexibility for creating your digital processes
More advanced features compared to the apps we've mentioned so far
Low-code, so you won't have to work too much with devs
Appian Guarantee is a very good deal (for enterprises)
Cons:
Longer setup
Harder to learn than the other apps
Hefty price tag
Appian is a low-code BPM tool. Meaning, while you CAN use drag-&-drop to create most of your processes, you'll need some technical know-how to customize them for your business.
Appian comes with a number of robust features, including:
Case management capabilities
Intelligent automation – ability to adapt processes based on new variables
Customer engagement platform – option to create workflow apps that can be interacted with by customers or clients
Appian is also extremely flexible on the practicalities of how you can use it:
You DON'T have to export your data to Appian. You can host it wherever, and just access it with Appian.
Build once, deploy everywhere. All processes created on Appian are compatible for all platforms, including mobile.
Flexible hosting. You can host your Appian suite on your own cloud servers, or opt for Appian's own choice (Amazon Cloud).
And to add the icing to the cake, if you're on the fence about trying Appian, they have a killer guarantee:
They're going to deliver your first workflow app within 8 weeks for $150,000
Anyone technical can become an Appian developer in 2 weeks
Back to You – What's YOUR Favorite BPM Tool?
As we already mentioned, the #1 deciding factor in choosing the best BPM tool is what YOUR business needs.
If you liked this list, then you'll love this break-down of the top business automation tools.
So, let us know your thoughts down in the comments:
Which of the BPM tools we mentioned have you used? What's your experience with them?
Is there any top tool we forgot to mention?
Which BPM software is, in your opinion, the best bang for your buck?