Processes are at the heart of any business. But how can you get the most out of them?
Every company can tell you what their business processes include in general. But it gets confusing when it comes to all the small details of who, how, and when they're executed.
You need to constantly track, analyze, and improve your processes so they are as efficient as possible. And business process mapping is how you make that happen.
Here you're going to find everything you need to know about business process mapping, including….
What EXACTLY is Business Process Mapping
The benefits of using Business Process Mapping in your business
5+ types of Business Process Mapping
Step-by-Step Guide to Business Process Mapping
3+ Business Process Mapping Examples
What's Business Process Mapping?
Business Process Mapping is a visual representation of your business processes.
It includes information on the key steps of a process – who's in charge of what, what are the tasks that need to be done, and what's the sequence of tasks that need to be completed.
There are many different ways in which you can map out your processes, but one of the most popular and convenient ways to visualize a process is with a workflow diagram.
Let's say you want to map out an employee onboarding process as follows:
Before the first workday, you submit all paperwork for approval and set up the new employee's workspace.
On the first workday, you welcome them to the team, show them around, and introduce them to their manager.
In the first week, you begin the department overviews, schedule a lunch with the new hire, and set the expectations for their first month in the company.
In the first month, you can do a check-in with your new hire, continue the department overviews, schedule regular new hire meetings, and introduce them officially to the company.
Here's how that would look like on a workflow diagram: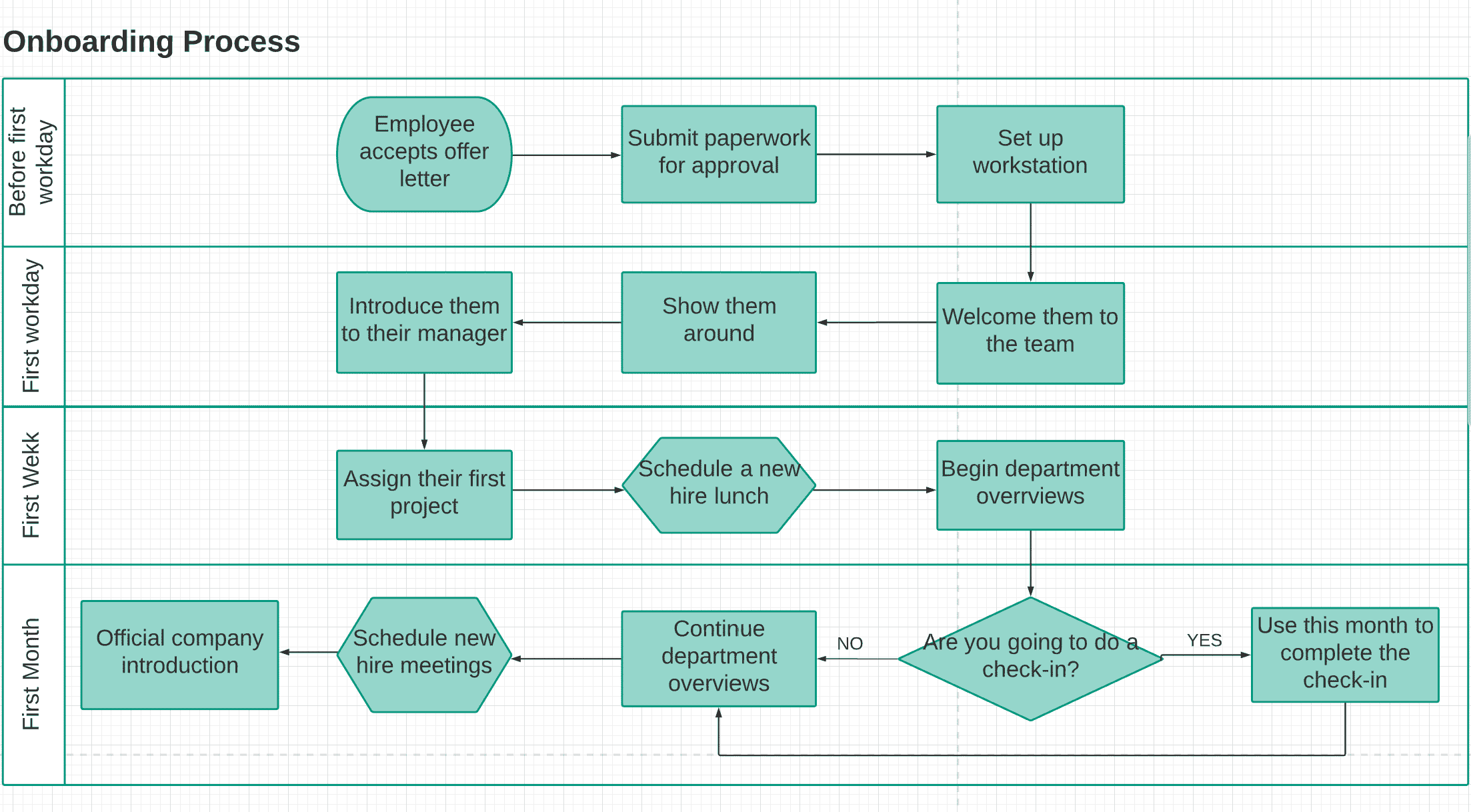 Business Process Mapping Benefits
Business process mapping comes with a ton of benefits, including:
See the bigger picture. It lets everyone in the company see all processes mapped out. This helps them realign their day-to-day tasks with the bigger goals of the company.
Understand the roles better. When you visualize the tasks, their order, and the people associated with them, you know who is in charge of what at what stage of the process. Which means there is a smaller chance of miscoordination between the outlined steps.
Find the root of the problem. It is easy to spot a problem. Figuring out where it came from, though, is a lot harder. That's where visualizing helps a lot. You can literally see the cause and effect relationship between different steps.
Establish best practices. When you have mapped out a process, you can easily understand which factors amp up the process to the next level, and which ones should be eliminated or changed.
Manage risk and compliance. Mapping will enable you to spot and eliminate any risky situations and also serves as evidence that you abide by all laws and regulations.
5+ Business Process Mapping Types
There are a lot of different process map types. Here are some of the most popular ones:
Process flowcharts are simple and straightforward. You can map your process on paper, on a word file, or using online graphing software like Lucid Charts.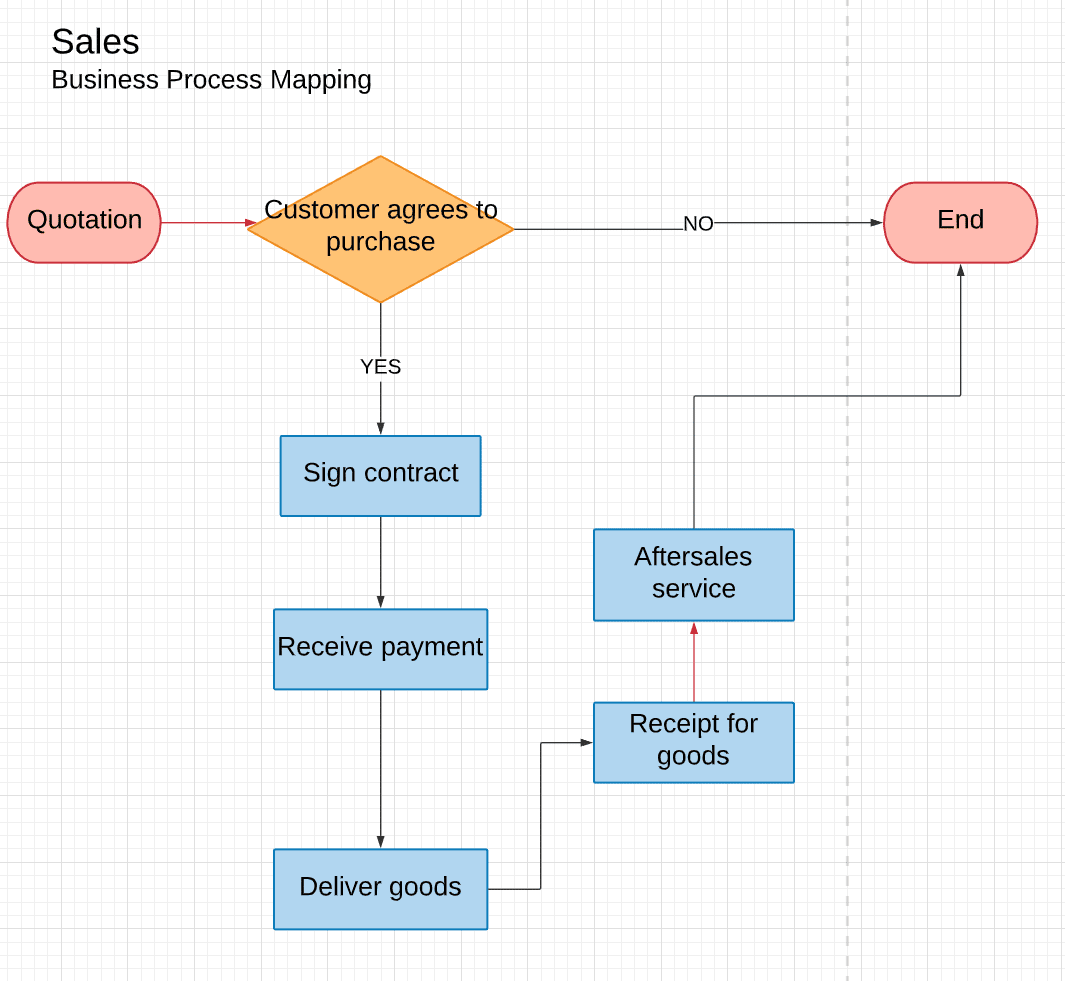 Swimlane diagrams are almost the same as the flowcharts but you divide the tasks between the people or teams that are responsible for them. This makes it very easy to understand who is responsible for what in the process.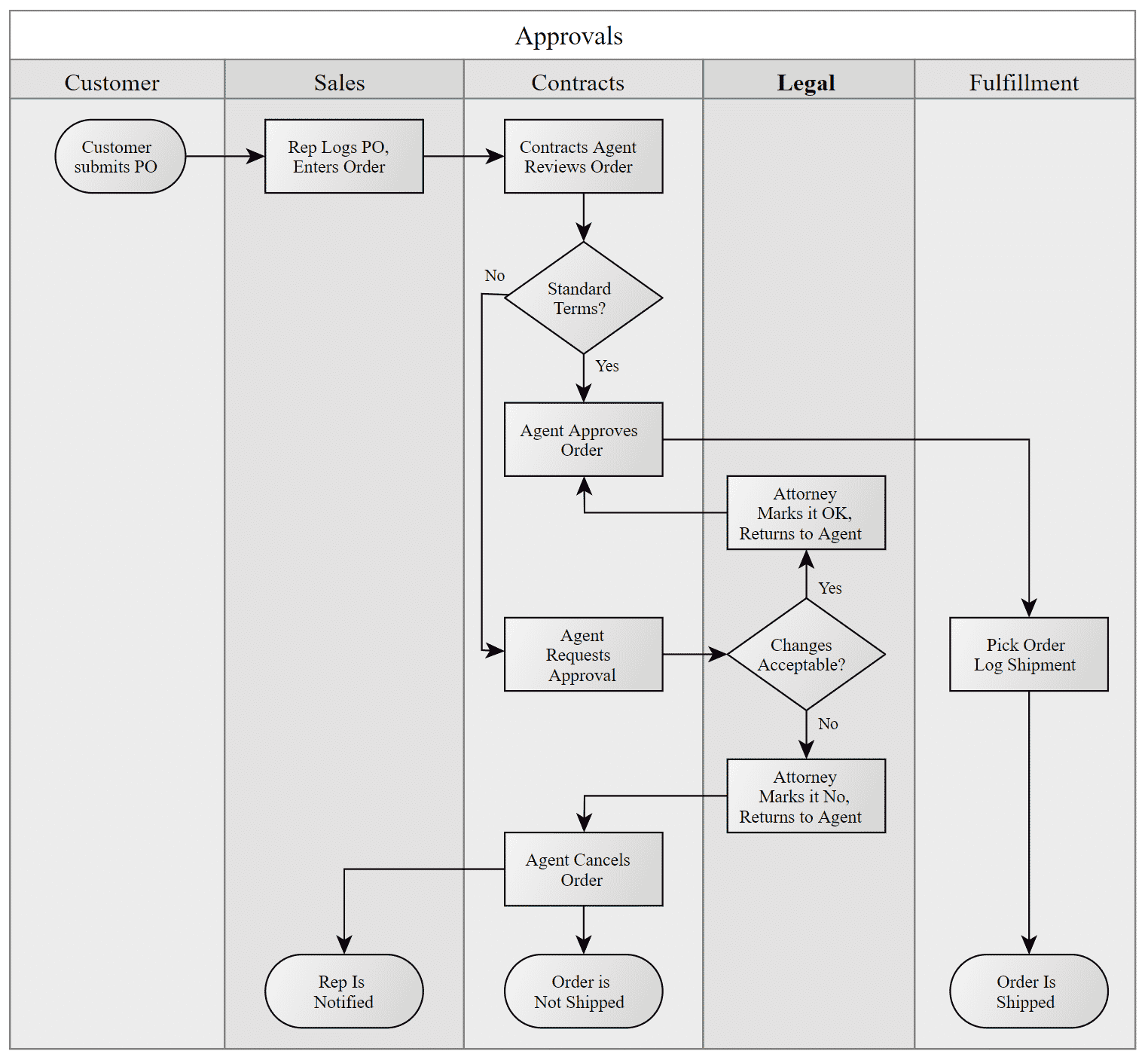 Value stream maps are used in lean management and have a more detailed layout. They are useful for their more in-depth analysis.
However, they are a lot more complicated to read, so they're mainly used by the management team to analyze and improve processes (and NOT to train your employees).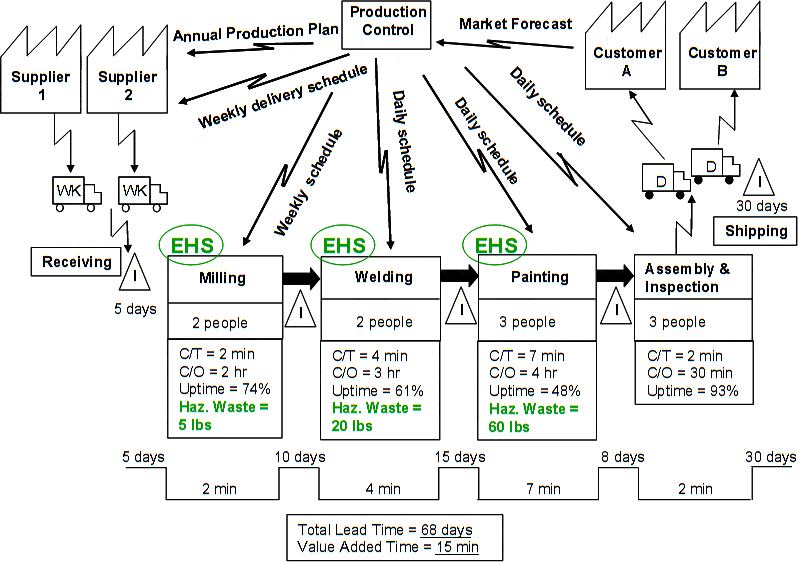 SIPOC is a Suppliers Inputs Product Outputs Customers chart which defines a process without any excessive details. It gives you a simplified version of the process and clearly shows who is involved in what part of it.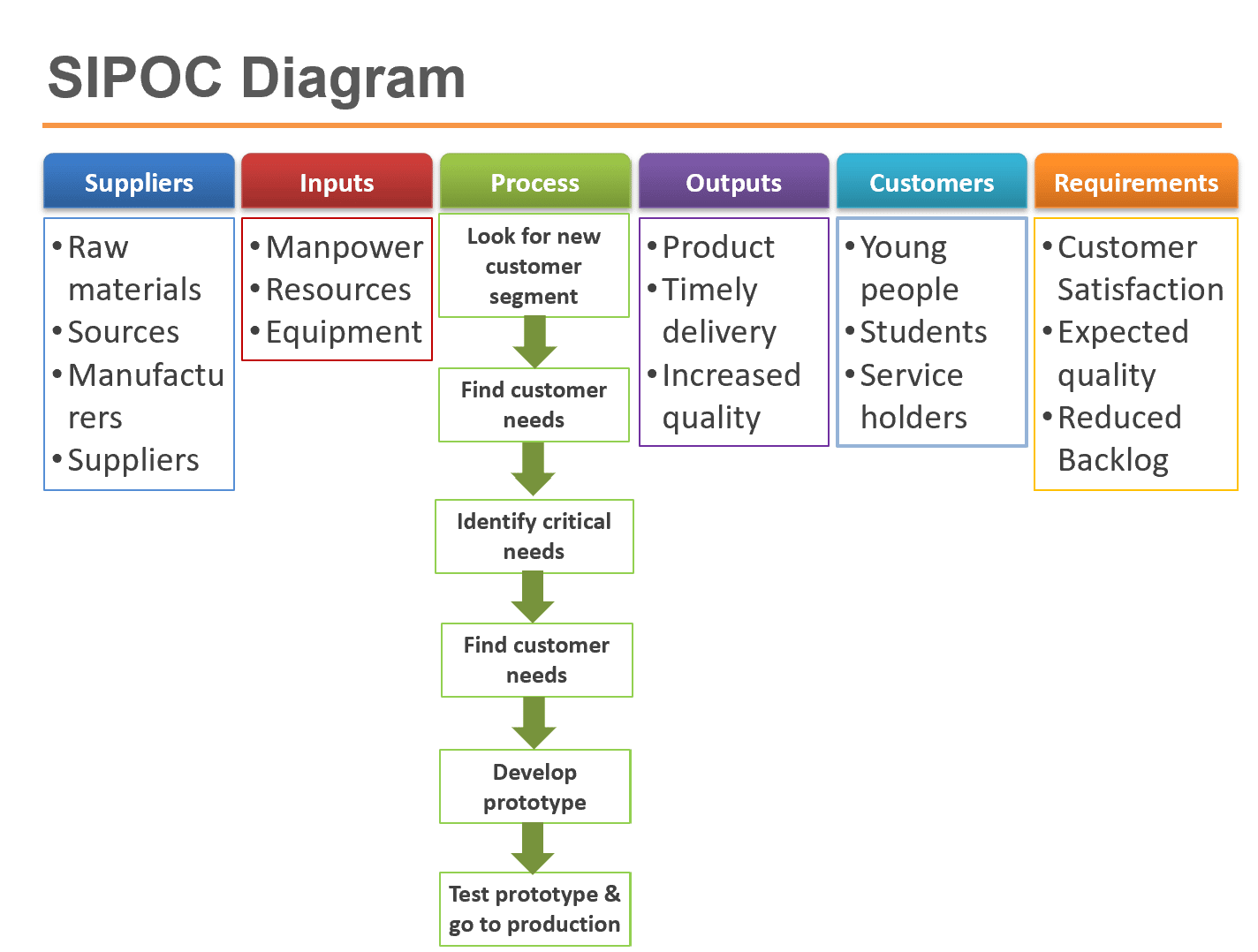 Business Process Management Software like Monday.com allows you to graph your processes digitally.
The software comes with a TON of awesome features that just aren't possible with physical process maps, including:
Automation of menial tasks. Think, moving data from one software to another, sending automated emails, etc.
Better communication across the company. Everyone can access the software and see the steps of the process, the progress, deadlines, and who is assigned to what task.
Process flow automation. The software can guide your process by automatically assigning tasks to employees.
Process performance is improved. With the software, you can eliminate any redundant steps and bottlenecks which results in better productivity.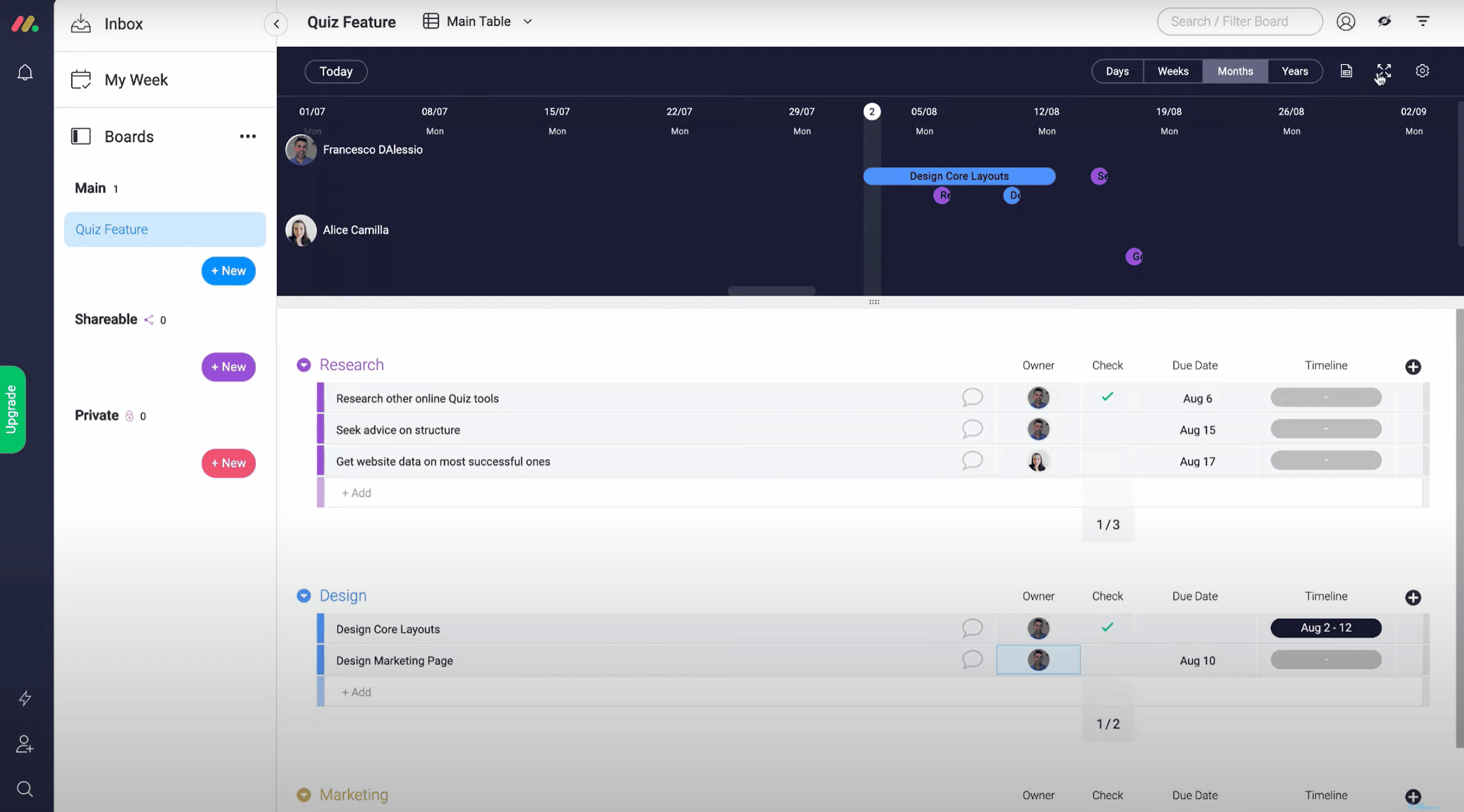 Step-by-Step Guide to Business Process Mapping
Want to get started with business process mapping?
Here are the 6 essential steps…
Step 1. Select the process you want to map out
For starters, pick the process you will work on.
If you're diving into process management for the first time, you should focus on the processes that have the biggest impact on your business.
3 most common ways to pick the right process are…
Reactive – i.e. the processes that are underperforming.
Strategic – These are the processes that have strategic importance to your business. E.g. improving this process can improve overall company performance.
Customer-focused – Here the focus is on the processes that affect your bottom line.
Step 2. Assemble your project team
You can't be really involved in ALL processes across your company.
So, to get valuable insights into each process you should form a team with the people who perform this process on a daily basis.
Chances are, they know the process inside-out, and can come up with a ton of ideas on how to improve it.
Make sure they understand why you're mapping the process they're involved in, what changes are going to happen, and what will be their role in it. Change is scary, so you should try to get everyone on the team to be actively involved in this.
Step 3. Collect information
Now, as you have your process and team, it's time to get all the information you need to map out the process.
Usually, you'll need info on…
Who's in charge of what step of the process?
What is the order of the steps?
How are the steps completed?
How do the steps correlate to each other?
How long does the process take from start to completion?
Step 4. Interview key figures
The next step is talking to the people involved in the process.
They can give you some valuable insights into the current state of the process. Or at best, they might even have suggestions on how to make things even better.
Step 5. Create the baseline business process map
After you have all the information on the process, it's time to map it out.
You can use any type of the above-mentioned mapping types to do that. For the sake of this example, let's use a simple flowchart example and see how this step will look for you:
Step 6. Analyze and identify areas for improvement
Now that you have your map, it's time for analysis and improvement.
Look through your process map, and find…
Which of the steps are taking too long to complete? Are there any better ways to execute them?
Are any of the steps redundant? Can you simply remove them from the process?
Can you come up with more innovative ways to do a certain step? How much time, money and other resources will this save you?
Will introducing such a step do more good than harm?
Is there a way to eliminate any potential risks and hindrances without affecting the process performance?
Once you've identified the issues, all you have to do is implement the changes, and see if they lead to any improvements!
Business Process Mapping Examples
Here are some practical process mapping examples…
Client Onboarding Process Example
When you onboard a client, there are many details around each step of the process.
But essentially you:
Have initial contact with the potential client.
Understand what they need.
Say whether you can meet their needs and take up the project or not.
If yes, you arrange a meeting with them to discuss the project in more detail.
Set a timeline for the project.
Sign the contract and receive your payment.
Launch the project.
Here's what this would look like mapped as a flowchart…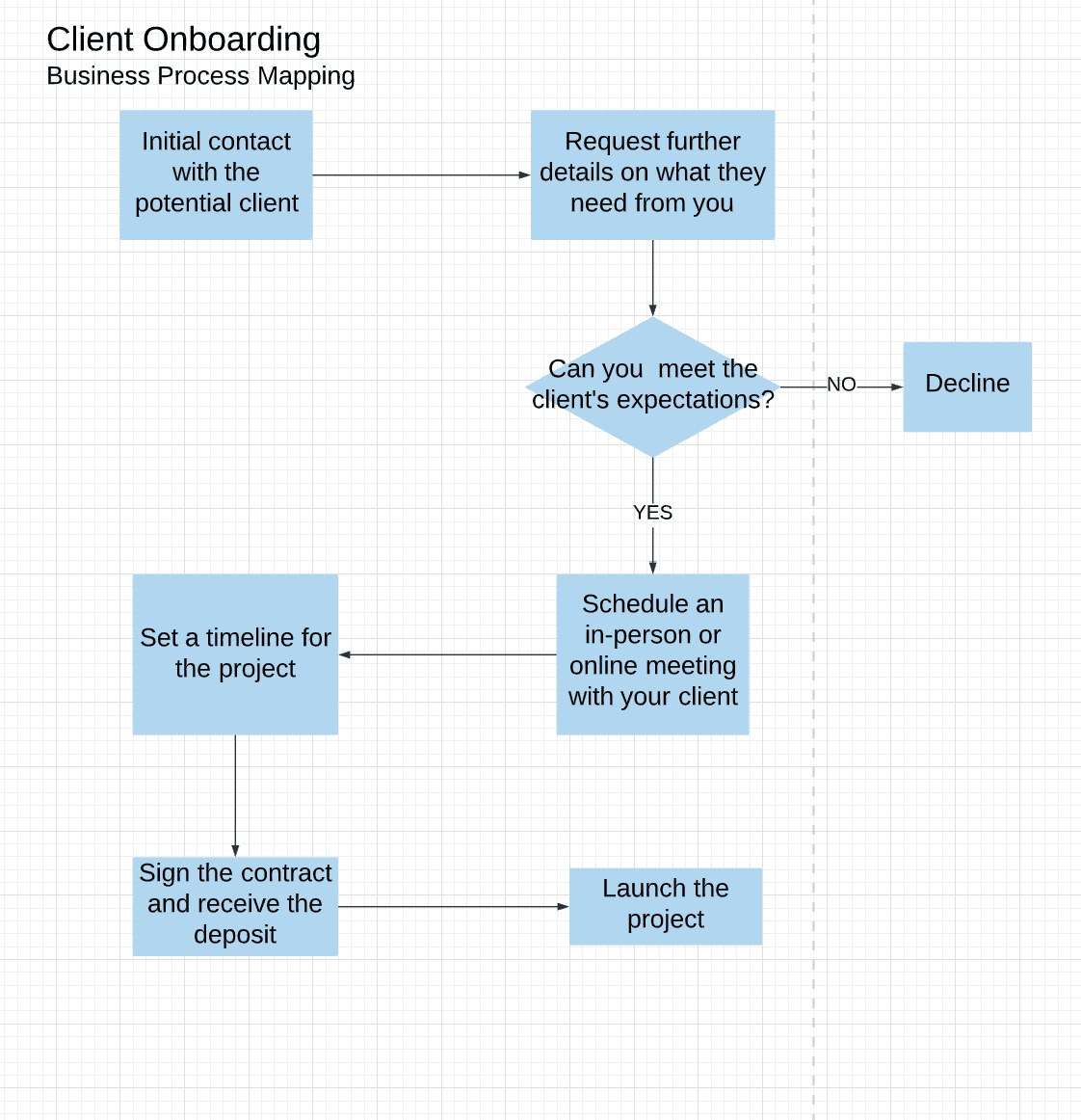 Procurement Process Example
The typical procurement process is as follows…
Recognize the need for a new product.
Purchase requisition review.
If approved, create a purchase order.
Send multiple quotation requests.
Select a vendor and sign a contract.
Receive the goods.
Receive and check the invoice.
Authorize invoice and pay the vendor.
Here's what this would look like mapped as a flowchart…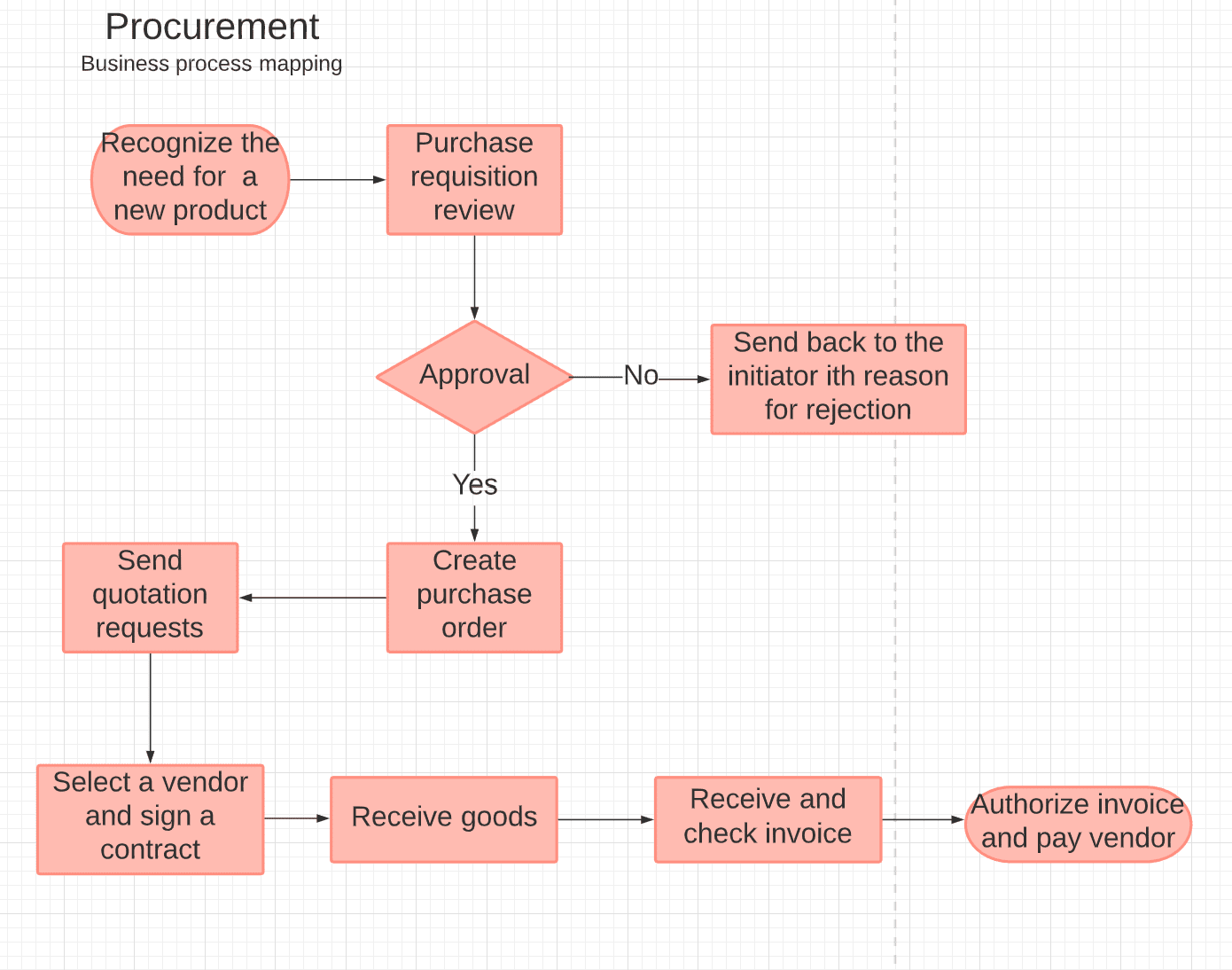 Key Takeaways
Now that we've covered everything you need to know about process mapping, let's do a quick recap of everything we've learned…
Business Process Mapping is the act of visualizing your processes through a graph or a chart.
Business process mapping enables you to find the root cause behind issues with your processes.
There are a few ways to map out your processes but the best option is to use business process management software.
Alternatively, if you're looking for something more basic, you can try a graphing tool like LucidCharts.
If this guide was helpful and you want to learn more about the benefits of process management, stay tuned and follow our blog!