One of the most essential principles in business is the efficiency of task execution, maximizing profits, and minimizing resource utilization. That's why the focus is on the automation of business processes. And when we talk about business process automation, we talk about the need for the implementation of Business Process Automation (BPA) software.
These software solutions are your allies on which you can always rely, and be confident you will have excellent results with minimal effort. But how can you be sure which BPA software is ideal for you when faced with so many options?
Well, we've prepared a list of the top 11 business process automation software options and explained their features so that you can make your choice hassle-free. So, let's dive in!
Key Takeaways
Business process automation software converts manual tasks into automated processes, allowing employees to focus on tasks requiring expertise.
It can automate tasks ranging from simple to complex, streamlining administrative, customer interaction, financial, marketing, and workflow processes.
This software offers increased transparency, streamlined communication, cost efficiency, enhanced workflow, improved data accuracy, and scalability.
Business process automation is essential for modern business, and selecting software that aligns with your business needs is crucial to unlocking its full potential.
What is Business Process Automation Software?
Business process automation software is a tool that takes manual, repetitive, and, in some cases, complex tasks and converts them into efficient automated processes, enabling employees to focus on areas that truly require their expertise.
Every company, particularly its teams, engages in a series of daily tasks varying in complexity, all aimed at reaching a certain goal. Each of these tasks consumes time, money, and other resources. However, over the past two decades, we have witnessed a significant transformation across industries.
Technological advancements have led to the delegation of routine tasks and processes to machines. This is the crux of business process automation: entrusting tasks to software or tools that can perform them flawlessly and tirelessly, resulting in time and cost savings. This is where BPA software comes into play.
BPA software collaborates with various digital systems, transferring data, initiating responses, and making decisions based on pre-established rules.
Top 11 Business Process Automation Software Options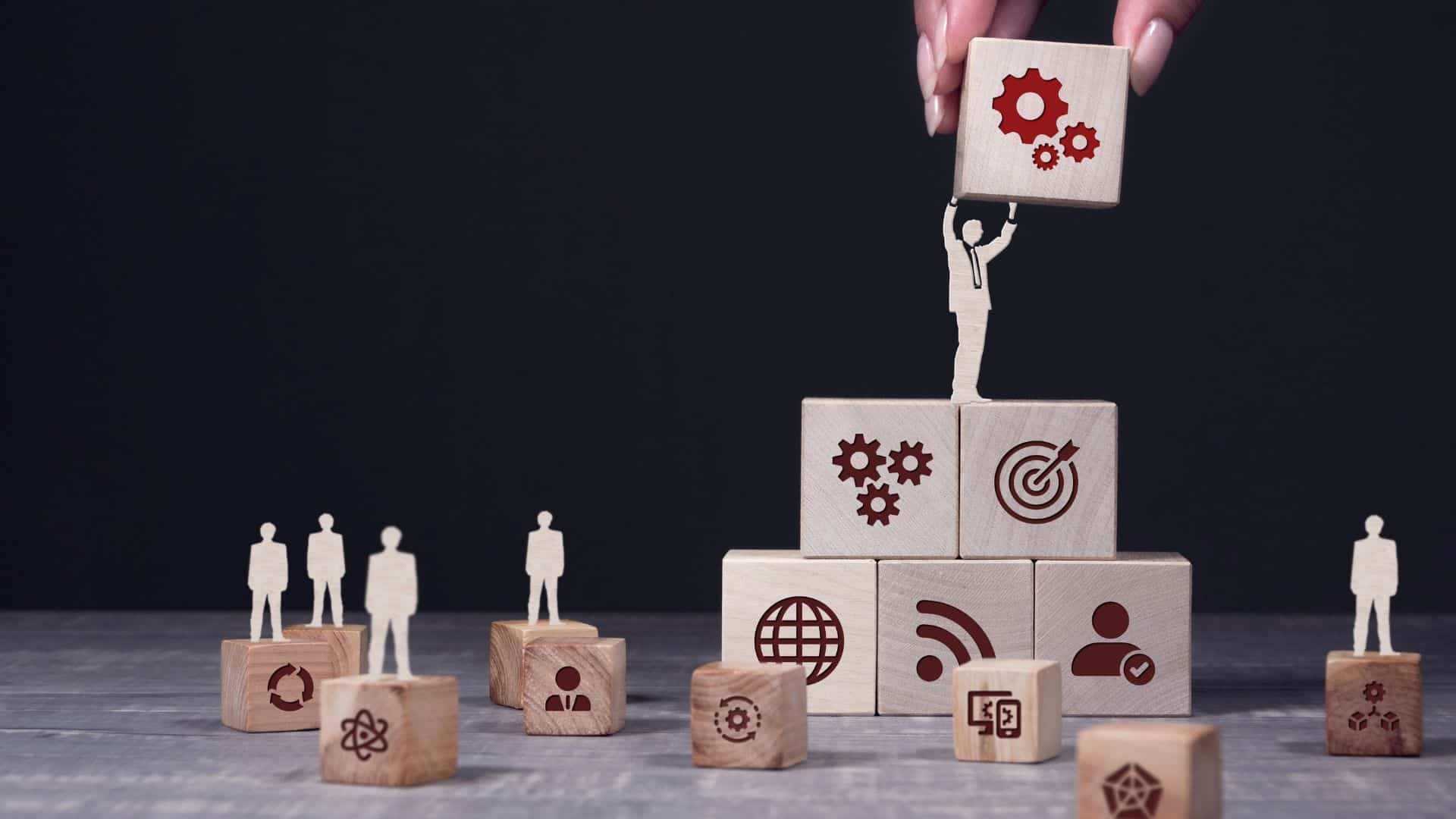 Let's take a look at the 11 best process automation software options for your business.
#1. ProcessMaker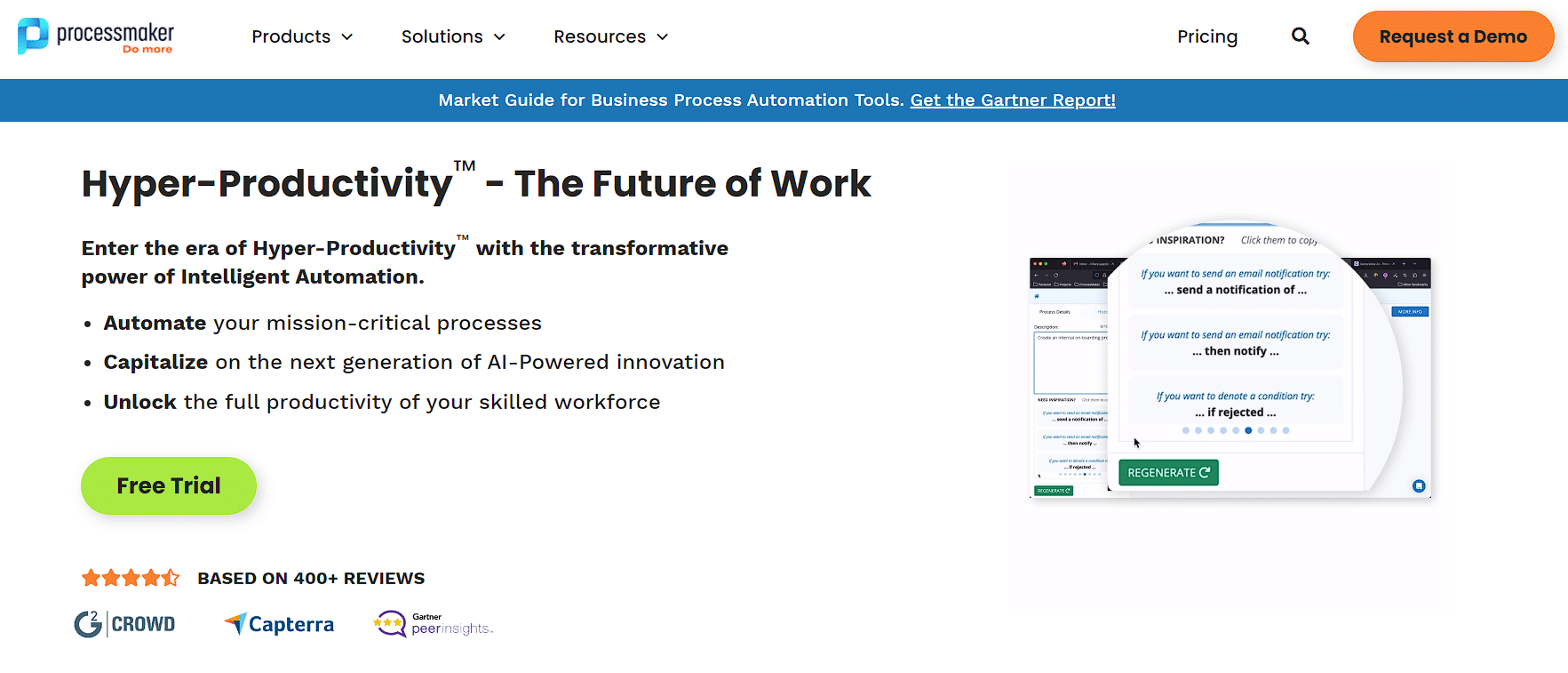 ProcessMaker is a BPA software designed for various industries, ranging from banking, insurance, sales, and marketing to DevOps and even high school processes.
Features:
ProcessMaker Platform: Empowers organizations to streamline and optimize their workflows for improved efficiency and productivity.
ProcessMaker IDP: Uses AI and automation to extract, process, and manage data from documents.
Banking: Offers solutions for the banking industry, enabling financial institutions to automate their complex processes.
Higher Education: Helps institutions automate administrative tasks, student onboarding, and academic processes.
Pros:
Easy to understand and use
Integrated data analysis capabilities
Real-time insights into every task status
Cons:
More complex reporting requires significant knowledge of the backend database
Might be hard to add a new process
A bit expensive
Pricing:
Platform package: from $1,475 per month
Pro package: It's necessary to contact the company to discuss pricing arrangements
Entreprise+ package: It's necessary to contact the company to discuss pricing arrangements
#2. KissFlow
KissFlow is a low-code app that gets business users and IT closer to simplifying work management and speeding up digital transformation.
Features:
HR and Recruitment: Enables efficient processes from applicant tracking to onboarding, streamlining talent acquisition and management.
Procurement processes: Facilitates requisitions, approvals, and vendor management.
Finance and Billing: Ensures accurate invoicing and payment tracking. It also supports financial management.
IT Management: Automates tasks like ticketing, asset tracking, and change management.
Approval Management: Allows requests to be submitted, reviewed, and approved seamlessly.
Pros:
Easy to start building processes
No need to be a BPM professional to build new processes and maintain existing ones
Responsive customer support
Cons:
A bit expensive
Migration from other software can be complicated
Pricing:
Basic package with limited features is $1,500 per month
Custom pricing is available for the enterprise package with all features
#3. Asana
With Asana, you can create processes that will run themselves, allowing employees to focus on important tasks. Also, you can get this business process automation software free of charge if you require only the basic plan.
Features:
Forms: Help establish uniform work requests, ensuring the team possesses the necessary information right from the outset.
Templates: Provide pre-designed templates to simplify project and task planning.
Rules: Serve to create a rule so everyone can be on the same page.
Bundles: Allow you to design, implement, and modify processes across various projects seamlessly.
Reporting dashboards: Empower you to create charts, add data, and visualize results.
Pros:
All the files and information about the project are in one place
Simplifies surveys and data collection
Simple user interface
Cons:
Small navigation bugs
New users might be overwhelmed
Not really ideal for basic projects
Pricing:
Basic plan: Free
Premium plan: $10,99 per user/per month (billed annually) or $13,49 per user/per month (billed monthly)
Business plan: $24,99 per user/per month (billed annually) or $30,49 per user/per month (billed monthly)
#4. Laserfiche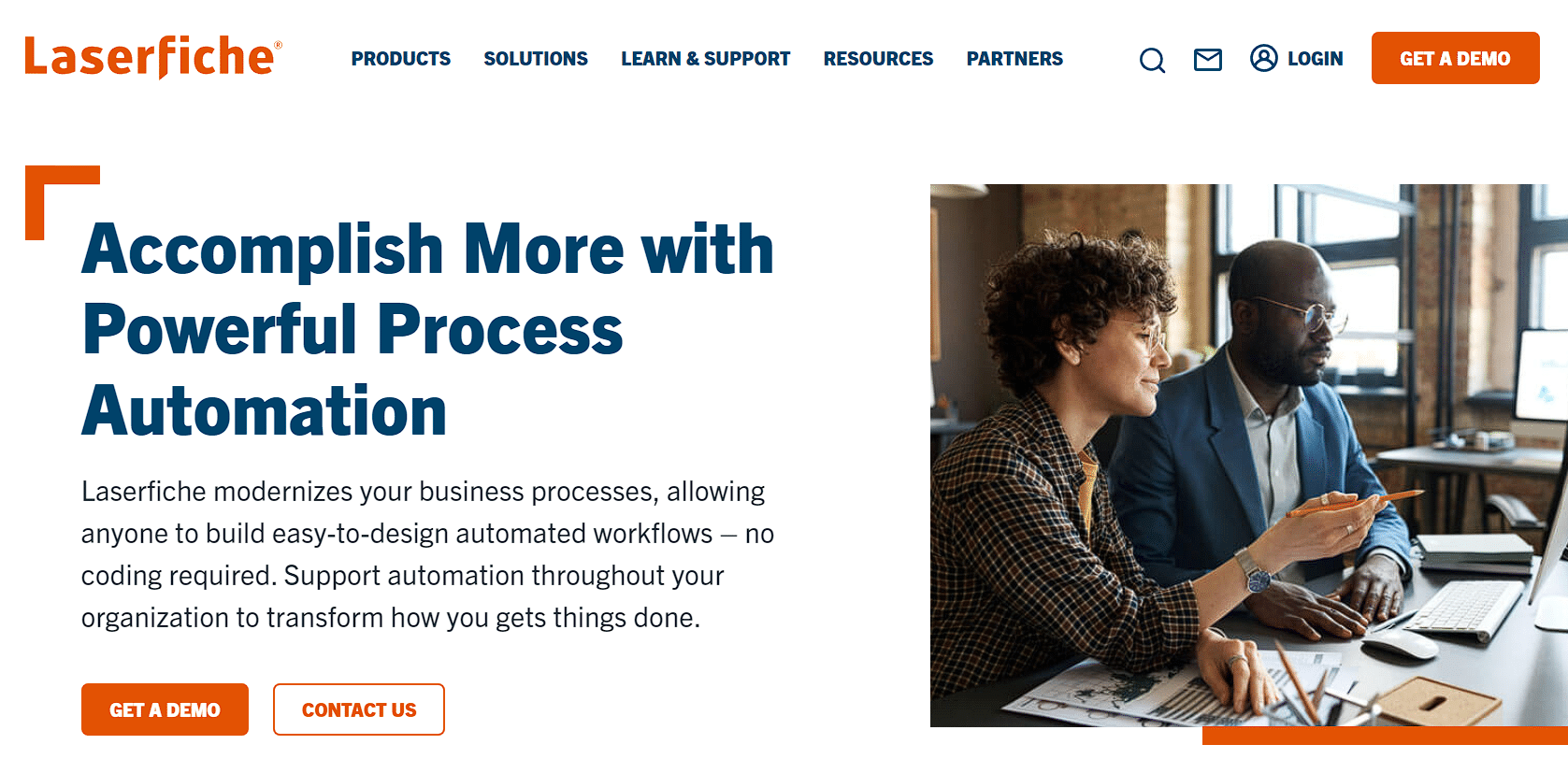 Laserfiche is business process automation software that assists organizations in automating processes and workflows.
Features:
Workflow design: Enables visual design and mapping of business processes
Automation: Automates tasks, approvals, and notifications within workflows
Document management: Incorporates document management capabilities, allowing businesses to store, organize, and retrieve documents within automated processes
Data capture: Captures and processing data from documents
Digital Forms: Creates digital forms for data collection
Pros:
Can be customized to suit specific business needs
Offers features to ensure data security and regulatory compliance
Allows seamless connectivity with various systems and applications
Cons:
The complexity of Laserfiche may require time and resources for training
Some users might find the user interface less intuitive
Pricing:
Starter package: $50 per user/per month (billed annually)
Professional package: $69 per user/per month (billed annually)
Business package: $79 per user/per month (billed annually)
#5. Wrike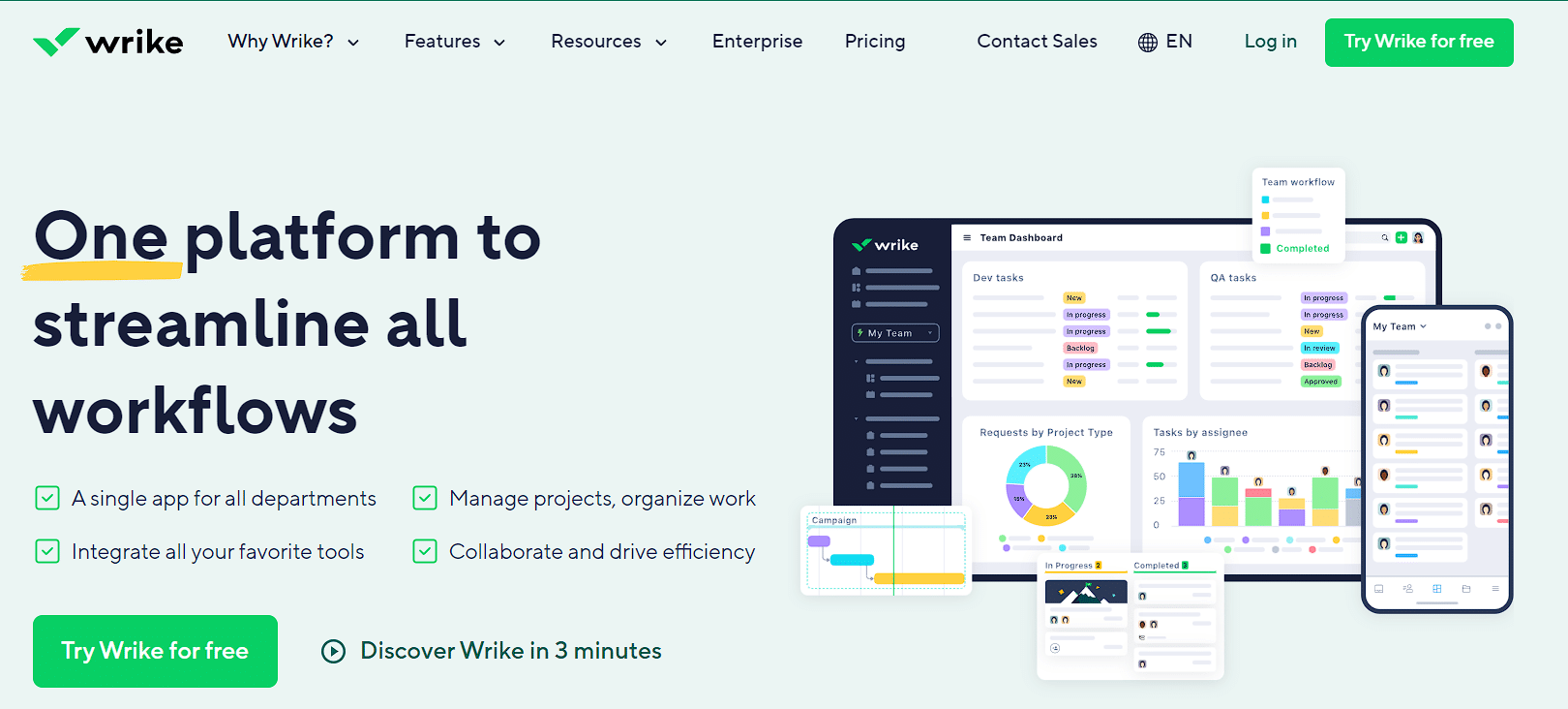 Wrike is one of the best business process automation tools you can find on the market, and it's trusted by over 20,000 organizations worldwide. If there is one thing this platform will do, it's help you streamline your workflow.
Features:
Automation of Repetitive Tasks: Operates in the background to seamlessly synchronize interconnected tasks. It automates routine and repetitive processes, ensuring that they are executed consistently and without manual intervention.
Notification Process: Proactively responds to incoming notifications by assigning necessary resources and triggering approval processes as required.
Pros:
Easy to understand and use
Allows to set up great workflows to hand off work from one team to the other
Integration options available to enhance the team's efficiency
Cons:
The loading speed of pages might be slow for some larger projects
Large organizations using Wrike require more nuance and governance around the hierarchical structure, sharing, and user permissions/rights
Pricing:
Free: For teams getting started
Team plans: For growing teams for $9,80 per user/per month
Business plan: For various organizations for $24,80 per user/per month
Enterprise and Pinnacle plan: For larger teams and ones with complex work needs, contact Wrike directly for an offer
#6. Bizagi
Bizagi is open-source business process automation software, and it's completely free, which makes it one of the most used by organizations from various industries.
Features:
Form Builder: Enables the creation of robust forms to collect information and trigger actions
Rule Engine: Offers intelligent and agile business rules to integrate systems, ensuring data flow and interaction between different apps
Workflow Orchestration: Orchestrate and coordinate data, individuals, and automated bots across the entire enterprise
Compliance Management: Assists in maintaining internal governance and compliance with external regulations
Pros:
Intuitive and practical flow creation tool
Simple to use
Easily integrable with the company's process documentation
Cons:
Minor bugs and crashes
Limited process simulation tools
Pricing: Contact the company for a price plan.
#7. Appian
The comprehensive Appian provides all the necessary tools to create, automate, and enhance even the most intricate processes, covering the entire process lifecycle.
Features:
Robotic Process Automation: Allows automation of any process without writing a single line of code
Intelligent Document Processing: Automates the processing of unstructured data from various types of documents with AI and ML
API Integration and Data: Enables different software apps to communicate and interact with each other
Pros:
Efficient and easy to use
Integration is very easy and intuitive
End-to-end process workflow and low-code automation
Cons:
Robot process automation and AI & ML functionalities are improvable in terms of user interface and functionalities
Pricing:
While there is a free plan for everyone interested in starting to build apps, you must contact the company to receive a price plan for automated process tools.
#8. Automate Anywhere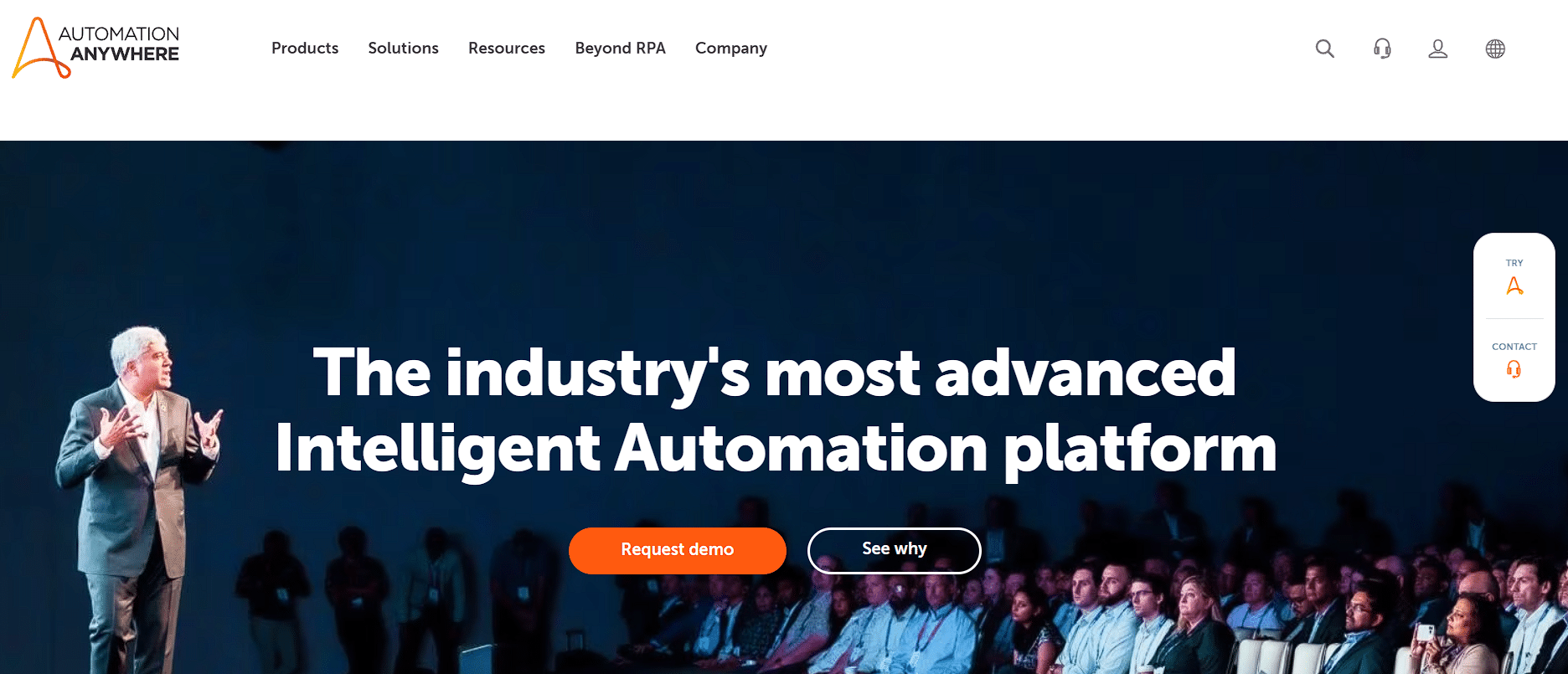 Automate Anywhere is one of the leading Robotic Process Automation platforms, which provides a comprehensive suite of tools for creating, managing, and deploying software bots to automate business processes.
Features:
Document Processing: Seamlessly extracts and incorporates vital data from documents directly into your ongoing workflow through the integration of AI-powered intelligent document processing with automation capabilities
Integration: Simplifies integration with a collection of pre-built command packages tailored for essential business applications
Automation Workspace: Serves as a user-friendly digital environment where individuals or teams can effortlessly collaborate, organize, and manage their tasks, projects, and activities
Pros:
Automation can be easily achieved and significantly reduces labor time
Suitable for anyone due to its ease of use
Reporting dashboard and the drag-and-drop features
Cons:
Pricing: There is no precise information about pricing, so you have to contact the company.
#9. Nintex
Nintex offers a platform that enables organizations to automate and streamline business processes using visual tools and workflows.
Features:
Automation Cloud: Empowers organizations to design, deploy, and efficiently manage automated workflows and processes
Automation On-Prem: Allows organizations to create and manage workflows on their local servers
e-Sign: Allows users to electronically sign and approve documents, contracts, and forms as part of automated workflows, enhancing efficiency and reducing manual paper processes
Robotic Process Automation: Seamlessly integrates software robots into your workflow to automate repetitive tasks
DocGen for Salesforce: Streamlines the document creation process since it's specifically designed for generating documents like contracts and proposals
Forms: Creates forms that can be used to collect and manage data
Pros:
It's quite easy to create very powerful workflows
Simple to understand how it works
Good customer support
Ease of iteration over batches of documents or list items
Cons:
Certain workflows or processes within an organization may take a lot of time to complete or reach their intended outcomes
The Risk and Training add-ons are not as intuitive as the process management tool
Pricing:
Premium plan: $50,000 per year
Pro plan: Starting at $25,000 per year
Custom plan: Available on-prem and requires you to contact the company
#10. Process Street
Process Street is a cloud-based platform that offers tools for documenting procedures, creating checklists, and automating recurring tasks.
Features:
Conditional Logic: Enables the creation of workflows in which tasks and actions are automatically initiated or modified based on predefined criteria or conditions
Approvals: Allows to enhance compliance and accountability within company workflows by implementing either single or sequential approval processes
Task permissions: Allows organizations to define and enforce access restrictions, safeguarding confidential information and ensuring that only authorized individuals can view or interact with sensitive data
Pros:
Customizable platform that allows individuals and teams to create a dynamic project/process list that lets people know who is responsible for a task and when it is due
Keeps your processes well-organized and easily accessible to other employees
Cons:
Absence of a reusable "process library" for sub-processes that are required in multiple processes
Pricing:
Startup plan: $100 per month or $1,000 per year
Pro plan: $450 per month or $5,000 per year
Enterprise plan: $1,660 per month or $20,000 per year
#11. OnBase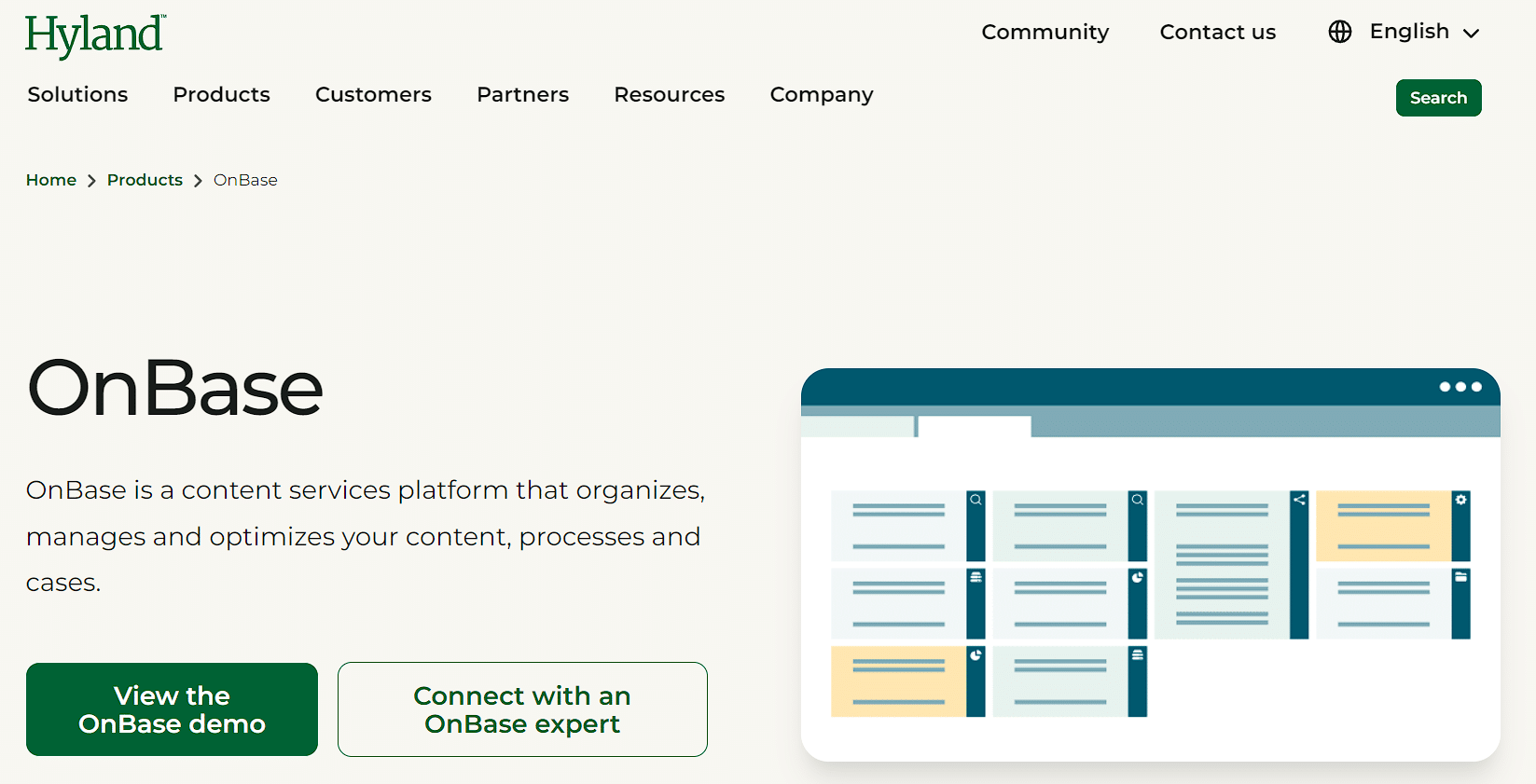 OnBase is a content services platform designed to efficiently organize, manage, and optimize content, processes, and cases.
Features:
Automated multichannel capture: Gathers and handles business-related information from different origins
Reporting and Analytics: Provide organizations with a comprehensive view of their company content and the ongoing processes linked to that content
Case management: Allows companies to efficiently organize, track, and control all the information, actions, and steps associated with individual cases or projects
Collaboration: Focus on maintaining content security while facilitating effective teamwork and content management
Pros:
Provides a framework for solutions targeting many industries
Integration capabilities with the multiple systems across the organizations
Works for high education
Cons:
Can be difficult to navigate it
It is not the easiest of applications to upgrade
Pricing:
There are no specific details about pricing, which means you should contact the company directly for information.
What Business Processes Can You Automate?
Business process automation software can automate many tasks and processes, from the simple to the complicated ones. Essentially, any task that follows a predictable pattern and requires consistent execution can be a candidate for automation.
The following business process automation software examples will show you the practical benefits and advantages of automating your business processes:
Data Entry: Enhance efficiency by automating routine data entry tasks to save time and reduce errors. For instance, streamline the process of importing customer information from web forms into your CRM system.
Form Submissions: Optimize form submissions for improved efficiency. For example, automatically processing and storing job applications submitted online.
Document Routing: Simplify document distribution within your organization. Streamline the routing of contracts, reports, or invoices to the appropriate departments or individuals.
Order Processing: Ensure a smoother customer experience by mechanizing order processing. Confirm and fulfill customer orders effortlessly, reducing the need for manual intervention.
Appointment Scheduling: Boost client interactions with automated appointment scheduling. Allow clients to book appointments online, update calendars, and send reminders.
Invoicing: Simplify the invoicing process to minimize errors and save time. Generate and send invoices to clients based on predefined criteria and billing cycles.
Payroll Calculations: Improve accuracy and efficiency by computerizing payroll calculations. Calculate employee salaries, taxes, and deductions automatically.
Customer Interaction Tracking: Track and analyze customer interactions to refine marketing campaigns and improve customer experiences.
Employee Onboarding: Simplify complex workflows like employee onboarding. For example, generate welcome emails, initiate background checks, and notify IT for account setup.
6 Benefits of Business Process Automation Software
Business process automation software offers many advantages for organizations seeking to enhance efficiency, productivity, and operational effectiveness. Here are six key benefits of utilizing this technology:
#1. Increased Transparency
BPA software offers real-time insights into the progress of tasks and processes. This heightened transparency empowers teams with actionable data, enabling them to identify bottlenecks and anticipate potential challenges.
With a comprehensive overview of operations, businesses can make informed decisions to optimize workflows and drive continuous improvement.
#2. Streamlined Communication
Automated notifications, reminders, and updates ensure that every team member is informed and aligned with the team's objectives and goals. Departments communicate seamlessly, and task assignments are crystal clear. This fosters cohesion, reduces miscommunication, and eliminates the need for constant follow-ups.
#3. Cost Efficiency
By automating repetitive and time-consuming tasks, companies save valuable human hours. Labor costs decrease as manual interventions are minimized, and errors from manual data entry are drastically reduced.
The result? More resources are directed towards strategic initiatives, amplifying productivity and revenue.
#4. Enhanced Workflow
Business process automation enables tasks to flow smoothly from one stage to another, with minimal delays caused by manual handoffs. The result is an enhanced workflow that not only accelerates task completion but also ensures a consistent and standardized process, securing the organization's overall efficiency.
#5. Improved Data Accuracy
Data integrity is the backbone of sound decision-making. BPA software eliminates the risks of human errors in data entry, validation, and processing. Accurate data leads to reliable insights, enabling organizations to make confident choices based on solid information.
#6. Scalability
As businesses grow, so do their operational complexities. BPA software is a flexible ally that can scale alongside your organization. It adapts to evolving needs, accommodating increasing workloads and expanding processes. This scalability ensures that efficiency remains intact even during periods of rapid growth.
Final Thoughts
Simply put, business process automation is essential in today's business world. Giants in every industry have long realized the impact and significance of using software to perform various tasks and enable the smooth flow of processes.
When choosing your BPA software, pay attention to its compatibility with the programs you already use, guarantee that your team is properly trained for its use, and ensure that the scope of work aligns with its characteristics.
Afterward, you're left to enjoy all the benefits that business process automation software will undoubtedly bring you.