Let's face it, it's rare if not unheard of to find a company that has established perfectly functioning business processes.
There is always some inefficiency or something that can be done better.
But how can you track down all these imperfections and minimize them? And how can you make sure you are working with the best possible version of your processes?
The first step to achieving better results is mapping your processes, also known as workflow mapping.
In this guide, you will find everything you need to know about workflow mapping including:
What is workflow mapping?
Why map your workflows? 4 essential benefits
How to map your workflows?
2 best workflow mapping tools
5 workflow mapping tips
Let's dive in!
What Is Workflow Mapping?
Workflow mapping is the method of visualizing your processes in order to analyze, evaluate, and improve them.
You can do workflow mapping using different types of maps like value chain mapping, swimlane diagrams, or even SIPOCs.
However, the simplest and most common way to map your processes is by using process flowcharts…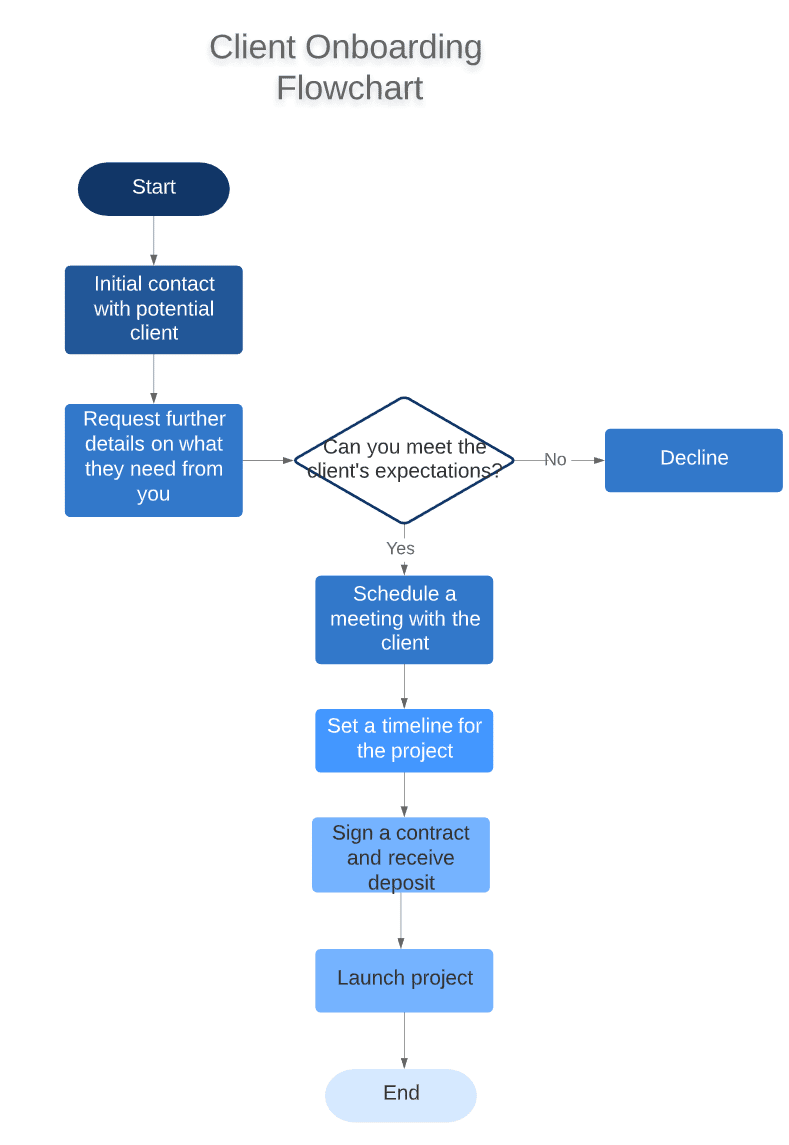 To make this easier to understand, let's cover a very common business process, and turn it into a workflow diagram.
For example, let's consider the procurement process which usually goes like this:
Recognize the need for a new product
Submit purchase requisition review for approval
If approved, create a purchase order
Send quotation request
Select a vendor and sign a contract
Receive goods
Receive and check the invoice
Authorize invoice and pay the vendor
If you wanted to turn this process into a workflow map, it would look something like this: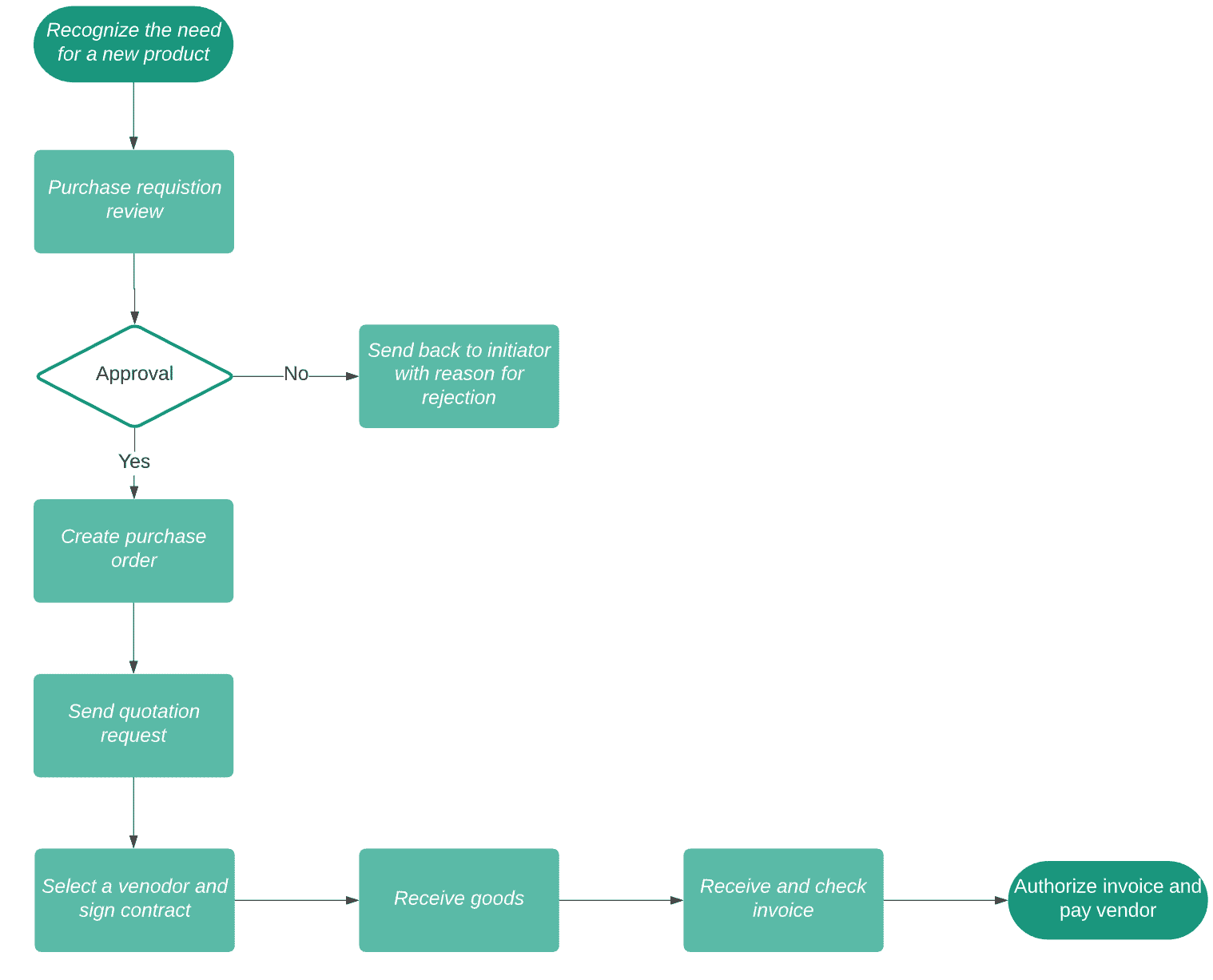 Why Map Your Workflows? 4 Essential Benefits
Mapping your workflows comes with a TON of benefits, including:
A better understanding of the process. When you map your processes, you get to see how they fit within your business as a whole, how they affect it, and what their role is. Also, you get to understand how exactly, the process and its components function.
Easier to analyze and improve the process. Once you have a top-down view of your processes, you can conduct deeper analysis and make an informed decision on what can be improved. You will start noticing redundant steps, tasks that are taking too long to execute, and underperforming aspects of the process.
Improved communication between employees involved in the process. When you have the workflow map, you minimize the chance of miscommunication. All your workers have a point of reference and the map makes it clearer who does what and when.
Standardize your processes. When you optimize your processes and put them into a workflow map, you can refer to it so you get the best possible results. This way you achieve uniformity, accuracy, and efficiency every time.
How to Map Your Workflows
Step #1 – Pick a Process to Map
The very first step is to pick the process you want to map.
Eventually, you might want to map all your business processes but in the beginning, you should prioritize the most important ones.
As a rule of thumb, you should first focus on the processes that:
Are crucial for the overall performance of your company
Directly affect your bottom line
Are underperforming
Step #2 – Gather Important Info
Once you pick up a process you want to work on, you should gather all the information you will need to map it out properly.
And remember, it's better to do more in-depth research, as to not miss any valuable information.
At this stage, we recommend talking to the people who work on the process first-hand and asking them questions like:
In what order are the steps completed?
Are any of the steps redundant?
Are there any delays? If yes, when, where, and why?
Who is in charge of which step?
How are the steps affecting each other?
Step #3 – Map the Process
At this stage, it's time to actually map the processes.
There are 3common ways to do workflow process mapping…
Pen & paper – The most traditional way. Still works, but it can get quite difficult to keep it organized with complex processes.
Online graphing software – The most common ones are Lucidchart or Draw.io
Workflow mapping software – If you want a more advanced software that can do many other functions besides process mapping, good solutions for the purpose are Kissflow, Piepfy, and Process.st
Online Graphing Software – LucidChart
LucidChart is an online graphing tool that lets you create workflow maps with ease.
You just need to drag and drop different elements onto a template of your choice and customize it according to your needs.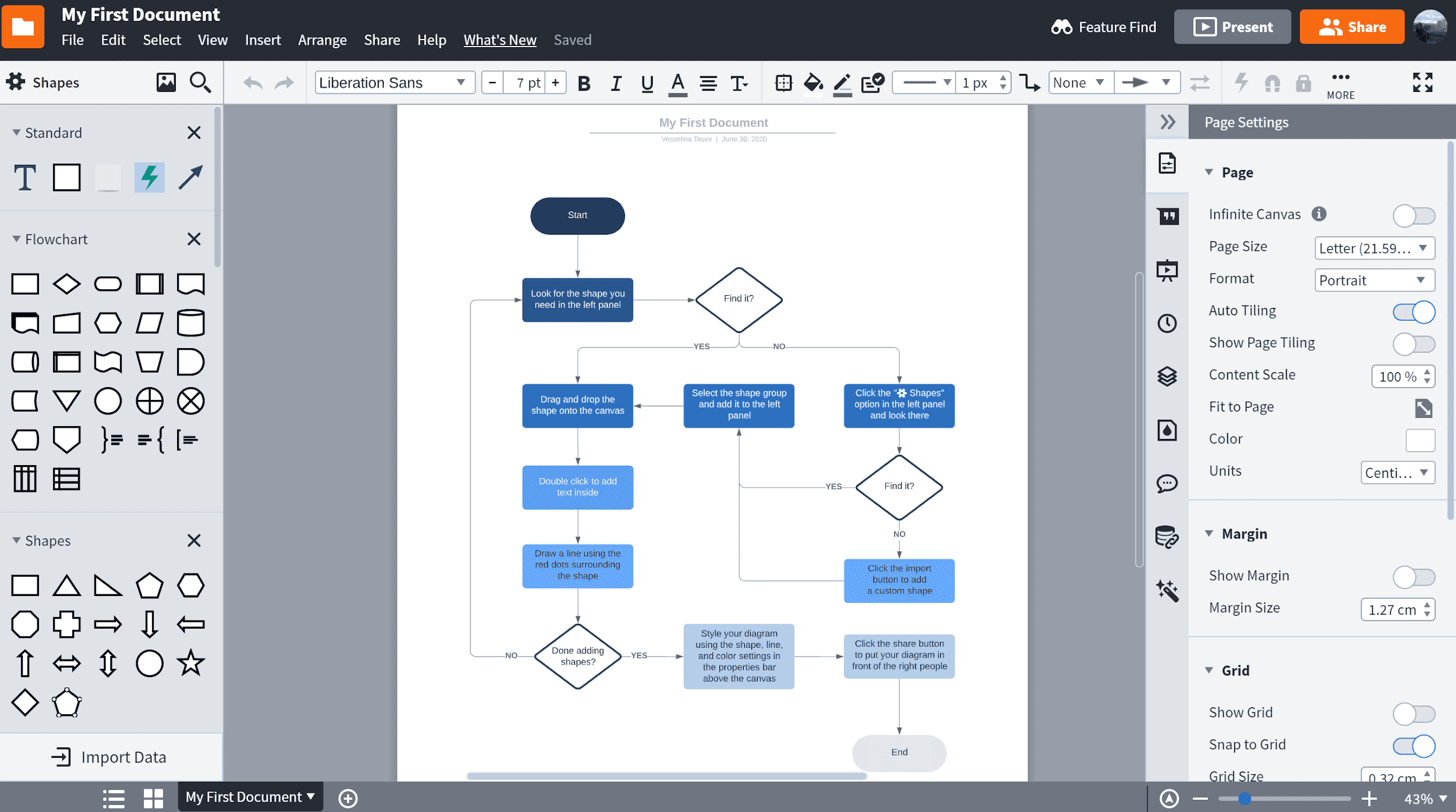 Once you're done with sketching the workflow map, you can easily share it with your team either through a link or export it, and save it in your internal database.
You can also save all your documents directly on the platform, making it easy to edit the workflow maps when needed.
Workflow Software
Using workflow managing software like Kissflow can help you create a digital version of your processes.
Kissflow comes with lots of other advantages, including:
Process flow automation. With workflow software, you can automate your process execution entirely. For example, once someone triggers a process and completes a task, the next task is automatically given to the next person in the pipeline until the process is finished.
Repetitive tasks automation. Workflow software allows you to automate a lot of the boring, repetitive tasks no one likes. E.g. data transfer between software, email approvals, and so on. By automating such tasks, your employees will be able to spend time on work that really matters.
Better internal communication. Workflow software allows you to centralize all your processes. If your employees are unsure about who's responsible for what task, or on what stage any given process is, all they have to do is check the workflow software.
Improved processes. Using such software lets you oversee the performance at every stage of the process, identify bottlenecks, and minimize mistakes. This directly improves the performance of the process and the productivity of your employees.
The 2 Best Workflow Mapping Tools
Want to take advantage of all the benefits you get from workflow management software?
Here are 2 of our favorite tools on the market:
#1. Pipefy
Pipefy is a no-code workflow management software with a Kanban interface that is fairly easy and simple to work with.
The software comes with a library of 1,000+ process templates, so all you need to do in order to get started is pick one, customize it for your business, and you're good to go.
Pipefy might be on the more complex and heavy-weight end but at the same time, it's very flexible and customizable.
The software allows you to simplify the management of all kinds of processes and it streamlines their execution for you.
#2. Process.st
If you're a fan of checklists, Process.st is worth checking out!
Process.st is a workflow management software that lets you create and customize processes in the form of checklists.
Even though this is not your traditional flowchart mapping software, it's really helpful when it comes to tracking the process' performance and optimizing your employees' efficiency.
The software is used mainly for the creation of SOPs and it's simple and easy to implement.
Once you set up the map, you can put it into action, track its progress, and collaborate on it with your team.
Moreover, the software integrates with 1000+ external apps so it's easy to keep all the systems you work with updated.
The software is best suited for small to midsize businesses and startups. And even though Process.st is not the most traditional solution out there, it goes a long way. It's functional, easy to set up and learn.
4 Workflow Mapping Tips
So far so good!
Now, before you go, we're going to give you some of our best workflow mapping tips, to make sure you're doing workflow mapping as well as possible:
Don't map all your processes. You shouldn't map every single process just for the sake of mapping. There should be some sort of overarching purpose to this. After all, the maps themselves don't really do much, unless you use them to improve or standardize your processes. So, we recommend using workflow maps as part of your business process improvement initiatives.
Start with a simple draft of the map and digitize it afterward. If you feel overwhelmed and unsure on how to start your workflow map, you can just use a pen and paper for starters. It's perfectly normal if you prefer brainstorming the old school way. And once you figure out approximately how your process looks like, you will be more confident when creating the final digital version of it.
Use swimlanes to show responsibilities. Using a flowchart is great, but the problem with this kind of map is that they concentrate on the action instead of the people. If you have a process that is people-oriented and if your employees want to have an overview of everyone's responsibilities, swimlanes are a great way to visualize this.
Create workflow maps with your team. When you work on mapping a certain process, make sure you get the input from people who work with it on a daily basis. They know the process like the back of their hand, and their suggestions are going to be invaluable.
Conclusion
To wrap it up, let's quickly go over the things we covered:
Workflow mapping is the act of visualizing your processes with the intention to analyze and improve them.
When you map your workflows you get a better understanding of the process
The typical steps of workflow mapping are: pick a process, gather important information, and finally, map the process.
And that's all you need to know about workflow mapping! Now, all that's left to do is implement this knowledge on your own business processes!
We hope you found this article useful and if you want to read more advice on workflow management, check out our blog!