In pursuing business success, organizations have come to a profound realization that their most valuable assets aren't just their products or services but the people who make it all happen. This recognition has led to the development and adoption of the talent management system—a vital part of modern HR strategies.
A talent management system combines two important aspects of the workforce that can lead to remarkable achievements: inherent talent (people's natural abilities) and their work ethic (how they approach their jobs).
In this article, we'll provide you with the talent management system definition and explain its purpose and crucial role in shaping successful organizations.
What is a Talent Management System?
A talent management system is the driving force for finding and nurturing talented individuals, providing a basis for efficient project management.
It's an important element in effective project management, as project success largely hinges on the knowledge and commitment of the people involved. They are the ones who bring ideas, have market insights, and make invaluable contributions.
So, as the talent management system centralizes all HR functions, including recruitment and employee onboarding, performance management, learning and development, and succession planning, you will attract, develop, motivate, and retain top talents within an organization.
Let's see how this software optimizes individuals' performance and ensures their proper placement in roles.
10 Best Talent Management Systems
In the following section, we'll introduce you to the ten best talent management systems, providing insights into their features, benefits, pricing, and potential drawbacks.
#1. BambooHR
BambooHR is a software solution tailored to organizations of all sizes. With its robust HR data management and user-friendly interface, BambooHR excels at streamlining HR processes and enabling data-driven decisions.
Features:
HR Data & Reporting: The ability to customize and filter data allows for a more detailed analysis of specific aspects of HR management.
Payroll, Time & Benefits: BambooHR simplifies payroll processing, time tracking, and benefits management, helping to maintain accurate financial records.
Benefits Administration: Easily administer employee benefits, from health insurance to retirement plans, ensuring employees are well taken care of.
Pros:
It simplifies HR tasks, enabling mobile access and efficient organization of employee data.
It offers useful integrations with different platforms, such as Slack, for real-time visibility and time-off management.
BambooHR's performance module is user-friendly and integrates well with other systems, making employee evaluations more effective.
Cons:
Some system updates can cause disruptions and delays in onboarding processes.
There can be difficulties or issues related to signing documents.
Pricing: BambooHR offers pricing based on your company sizes:
Per employee
Per-month rates for larger companies
Flat monthly rates for smaller ones, with no annual contracts and volume discounts as your employee count grows
For specific pricing details, you have to request a quote.
#2. ADP Workforce Now
ADP Workforce Now is an HR management solution that covers various aspects of workforce management. From payroll to talent management and compliance services, it offers a range of tools to streamline HR operations.
Features:
Talent Management: This feature supports employee development and performance evaluations.
HR Services & PEO: HR services and Professional Employer Organization (PEO) solutions help with HR business process outsourcing and support.
App Marketplace: ADP's App Marketplace provides access to a wide range of additional applications to enhance HR capabilities.
Pros:
It prioritizes security and simplicity in online information access and login procedures.
It ensures timely access to tax documents.
This software facilitates communications through ADP case responses, enabling efficient follow-up on issues.
Cons:
The software's base-level functionality can be perceived as limited, often requiring multiple steps to complete routine tasks.
Integration between various segments and add-on services can lack seamlessness.
Overseas call support for tech assistance, and reporting can pose difficulties.
Pricing: There are four pricing packages:
Essential payroll: Ideal for startups and established companies seeking basic payroll services.
Enhanced payroll: It includes basic payroll, ZipRecruiter, State Unemployment Insurance, and background checks.
Complete payroll & HR plus: It has enhanced features and basic HR support.
HR pro payroll & HR: It includes all complete features, enhances HR support, and extra perks.
For precise pricing details, send an inquiry to the company.
#3. SAP SuccessFactors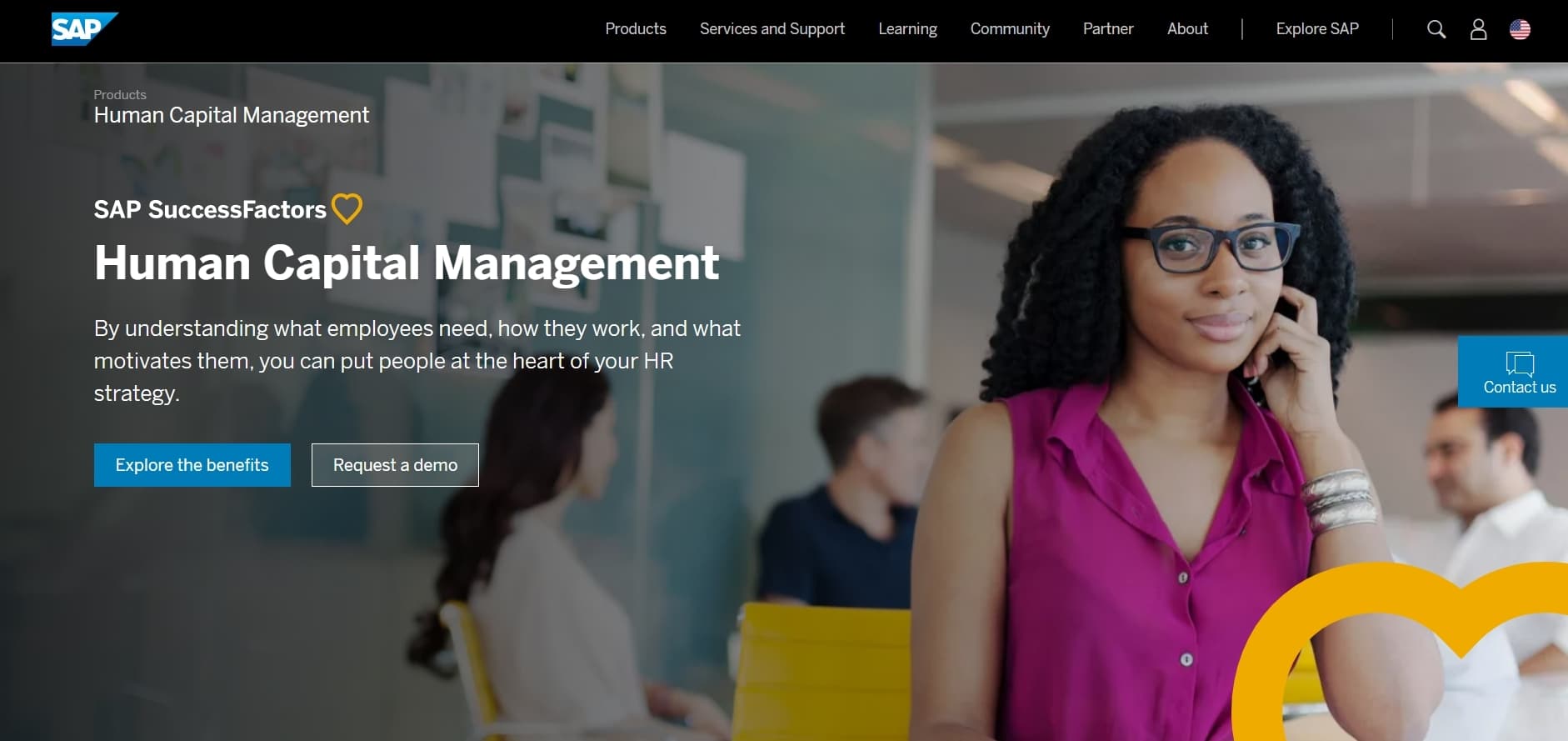 SAP SuccessFactors, a prime example of an effective talent management system, offers a suite of tools to enhance HR and people engagement, streamline financial planning and analysis, and optimize various business operations.
Features:
HR Analytics and Workforce Planning: It provides analytics tools to understand HR data better and plan for workforce optimization.
CRM Workflow and Customer Experience: This feature enhances customer relationship management, marketing, sales, and service.
Supply Chain Planning: It includes features for efficient supply chain planning and logistics.
Talent Management: It offers a suite of tools for talent management, focusing on recruitment, development, and performance assessment.
Pros:
It allows the creation of workflows for improved process efficiency.
The software enables capturing and utilizing historical data for informed decisions.
It offers advanced reporting capabilities and user-friendly dashboards.
Cons:
This software can be complex, making it challenging to locate specific features.
It has limitations in customization and reporting functionalities.
There can be difficulties with a slow and outdated interface and the lack of a free trial and transparent pricing.
Pricing:
Some users report that pricing usually starts at $6.3 per user/month, but for precise details, request a quote from the provider.
#4. Bullseye Engagement
Bullseye Engagement offers a range of strategic planning solutions, including collaborative and measurable goal-setting through Bullseye OKRs. It empowers organizations to plan for organizational updates, workforce competency assessment, and employee-driven career pathing.
Features:
Collaborative Goal-Setting: Bullseye Engagement supports collaborative and measurable goal-setting using Bullseye OKRs.
Employee Career Pathing: It enables employee-driven career pathing by allowing individuals to take an active role in planning their careers.
Executive/Human Capital BI Dashboard: Bullseye Engagement combines human resources and operational data to generate business insights through its Executive/Human Capital Business Intelligence Dashboard.
Workforce Competency Assessment: The software helps identify competency gaps and upskill employees to enhance their capabilities.
Hybrid/Remote Workforce Engagement: Organizations can measure engagement and take action to elevate the employee experience, especially for hybrid/remote work setups.
Pros:
Bullseye Engagement simplifies processes, offers an intuitive design, and provides cost-effective solutions.
The clean layout and well-thought-out interface enhance the user experience.
Bullseye Engagement's modular approach allows clients to subscribe to the solutions they need, resulting in a quicker setup process.
Cons:
New users transitioning from manual processes can feel overwhelmed by the range of available options, but personalized recommendations and modular subscriptions can ease this transition.
Pricing:
Users note that pricing usually begins at $4 per user per month, but it's best to request a personalized quote from the provider for precise details.
#5. Ceridian Dayforce

Ceridian Dayforce is a software designed to optimize and elevate HR and workforce management by combining HR, payroll, benefits, talent, and workforce management into a single cloud application.
Features:
HR Software: Ceridian Dayforce offers a robust HR software suite to efficiently manage various aspects of human resources.
Workforce Management: It offers comprehensive workforce management features to optimize staffing and scheduling.
Advanced HR Analytics: Users can access advanced HR analytics for evidence-based insights and informed decision-making.
Pros:
Ceridian Dayforce offers many standard reports that are easy to tailor for specific needs, enhancing data analysis and reporting capabilities.
The software is known for its easily navigable interface and strong security features.
Ceridian's native payroll processing in multiple regions, including the US, UK, and Canada, and their capacity to build integrations with third-party systems via open APIs provide versatile payroll solutions.
Cons:
Ceridian implementations often require more time and flexibility than some competitors, which can delay achieving the expected benefits.
Its user interface is considered less sleek and modern compared to some alternatives.
There can be challenges with customer support accessibility and responsiveness, which can impact issue resolution and support quality during software use.
Pricing:
Ceridian's pricing ranges from $21 to $29 per employee per month, depending on company size and included modules.
#6. Workday
Simply put, Workday is a giant. It is a cloud-based, AI-based software that provides a range of enterprise solutions for human resources, financial management, and other business applications. But in the context of talent management, Workday offers a lot. Taking a peek at their website is enough to realize what we are talking about.
Here are only some of the features that Workday has to offer:
Features:
Recruitment: Workday's TMS includes tools for creating and managing job requisitions, posting job openings, and tracking applicants throughout the hiring process.
Performance Management: Workday enables organizations to set key performance indicators (KPIs), conduct regular performance reviews, and provide continuous feedback to employees.
Analytics and Reporting: It provides robust analytics and reporting capabilities, allowing organizations to gain insights into their talent management processes.
Career and Development Planning: Employees can use the system to set their career goals, identify skill gaps, and create development plans.
Pros:
Workday's TMS is user-friendly and easy to navigate.
It offers extensive customization.
Can integrate with third-party applications.
Provide accessible customer support via phone and online channels.
Cons:
Lack of transparent pricing.
No free version.
Request-based free trials.
Pricing:
Some users report that pricing usually starts at $99 per user per month.
#7. ClickUp
ClickUp is primarily known as a project management and productivity tool, but it can also be adapted and used for talent management from a project and task management perspective.
Features:
Recruitment: This feature helps in finding and hiring new people to work in a company.
Talent Development: It's about helping current employees learn and grow in their jobs.
Employee Management: This involves taking care of employees, making sure they know what to do, and helping them when they need it.
Pros:
The free plan offers a wide range of features without any cost.
The tool allows for real-time chat, facilitating seamless communication and collaboration.
Cons:
It might take some time and effort to fully understand and use all its features.
It may have occasional glitches on Android.
Lacks project message board.
Pricing:
Free plan: best for personal use.
Unlimited plan: $7 per member per month, best for small teams.
Business plan: 12 per member per month, best for mid-sized teams.
Enterprise plan: Best for large teams. For detailed information, send an inquiry to the company.
#8. Monday
Monday.com is a work operating system that offers a versatile and customizable platform for managing various aspects of the business world, including HR processes. While it is not a dedicated human resource management system, Monday.com can be adapted for HR needs and offers several HR-related features.
Features:
Recruitment Pipeline: This feature helps in managing the process of hiring new employees, which involves job posting, candidate screening, interviews, and making job offers.
Onboarding: It ensures that new hires receive the necessary information, training, and support to become productive.
Development and Learning: This feature includes tools and resources for training, access to educational materials, and career development programs.
Pros:
The tool offers a free plan with no expiration for up to two users.
It can be customized to suit user needs.
The tool integrates very easily with a wide range of third-party apps.
Cons:
Might be challenging to estimate costs accurately.
The free trial is limited to 14 days.
Access to time tracking features requires a Pro account.
Pricing:
Individual plan: Free for up to two users.
Basic plan: $8 per user per month (if billed annually).
Standard plan: $10 per user per month (if billed annually).
Pro plan: $16 per user per month (if billed annually).
Enterprise plan: Custom price per user per month (if billed annually).
#9. Notion
If you aim to use Notion, you should be aware it doesn't have dedicated features for talent management. However, you can adapt Notion to manage certain aspects of talent management by creating custom databases, boards, and templates.
Features:
Recruitment: You can create databases to track job applicants, store resumes, and manage the recruitment process. Notion's customizable templates can help you design application tracking boards.
Learning and Development: Utilize Notion to build a knowledge base for storing training materials, resources, and learning plans for employees.
Onboarding: You can use Notion to create onboarding checklists, guides, and resources for new employees.
Pros:
Notion excels as a note-taking tool.
It is easy to use and can be tailored to specific needs.
Cons:
Lacks advanced talent management features.
Pricing:
Free plan with no expiration for individuals.
Plus plan $8 per month (billed annually) or $10 per month (billed monthly).
Business plan $15 per month (billed annually) or $18 per month (billed monthly).
Enterprise plan—contact the sales team for pricing.
#10. Bambee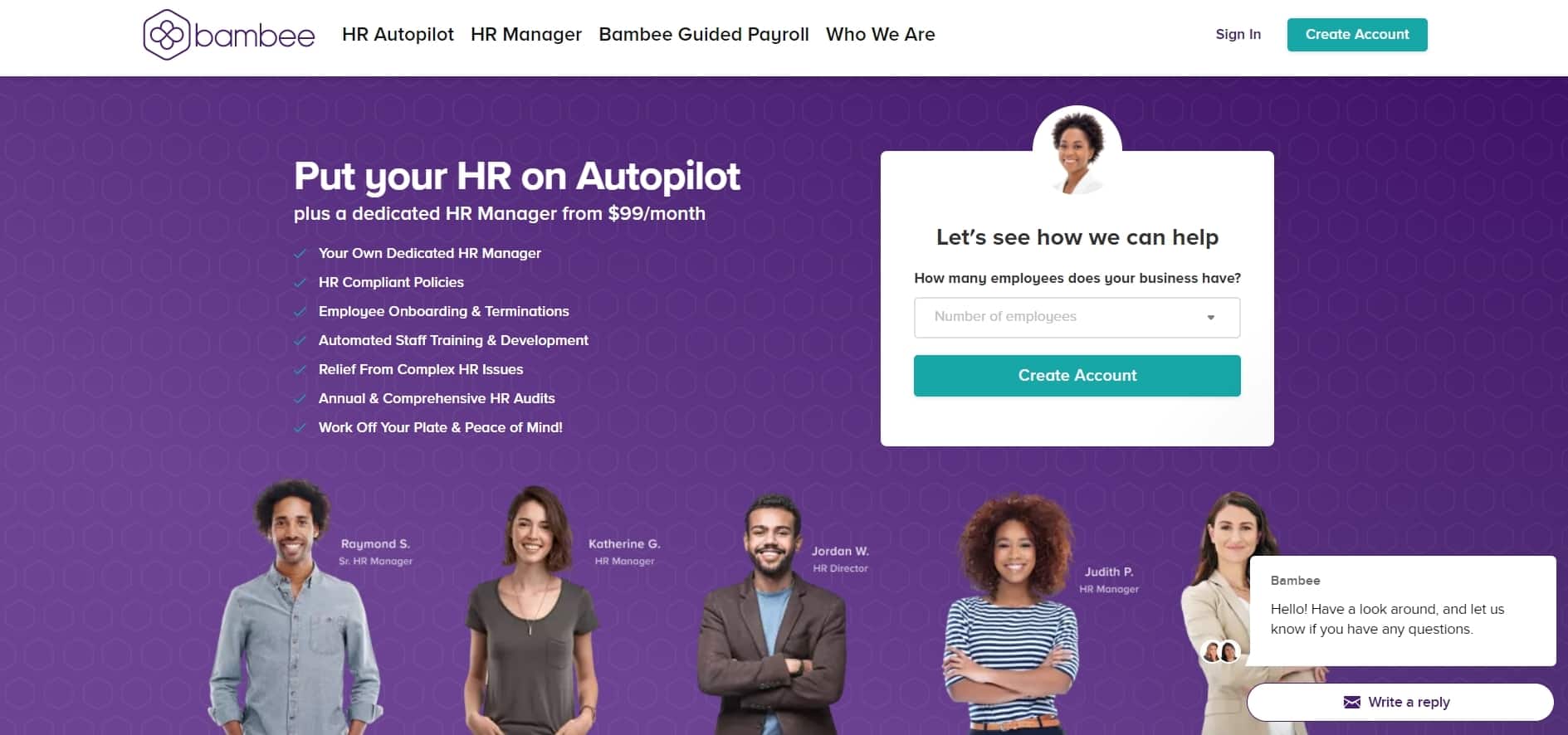 Bambee is here to help small businesses with their HR needs. It uses technology and dedicated HR managers to make HR tasks easier. The goal is to create a professional workplace, reduce stress for business owners, and help employees grow.
Features:
HR Audits: Find HR gaps.
Training and Certification: Keep staff compliant.
HR Policies: Implementing core and custom policies.
Cabinet: Store HR documents securely.
Employee Feedback: Get employee performance reviews.
Employee Voices: Provide a channel for employee feedback.
Employee Management: Hire and lay employees off compliantly.
Navigate Labor Regulations: Ensure your company's compliance with labor regulations.
Field Employee Concerns: Address issues before they become impossible to solve.
2-Day Payroll: Pay employees quickly with direct deposit.
Automatic Taxes: Let Bambee handle federal, state, and local taxes.
Pros:
Easy to use.
Ensures compliance, no matter the industry or location.
Quick response times for assistance.
Suitable for small companies.
Cons:
Steep one-time fee for system setup.
It might take time to get assigned to the HR manager.
Pricing:
Available free trial.
1-4 Employees: Monthly cost of $99 and setup fee of $500.
5-19 Employees: Monthly cost of $199 and setup fee of $500.
20-49 Employees: Monthly cost of $299 and setup fee of $1,000.
50-500 Employees: Customized pricing available.
Key Features of Talent Management System
To ensure that you have selected a talent management system that meets your needs, ensure that it has the following key features:
#1. HR Function
A TMS should serve as a centralized database for all employee information. It needs to efficiently handle data related to hiring, employment history, personal details, and more. This centralized database streamlines record-keeping, making it easy for HR staff to access and manage vital employee data.
It's important that TMS should offer advanced features, such as role-based access control, audit trails, and data encryption, so only authorized personnel can access sensitive information.
#2. Recruitment
When it comes to recruitment, a TMS offers more than basic applicant tracking—it offers predictive analytics support so HR managers can forecast future hiring needs based on historical data and current trends.
This type of automation should be a central aspect of your TSM, extending far beyond the initial candidate screening. It should streamline the entire recruitment process, from scheduling interviews to gathering feedback and managing job offers, which will create a talent pool.
The presence of talent pools within the system should allow organizations to maintain valuable connections with high-potential candidates, taking care of relationships for potential employment.
#3. Onboarding
A comprehensive onboarding feature should support the entire onboarding process, which includes document management for easy form submission, task assignment for both HR and new hires, and the provision of resources to help newcomers navigate the company culture and policies.
Additionally, it should make it easy for new employees to become part of the company's social network by providing them with collaborative tools.
#4. Compensation
Compensation is a fundamental part of every company-employee relationship, so you should look for a TMS that can provide a sophisticated compensation management system. It enables organizations to set salary structures, bonuses, and benefits, keeping them competitive in the job market.
What is perhaps even more important is that TSM should offer tools for modeling various compensation scenarios and projecting the impact on the company's budget.
#5. Performance Management
Performance management features should allow for the creation and tracking of performance goals that are closely tied to company objectives. This includes regular reviews, feedback mechanisms, and performance improvement plans.
Also, these TSM features should help in recognizing and rewarding achievements, addressing areas that need to be improved, and ensuring that the employees are aligned with the objectives of the company.
#6. Learning & Development
Talent management system components, like learning and development, should support a wide range of training and development activities. This includes creating and tracking employee training plans, offering e-learning modules, skill assessment tools, and career path planning.
To have a complete picture of employee status, the TMS should also provide comprehensive analytics to track the effectiveness of training programs and identify skills gaps.
What to Look For in a Talent Management System?
Let's now see what factors you should consider and look for when searching for a talent management system:
User-Friendliness: Opt for a talent management system that is easy to navigate and understand. A user-friendly interface is essential for both managers and employees, so look for systems with clear and intuitive menus.
Value for Money: Your budget is a significant factor, so consider the pricing structure to ensure it aligns with your financial constraints. It's not just about the upfront, visible cost, but it is also about long-term expenses and benefits.
Integration Capabilities: The system should seamlessly integrate with your existing HR and other software systems. This integration streamlines data flow and ensures consistency, reducing manual data entry and the risk of errors.
Customization Options: A good talent management system should be customizable to accommodate everyone's specific needs because every organization has unique requirements.
Scalability: As your business grows, your talent management needs will change. Be sure that the selected system can scale with your organization. It should accommodate increased data volumes, additional users, and evolving processes without significant issues.
Benefits of Using Talent Management System Important?
Let's shift our focus on why TMS is used in the HR system and uncover the benefits it brings.
Alignment with Business Strategy: A TMS ensures that HR activities, recruitment efforts, and talent development are in sync with your overall business strategy. It helps bridge the gap between what the organization aims to achieve and how it manages its workforce to reach those goals.
Centralization of Data: A talent management system centralizes all HR-related data and processes into a single system. This simplifies data management and access, eliminating the need to juggle multiple tools and platforms.
Comprehensive Talent Management: A TMS covers the entire talent management lifecycle, from recruitment and onboarding to performance management and succession planning. This comprehensive approach ensures that all aspects of talent management are considered and integrated into one cohesive system.
Enhanced Organization: The system provides structure and organization by automating processes, like routine HR tasks, which reduces manual administrative work and the associated risk of errors, allowing HR team members to focus on strategic activities and employee engagement.
Data-Driven Decision Making: With all HR data in one place, organizations can make informed decisions. Analytics and reporting tools within a TMS provide insights into workforce performance, enabling better talent development and efficient resource management.
Conclusion
Understanding the value of talent management and its benefits enables us to choose the right software that aligns with our organizational needs and objectives. By selecting a platform with features tailored to our work environment, we can create an environment that recognizes and fosters employee excellence and streamlines the onboarding process.
This approach empowers individuals to progress within the company using best practices and guidance, allowing their skills to shine and contribute to the business effectively.
Talent Management System FAQ
#1. How to choose a talent management system?
To choose a talent management system, consider your budget, integration options, user-friendliness, and vendor reputation. Additionally, get input from key stakeholders and evaluate demos.
#2. What business problems does talent management system solve?
Talent management systems improve business processes related to HR processes, employee development, and talent retention, contributing to overall business success.
#3. How is the talent management system deployed?
Talent management systems can be deployed in the cloud or on-premises. Cloud offers flexibility, while on-premises provides data security and customization control.