Apart from the traditional way of recording all the tasks of the day using pen and paper, the modern world offers numerous note apps that can truly make your life easier.
The market for note-taking apps offers an extensive range of reliable allies for accomplishing everyday tasks, regardless of your profession.
In this article, we will focus on business note-taking apps and their pros and cons, with the aim of helping you make the right choice and thus improve your daily organization.
Let's start!
Why & When Should You Use Note Apps?
By using note-taking apps, you will come across various benefits that will ultimately foster better organization and efficiency.
Here are a few benefits of note apps:
Reminders. Note apps are designed to allow you to jot down important events in one place, whether it's a birthday, work deadlines, or any other event. With just one click, you can set reminders and always know what awaits you.
Accessibility. Technological advancements have made it possible to access note apps on various devices, such as phones, tablets, and laptops. You can access what you've noted down at any time and quickly remind yourself of important information.
Organization. Note apps provide effortless organization, allowing you to structure your life as you prefer. With customizable data input and categorization, you can create lists for exercise, cooking, events, work, and more.
Capturing Ideas. At any given moment, you can jot down your thoughts, ideas, and creations using note apps. These apps won't let a moment of inspiration slip away. On the contrary, the availability of note apps allows you to quickly capture your thoughts whenever you want.
10 Best Note Apps to Use
Today, you have a wide range of note-taking apps available that serve the same purpose: to help you keep track of and successfully tackle your daily activities.
Which app you need will depend on many factors, such as whether you exclusively use Google Workspace for your job, are looking for an adequate note app for Mac, or want a hybrid app that is adaptable and works across many systems.
The following list will give you an insight into the characteristics of each app and help you choose the one that suits your needs.
#1. Evernote

Since it came out in 2008, Evernote has become one of the most famous note-taking apps that people and professionals use. It stands out because it has many great features that let users make notes with text, pictures, audio recordings, web clippings, and more.
A big reason why Evernote is so famous is that it has a lot of valuable features. Users can choose from different themes, use the document scanner, and set helpful reminders, which makes it easy to keep their notes in order.
Another important thing is that it works on various platforms, such as smartphones, laptops, desktops, and tablets. Evernote makes it easy to sync your information between your iPhone, Mac, Android, or Windows device.
#2. OneNote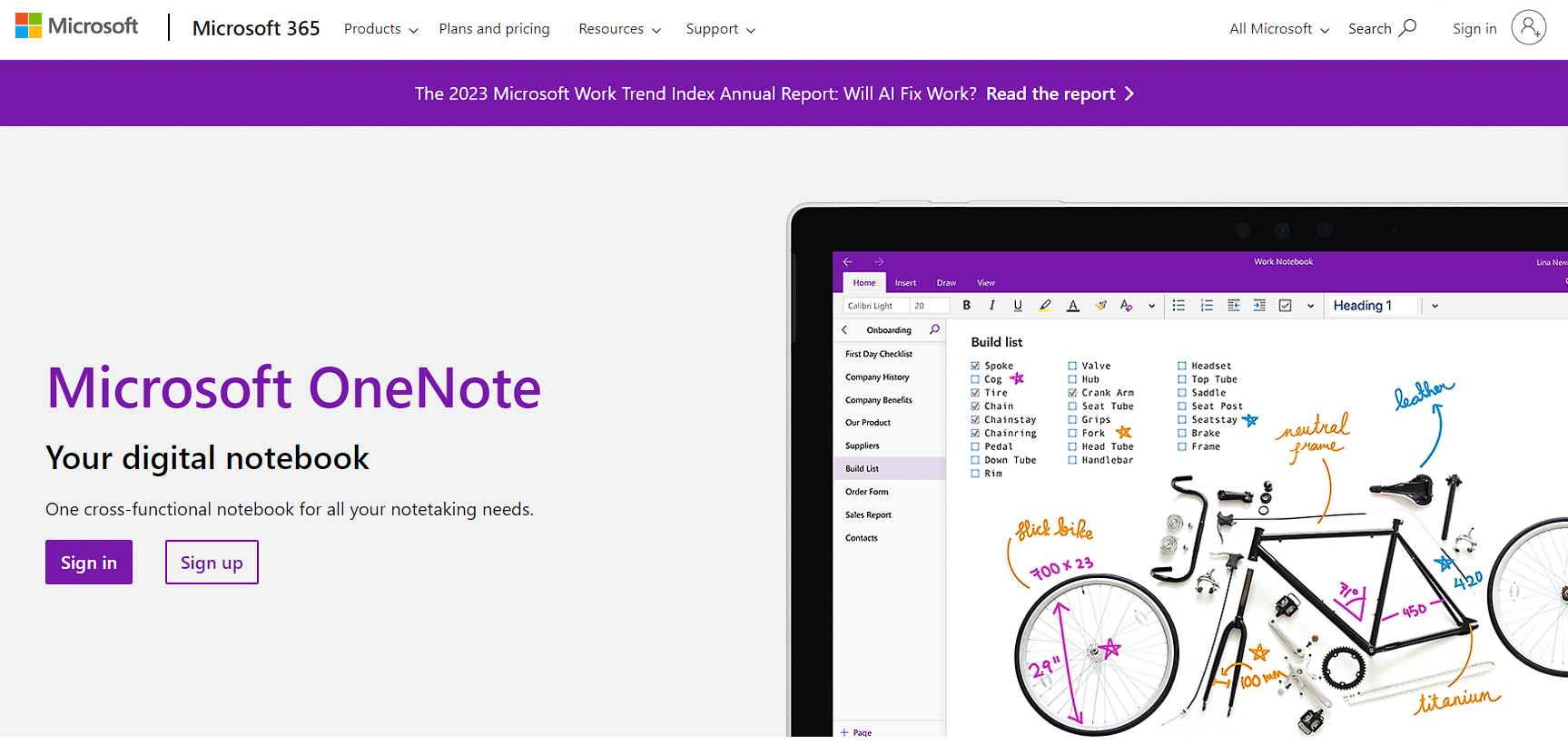 Microsoft created OneNote for the purpose of creating digital notes. It provides a wide range of options to organize and innovate. Some of the features offered by this application allow you to comment on your notes and add thought bubbles to convey your ideas.
Therefore, you can track your thoughts and make adjustments to your notes, as various functions allow you to edit your text, record video and audio, and insert images. To sort your notes, there are options available to highlight the importance of specific ones.
Additionally, you can also share your notes with friends and colleagues at any time.
#3. Notion
Notion is a productivity and note-taking app that is incredibly useful both as a personal note-taking tool and for professional purposes such as project management.
As a note-taking app, it operates on a block-based system, allowing for the creation of diverse content such as text, images, tables, and more. This versatility makes it a vibrant tool for personal organization.
Moreover, it proved to be beneficial for businesses as it provides a centralized platform that simplifies remote work by allowing users to effortlessly share and exchange documents in one place. Notion can significantly improve workflow and facilitate more efficient collaboration.
#4. Simplenote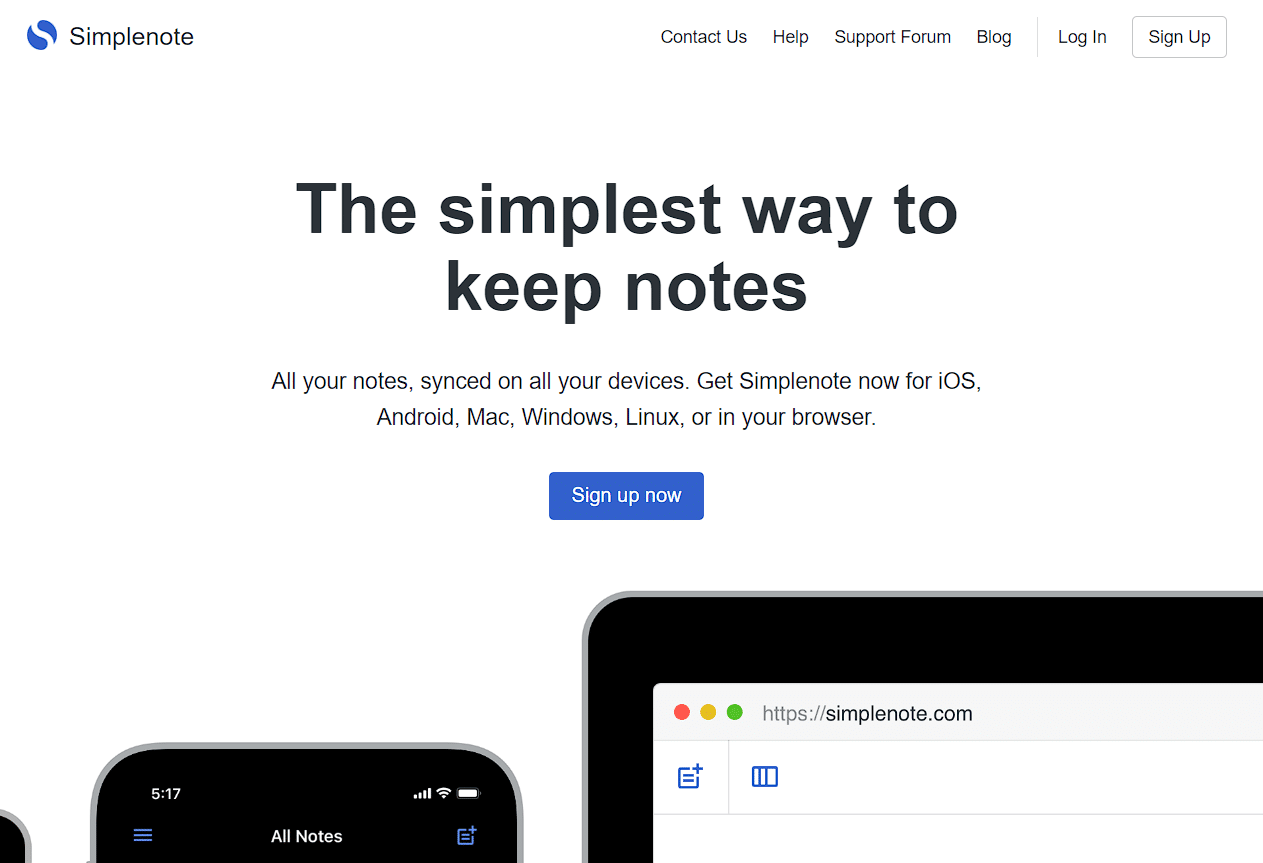 As the name suggests, Simplenote is a simple, clean, and minimalist note-taking app with an interface focused solely on saving notes for easy navigation.
Users choose Simplenote for its wide syncing capabilities across multiple devices, the ability to update notes via email, compatibility with various operating systems, and it's completely free subscription model.
However, Simplenote lacks the advanced features found in other apps like Evernote, making it less suitable for those with complex needs.
Overall, students and those who value simplicity and sharing a single account often choose Simplenote.
#5. Zoho Notebook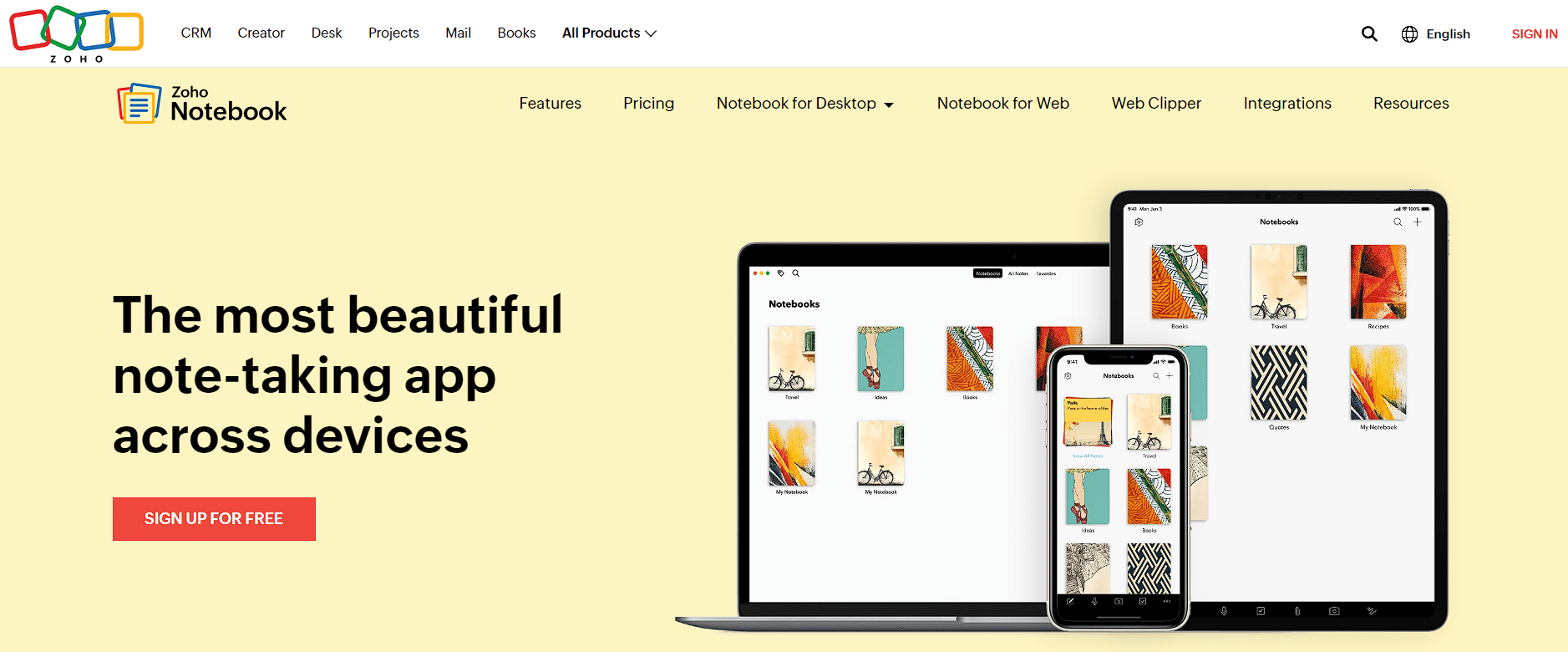 Zoho Notebook is a great app for small businesses, entrepreneurs, and anyone who wants to take notes.
One of its best features is that it works with many operating systems and devices. That means you can use it on your phone or laptop. PC or tablet, whether you use Windows, Linux, iOS, Android, or Mac.
Zoho Notebook relies on a smart "Note Cards" approach, offering helpful templates for different content types. For instance, there is a checklist card for to-do lists, an audio card for voice notes, and a photo card for capturing pictures.
Zoho Notebook works well with other programs, which makes it easy to stay organized and saves time. Note that the biggest file you can send is 5 GB.
#6. Google Keep

Users can quickly and easily record and organize their thoughts, ideas, and to-do lists using the Google Keep note app. It is available on both desktop and mobile devices and is integrated with other Google services, such as Google Drive and Google Assistant.
Using this app, users can easily color-code their notes and add labels, capture voice memos, take pictures with their device's camera and add them to their notes, and create to-do lists.
Google Keep is completely free to use and offers easy collaboration and the sharing of notes with others.
Compared to competing note-taking apps, such as Evernote or Microsoft OneNote, Google Keep may be lacking in advanced features and limited in formatting options (like rich text formatting).
#7. Bear
Bear is a highly creatively designed app currently available for Apple devices. When we say it's creatively designed, we're referring to its aesthetics and the abundance of tools it offers for organizing and optimizing notes.
It also features a "focus" mode for writing essays or other lengthy notes. Searching within the Bear app is easy, thanks to the use of hashtags, keywords, and other elements. Bear has a free version that provides basic functionality, while a subscription unlocks additional features.
This app is seamlessly paired with iPhone, iPad, and Mac devices.
#8. Dropbox Paper
Unlike Bear, Dropbox Paper may not have a strong emphasis on design, but it certainly offers a wide range of features that enable individuals and teams to create documents, take notes, add comments, and collaborate within a single document.
In addition to text input, you can create tables and insert images. Dropbox Paper is particularly suitable for remote work environments as it facilitates collaboration through shared suggestions, task assignments, and more. It also offers a free version for Dropbox users.
However, one drawback is the limited options for content formatting.
#9. Apple Notes
A typical note app for the iPhone and other Apple devices is Apple Notes. On any Apple device, you can use this easy-to-handle note-taking app for your everyday activities.
It is characterized by reliable security features, integration with other Apple apps and services, and cross-device usability within the Apple family. You can securely store all notes on iCloud, making it suitable for small teams as it allows access to data at any time.
Like all other Apple apps, Notes has also been upgraded, so now you can tag people or things, attach images, scan documents, and communicate with Siri, who can do certain tasks for you.
However, since it is designed for Apple devices, it is not compatible with other systems and is not recommended for large teams dealing with complex tasks. Additionally, the basic version only includes 5GB of storage space, and anything above that requires an additional payment.
#10. Squid
For those who still cherish the experience of holding a pen in their hand, the tangible feel of paper, and the satisfaction of writing on it, Squid is the perfect note app. This unique note-taking application evokes a sense of nostalgia for the time before digital devices became ubiquitous.
Simply use an active pen or your finger to write whatever you want. Users can choose from a variety of paper types and styles, including lined, graph, and music paper, as well as create their own custom templates.
This note app offers easy integration with Google Drive or Dropbox, and users can access it from multiple devices simultaneously.
Additionally, you can choose different paper types and styles or create your own, as well as insert PDF documents. Because of all these features, Squid is an excellent option for students and artists. Squid offers a free basic option, or you can upgrade to a premium plan for $1 per month to access additional features.
Conclusion
Don't let information and data manage you. Any application from the list will give you a clear overview of everything you need to accomplish on a daily, weekly, or monthly basis, whether it's work-related, studying, or checking items off your shopping list.
This way, you'll get a valuable assistant, save time, and relieve unnecessary pressure.
You have seen the characteristics, advantages, and disadvantages of each note-taking app, so it's up to you to choose the one that suits you, your team's communication, as well as your project's complexity and technical requirements.
Note Apps FAQ
#1. What is the most popular note app?
Due to its features, regular updates, and alignment with user preferences, Evernote is the most popular note-taking app.
#2. What is the simplest note app?
Simplenote is frequently regarded as one of the most straightforward solutions if you're searching for straightforward and minimalist note software. However, the complexity and ease of use of note apps vary depending on your specific needs and personal preferences.
#3. Is there a free note app?
Yes, there are several free note-taking apps available. Many note-taking apps provide free versions with restricted capabilities and storage space. Examples of free note apps are Google Keep, Apple Notes, Bear, Dropbox Paper, and more.